Sweet and Spicy barbeque chicken with snap peas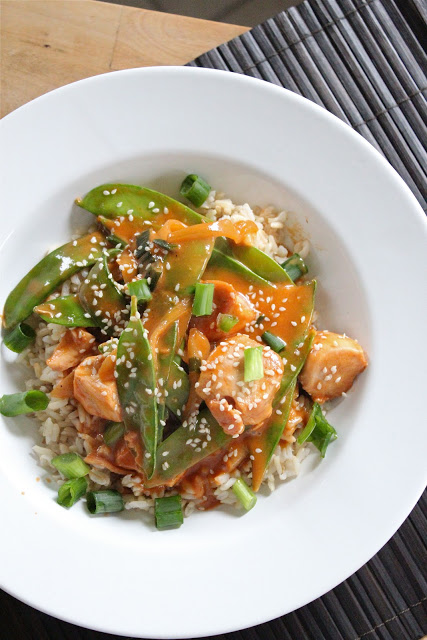 This chicken dish it is to die for. Not only this barbeque chicken recipe is super tasty, fast and easy to make but the sauce it is just out of this world.
I have never used barbeque sauce in any of my cooking unless I am grilling so I was a little bit skeptical about this dish. I am so glad I try it though because in the span of one week I have made this dish twice already.
I normally invite some of my girlfriends for lunch. This sweet and spicy chicken is what I end it up making for that day. It was a huge hit. All of them wanted the recipe but I told them they had to wait until I post it in the blog :-)
On another note, for the past few weeks I have noticed that I have posted less baking recipes. The reason being is that I have been making a few of my favorite baking treats from my blog that I have been craving for a while, just in case you were wondering……but don't worry, I will keep up with the baking posts…..you know I can't live without sugar :-)
Anyhow, until then….
Enjoy!!
Here are the sauce ingredients that you need to mixed in a bowl. I used Spicy barbeque sauce from Trader Joe's.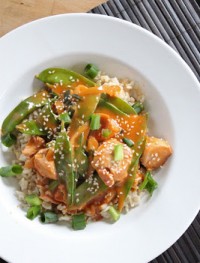 Sweet and Spicy barbeque chicken with snap peas
Ingredients:
Ingredients
Makes 4-6 servings
1 cup coconut milk
1 teaspoon cornstarch, you may need an extra one if you like the sauce a bit thicker
2 tablespoons olive oil
1 large onion, sliced
9 oz snap peas
1 cup spicy barbeque sauce, I use Trader Joe's brand
1/4 cup reduced sodium soy sauce
1/4 cup honey
2 lbs chicken breast, cubed
1 teaspoon Sesame Seeds
1 teaspoon pepper flakes, optional
4-6 Green Onions, chopped
Brown rice to serve
Directions:
In a small bowl mix the soy sauce, honey, corn starch and barbeque sauce. Set aside.
In a large non stick skillet, over medium to high heat, heat the oil and add the chicken. Cook for about 6- 8 minutes until lightly browned stirring occasionally. Add the onions and pepper flakes, if using, and cook further for another 3-4 minutes stirring occasionally.
Add the barbeque mixture and stir into the chicken and onions. Add the coconut milk and mix through. Stir and cook the mixture further for about 2 minutes. Add the snap peas and cook for another minute.
Turn heat off and add the green onions and sesame seeds. Serve over brown rice.
Adapted from here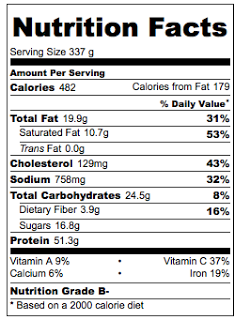 Nutrition facts calculated based on the recipe giving 6 servings. If you want to decrease the amount of Saturated fat use 1/2 cup coconut milk, the saturated fat will go down to 6.5g. 
This recipe is very high in Niacin, selenium and vitamin B6.