Superb Healthy Donuts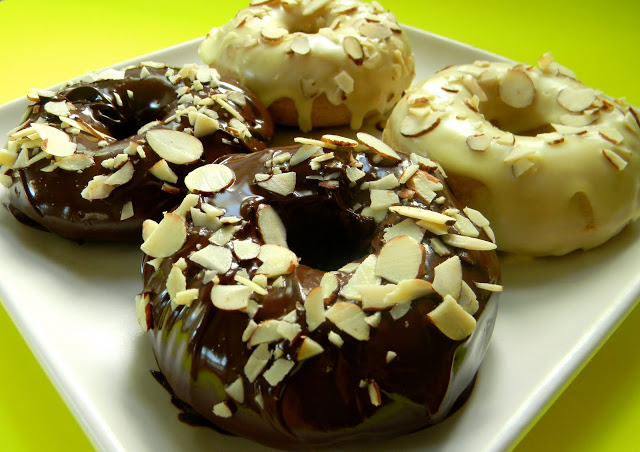 This is the final result. I must say, this was my first try and ingredients/measurement were right on the money :-), lucky for me. The recipe is very simple, will take you about 10 minutes to whip together. What takes the longest in the dipping and glazing of the donuts but either way I think it is really a good recipe. For a chocolate version you can just add 1/3 cup of cocoa powder and decrease the whole wheat flour amount to 1 3/4 cups instead of the 2 cups.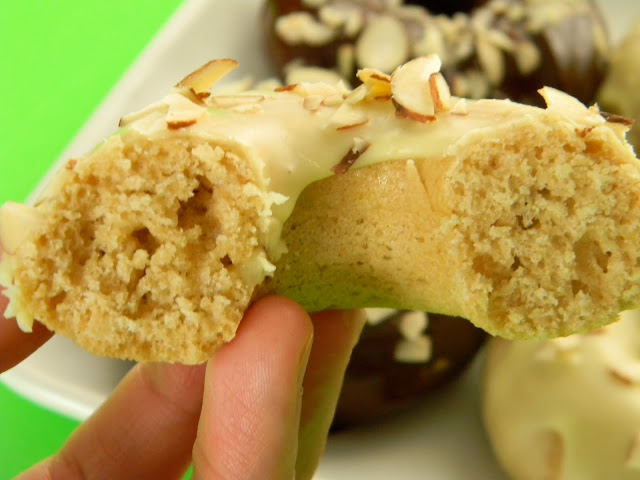 In this picture you can see how spongy they look. Gosh they are good. I meant to put sprinkles on the donuts but because I had none and did not feel like going to the store I just used some slivered almonds I had on hand. I think it was a great combo. My family really liked it.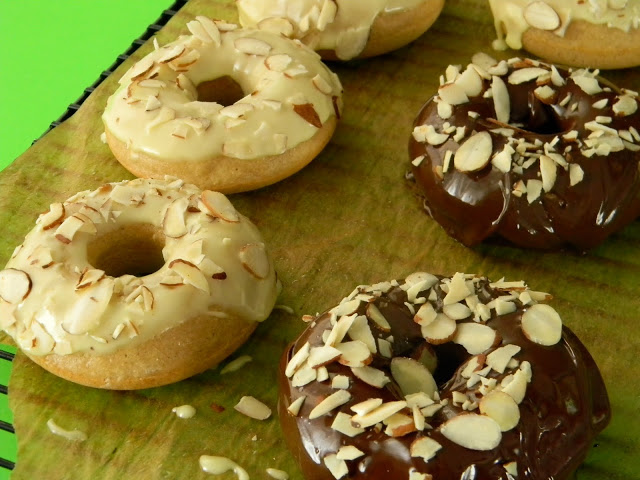 The chocolate donuts are much better off cooling on parchment paper lightly sprayed with oil. For the chocolate covered donuts you may want to put them in the fridge to speed up the drying process.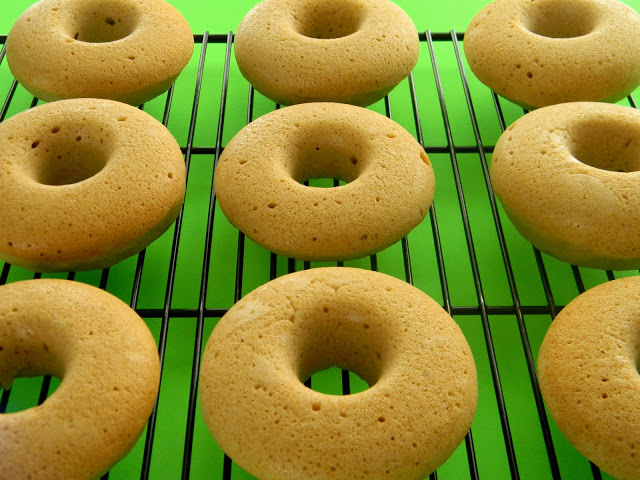 This is how they look after coming right out of the oven. I left them in the pan to cool for about 5 minutes before taking them to cool on the wire rack. While cooling I prepared the glazes. Coating the chocolate donuts became a little bit messy but in the end it was worth it. I love baked donuts.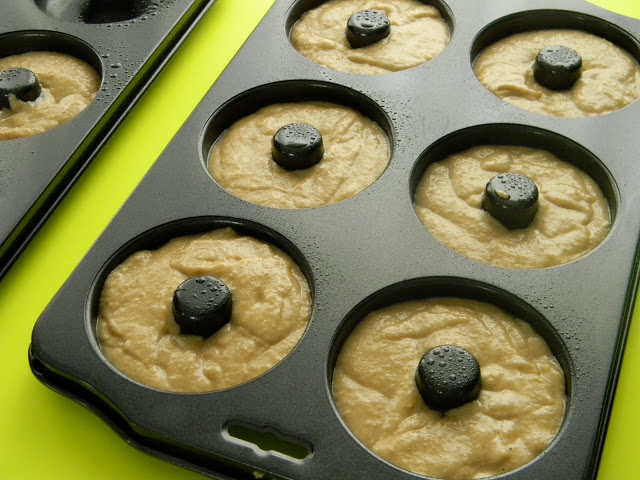 Just got the donut pans about a couple of days ago. Today I finally tried them. They worked well and the result speaks for itself. Will be using quite a bit :-). Love, love, love my latest acquisition!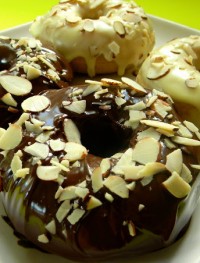 Superb Healthy Donuts
Ingredients:
2 cups whole wheat pastry flour
1/2 cup sugar
2 eggs
1 teaspoon baking powder
1 cup low-fat milk
2 tablespoons olive oil
1 teaspoon vanilla
1 pinch cinnamon
1 pinch nutmeg
Sugar Glaze
1 cup confectioners' sugar
2 tablespoons low-fat milk
1/4 cup slivered almond
Chocolate Glaze
10 ounces dark chocolate chips
Directions:
Preheat oven to 325°F.
Spray donut pan with cooking oil. In a bowl, whisk eggs, sugar, vanilla, oil, nutmeg and cinnamon.
Add flour, and baking powder. Whisk until combined. Fill each donut hole 2/3 full.
Bake for 12-15 minutes. Cool for about 5 minutes and remove from pan to a wire rack and cool completely.
For chocolate glaze melt chocolate chips over medium heat over a double boiler and let cool before glazing donuts. After glazing donuts sprinkle with slivered almonds. Let set on parchment paper previously greased with oil.
For the sugar glaze just mix ingredients and glaze the donuts. Sprinkle with almonds or other favorite sprinkles. Let set in parchment paper as well.