Vegetable lo mein
I have vegetable lo mein many times at restaurants and such but after making my own I will never order it again. It is extremely easy and much better for you to make your own.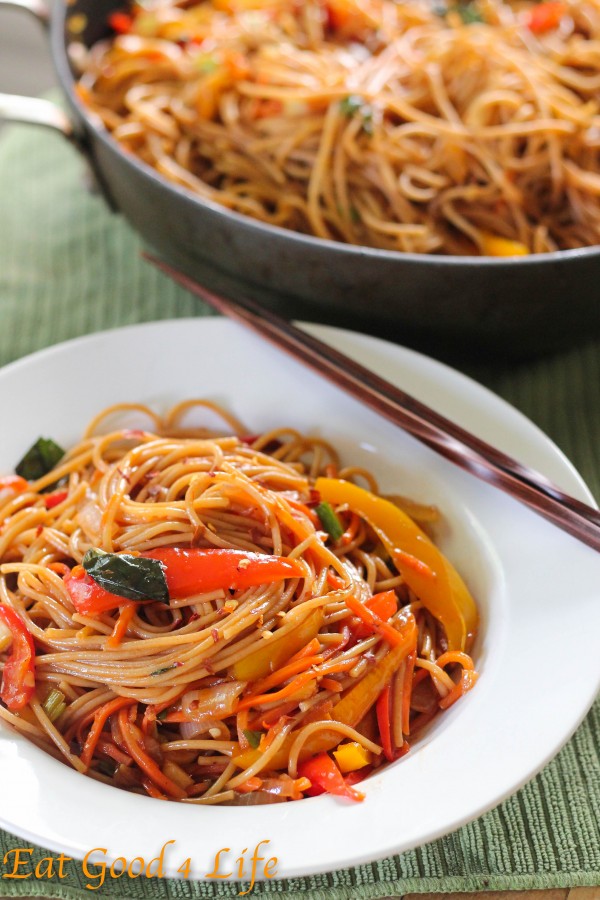 I have no idea why I waited so long to make this vegetable Lo Mein. I was really surprised. The flavor was fantastic and it was super easy to put together.
I love experimenting with different types of cuisines and spices. I don't think I could pick just one type and eat that for ever. Too many good things to eat out there.
This vegetable Lo Mein is intended to be used with egg noodles, however, I had none on hand so I just used whole wheat spaghetti. You can certainly used the whole wheat spaghetti but I believe it will be better with egg noodles.
I used tomato paste for color in the sauce. The tomato sauce flavor didn't come through in the sauce, which I was afraid it would. I think this sauce flavor is exactly what I was looking for.
This vegetable Lo Mein is for sure going to stay in our repertoire of recipes for time to come. I am so glad that I finally came out with a Lo Mein recipe that everyone enjoys. No more take out Lo mein for us :-)
If you like you can make this Lo Mein recipe with chicken or even some shrimp. I think tofu will also be great. I perhaps will do that next time I make it. Also, you can add some bean sprouts, which are widely used in Chinese cooking. I just didn't have any on hand.
If you get to make this easy and yummy vegetable Lo Mein let me know. I really hope you enjoy it as much as we did.
Enjoy!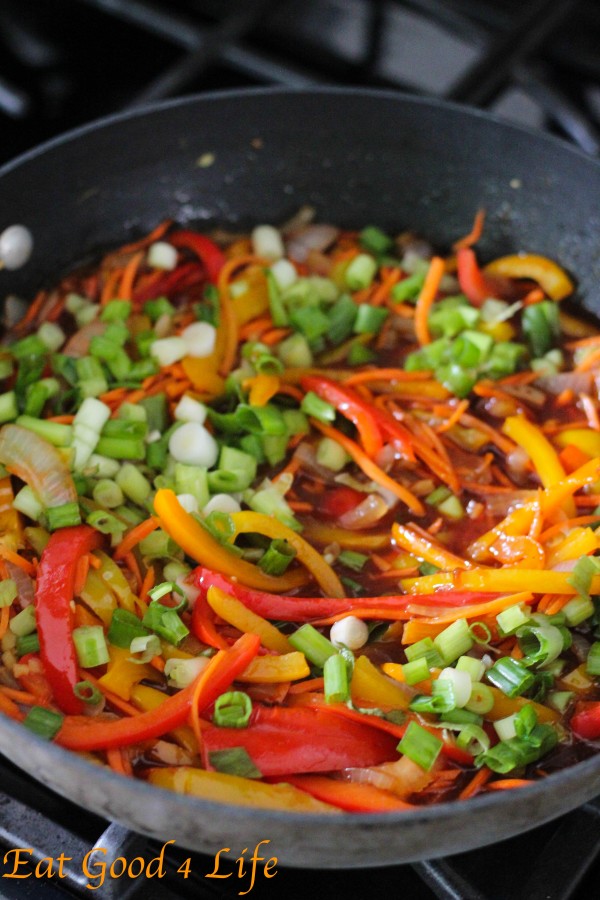 Once all the peppers and onions are tender, add the sauce and scallions and toss around for 1-2 minutes until the sauce thickens.  If you like you can add some bean sprouts to the mix. They are very popular on this dish, however, I didn't have any on hand. Maybe next time.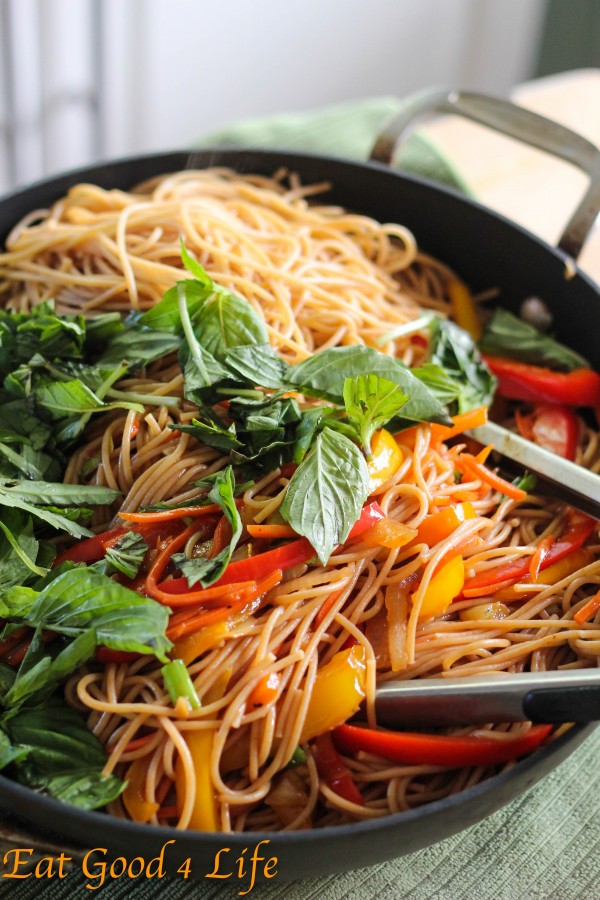 After the veggies and sauce are ready, add the noddles as well as the basil if using. I used Thai basil, which has a licorice kind of taste. You can use regular basil if you like of just omit it all together. I just though it added a nice flavor to it :-)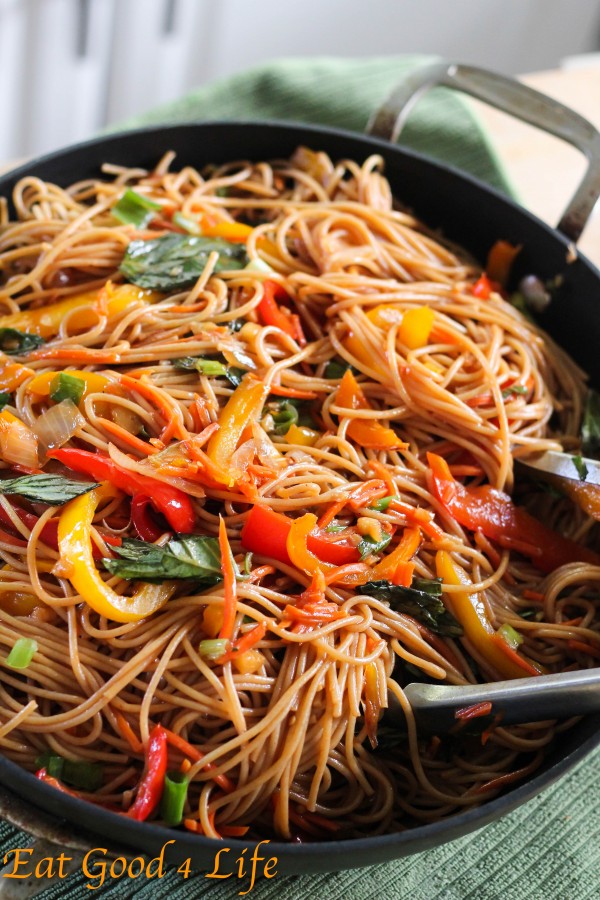 Here you can see the noddles already mixed in. This vegetable Lo Mein was sensational. The sauce is what made this dish of course. It was out of this world. Next time I hope I can get my hands on some egg noddles though :-)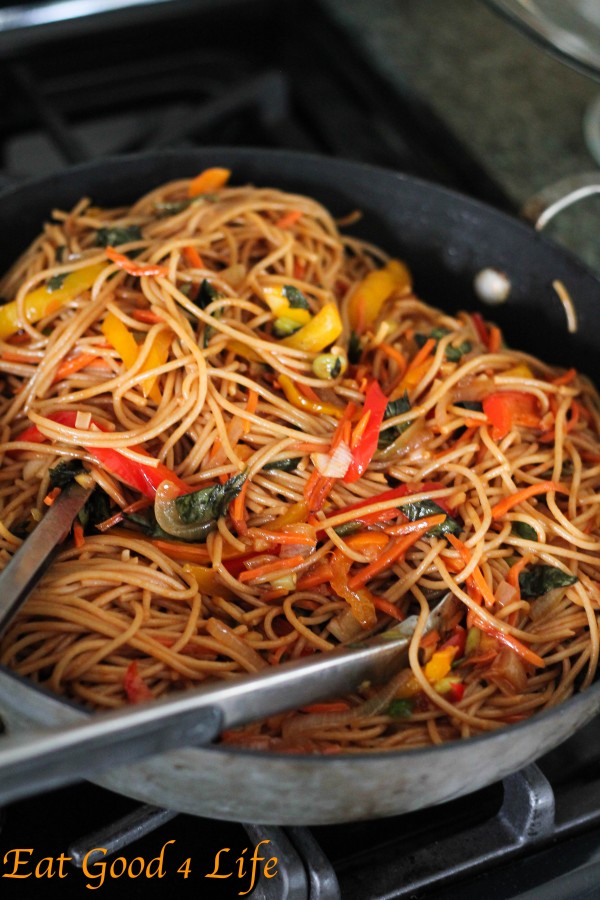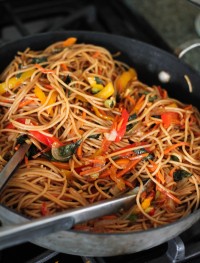 Vegetable Lo Mein
Yield: 4-6 servings
Total Time: 20 minutes
Ingredients:
1 lb Chinese egg noodles, or whole wheat spaghetti
2 tbsp olive oil
1 organic red pepper, chopped
1 organic yellow pepper, chopped
1 organic green pepper, chopped
1 large onion, chopped
2 tbsp fresh ginger, chopped
2-3 green onions, chopped
1 cup fresh Thai Basil, optional
Sauce
Directions:
In a small bowl, with a wire whisk, mix the sauce ingredient and set aside.
Cook noodles according to package instructions. On the mean time, in a large skillet, over medium to high heat, add the oil and stir-fry the peppers, ginger and onions for 4-5 minutes or until tender.
Add the noodles and scallions, then add the sauce and heat for 1-2 minutes or until sauce as thickened. Add the basil if using and serve immediately.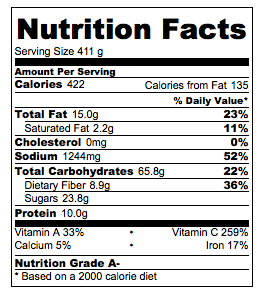 Nutrition facts calculated based on the recipe giving 4 servings.