Super Easy Italian Cheesecake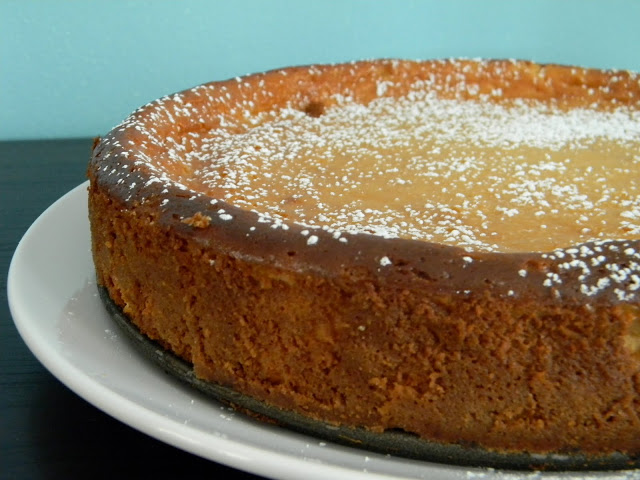 All right so this is the first time ever I have made an Italian version cheesecake with ricotta cheese, and let me tell you how easy this was, well almost everything I make is really easy anyhow. Well the fact that this cheesecake does not have a crust saves a lot of time.
The mixing, preparing takes about 5 minutes and you are done. The cooling of the cheesecake is what takes the longest. I baked it in the evening and it was ready to eat, nice and chilled, the next morning.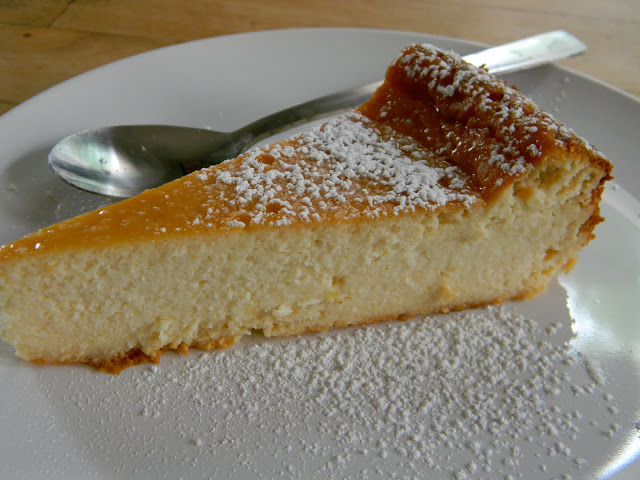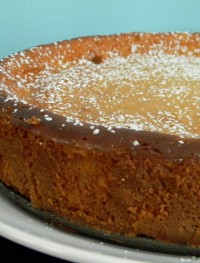 Super Easy Italian Cheesecake
Ingredients:
2 lbs of ricotta cheese
6 eggs
1/3 cup whole wheat flour, you can use regular flour
1 cup of unrefined sugar
Zest of three lemons
2 teaspoons vanilla extract
1 tablespoon of orange extract, or zest of two oranges
Directions:
Heat oven to 325 F.
Combine cheese and sugar in a stand mixer or food processor. Add two eggs at a time and combine. Add flour, vanilla and zests. Do not over mix trying to make the batter smooth, this prevents cracking when baking.
Grease a spring form pan with butter up the sides and sprinkle with flour. Bake for 1h to 1h and 30 min, depending on the oven. I normally bake mine for about 1h and 30 minutes. Make sure the cake is lightly brown like in the pictures.
After turning oven off, leave cheesecake in the oven for 30 minutes to cool. Cake will drop. Cool for another 30 minutes out of the oven. Chill in fridge for 6-8 hours.
Before taking cake out of the baking pan, loosely run a sharp knife around the edges. Enjoy.
TIP: I actually add 1/3 cup of raisins to the recipe. We like it better that way. If you like raisins you should add them, you will not be disappointed.