Sund Dried Tomato and Spinach Whole Wheat Pasta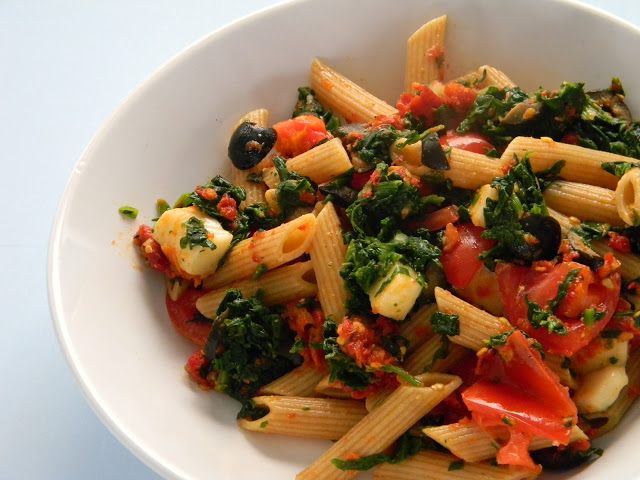 Here it is, another favorite pasta recipe. I have a couple more to post, which will do in the coming weeks.
This recipe it is a little bit more involved if you will, although it will not take you more than 25 minutes to put together. I say more involve because you have to use the food processor to puree the sun dried tomatoes, garlic and oil.
If you are making this pasta you can add pepper flakes and a little bit of Parmesan cheese as well. Never-the-less this has always been a hit when served at parties. Hope you like it.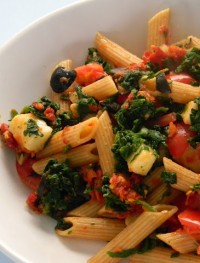 Sund Dried Tomato and Spinach Whole Wheat Pasta
Ingredients:
1 lb whole wheat penne pasta
1 lb chopped frozen spinach, drained
1 lb part skim mozzarella cheese, cut into cubes
1 lb chopped fresh tomatoes
1 can jumbo pitted olives , chopped
1 1/2 cup sun dried tomatoes, you can add more if you like, I normally do
4 - 6 tablespoons olive oil
4 garlic cloves
Salt to taste
Directions:
Place whole wheat pasta on pot with boiling water and cook until aldente stage.
While the pasta is cooking chop mozzarella cheese, olives, and tomatoes. Place on a big pot. Drain the spinach and add to the pot with the other ingredients. Place olive oil, sun dried tomatoes and garlic in the food processor and pulse until completely pureed. Add pasta to pot followed by the sun dried tomato mixture and salt. Combine all ingredients and serve.