Sun Dried Tomato Hummus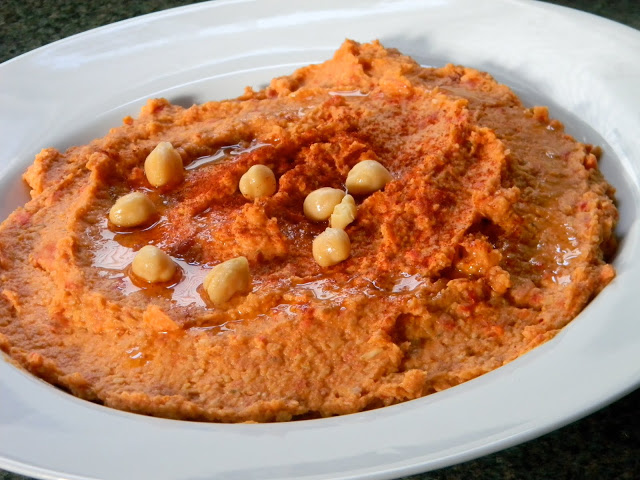 I have been asked to give this recipe away many times at parties and gatherings. It is always a big hit. At the supermarket humus tends to be pretty expensive and since at our household we tend to eat it by the tons I had to make it at home. Now I know that humus uses Tahini as one of the ingredients but in this case I don't use it at all. You would think there is a big different in taste but actually there isn't.
I must tell you that this is the best humus you are going to ever make. If you like sun dried tomatoes this is for you. Also, people are amazed at how easy it is to make. If you have a food processor you have to try it. You are never going to go back to the supermarket and buy humus ever again, I promise. And most important, you can make your own variations. I have also made it with roasted peppers and that works phenomenally.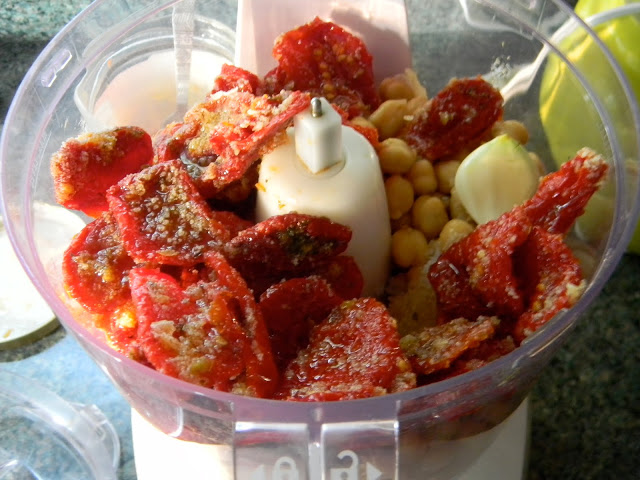 These are the ingredients in the food processor prior to pressing the start bottom :-)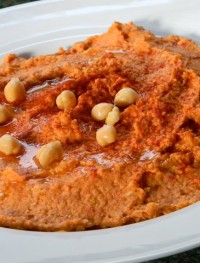 Sun Dried Tomato Hummus
Ingredients:
2 1lb can of chick peas, drained
1 - 2 cups of sun dried tomatoes in olive oil, drained.
2/4 to 3/4 cups of water, If it is to dry then add the remainder 1/4 cup, I always do
1/4 cup olive oil.
6-10 cloves of garlic,  I use even more, we love it spicy and we love garlic
4 tablespoons of balsamic vinegar, You can use lemon which is what it is used traditionally
pinch of salt.
Smoked paprika to decorate.
Directions:
In a food processor add half of the ingredients, 1 can of chickpeas, half the tomatoes, oil, water, vinegar and garlic. Pulse until smooth. Transfer to a big bowl. Do the same with the remainder of the ingredients and add the salt to this batch. Transfer to the bowl and combine with the first batch. Sprinkle the paprika on top. Enjoy
Tip: You can half the ingredients. Because we like it so much I have to make tons of it. Also, if you are using Tahini try to blend it first with the water, oil and lemon until smooth, then add the chick peas, tomatoes, garlic and salt.