Sugared cranberries
Quintessential, the classic sugared cranberries that pop up all over kitchens for the holidays. Super easy to make. Be ware, they are addictive!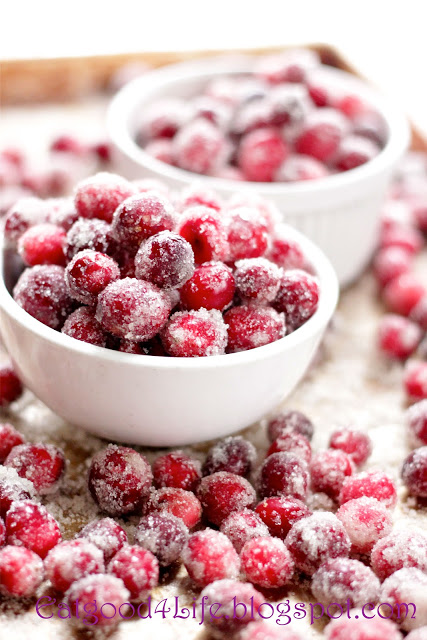 The holidays are just around the corner and with that comes baking, my favorite part of it…
I have already decided what I will be baking for my family and friends this year. This time I had to choose things that could ship well, since some of the goodies will be shipped.
For the first time this year, we are having Christmas by ourselves, just the four of us. I really can't wait. I am super excited…maybe is silly but I want to start our own family traditions! I want my kids to remember them when they grow old :-)
Do you have any Christmas family traditions? Please do tell…
I know in the morning I will be making some pumpkin pancakes, or better yet, make them ahead, freeze them and then have them that morning so that way I can enjoy the entire time with the kids.
After this post I have another super awesome cranberry recipe that I hope you don't miss. Then I will have a little round up of some goodies from the blog that I will be choosing to bake this year, so stay tuned.
These sugared cranberries are out of this world, however, I must say, that if you don't get the sugar superfine to cover the cranberries after being soaked for all that time, you will find it a bit unpleasant. Some of my cranberries got big chunks of sugar and I actually did not like that so make sure you get your sugar superfine!
Stay tuned for my next two posts because I think you will really appreciate them, especially around the holidays… just saying :-)
Here you can see the cranberries on the left being soaked in the syrup. The right picture is right after I drained them.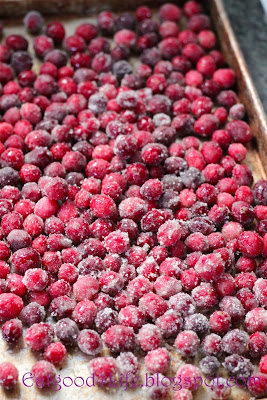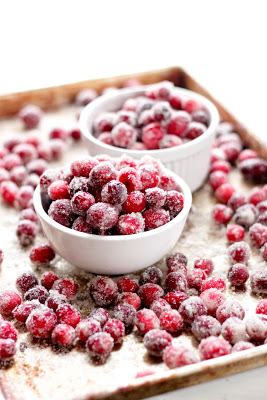 Like I said before, use some super fine sugar for coating the cranberries other wise you will end up with some sugar chunks on some of the cranberries!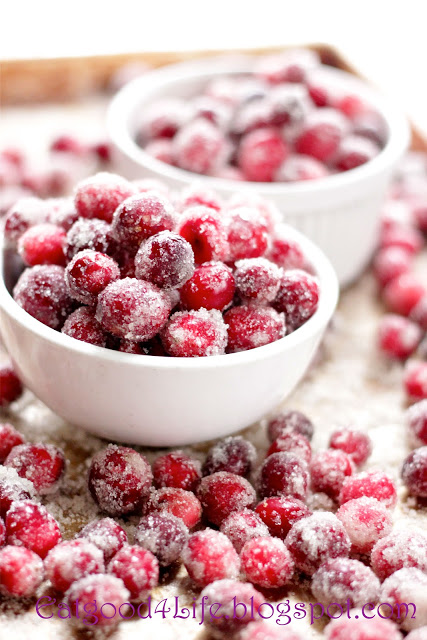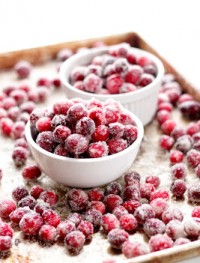 sugared cranberries
Ingredients:
4 cups organic fresh cranberries
2 cups water
2 cups unrefined sugar
1/2 cup unrefined superfine sugar
Directions:
Combine unrefined sugar and water in a small saucepan over low heat, stirring mixture until sugar dissolves. Bring to a simmer; remove from heat. (Do not boil or the cranberries may pop when you add it to the them.) Stir in cranberries and pour mixture into a bowl. Cover and refrigerate  overnight.
Drain cranberries in a colander over a bowl, reserving steeping liquid, if desired. Place superfine sugar in a shallow dish. (I place unrefined sugar in the food processor and pulse for 1-2 minutes to make it superfine)
Add the cranberries, rolling to coat with sugar. Spread sugared cranberries in a single layer on a baking sheet and let stand at room temperature for 2 hours or until dry.
Recipe adapted from my recipes
Note: The syrup is almost all discarded after cranberries have soaked overnight so I have only counted 1/2 cup of unrefined sugar from the 2 cups used to make the syrup for the nutrition facts.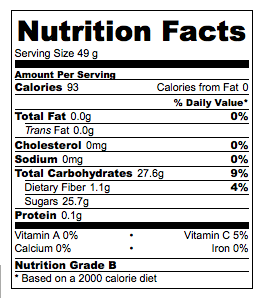 Nutrition facts calculated based on the recipe giving 16 servings.