Gluten free strawberry cheesecake ice cream
Have you ever made strawberry cheesecake ice cream before? This is my first time and surely it will not  be my last.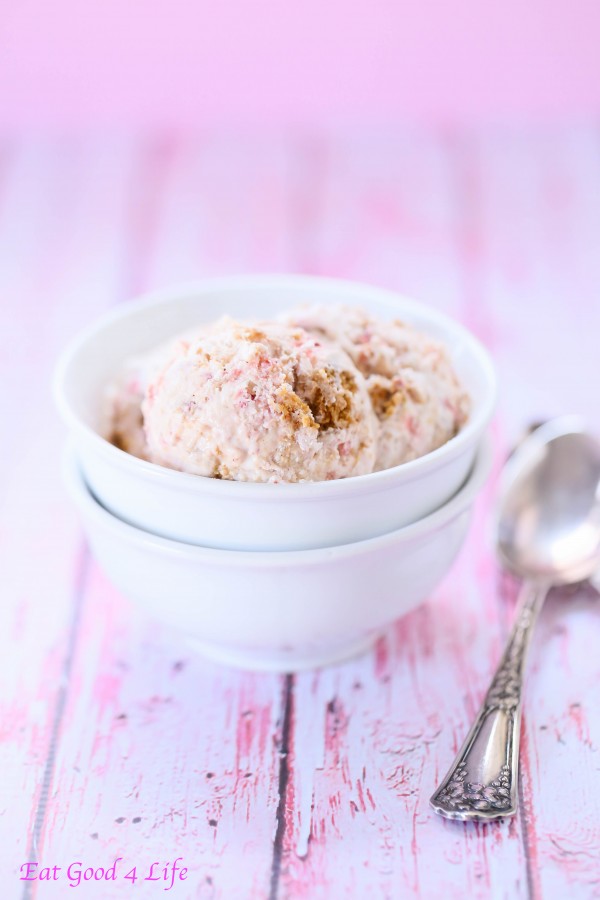 I am trying to make some spring theme desserts, at last because I have had it with the cold! Not that it is too warm just yet here in NJ but much better temperatures than being in the teens.
When I made this recipe I actually made quite a bit of the mixture, which was great because I thought of placing the remainder mixture in the 3 0z cups and make individual serving sizes as well. Such a great idea because they are supper convenient and easier to eat, especially for my kids.
I also used Truvía® Spoonable, which is zero-calorie. You can use this type of Truvia to sweeten anything from coffee to tea, cereal to yogurt, and many other items of your choice. For this recipe I only used 2 tablespoons, which is equivalent to 1/3 cup of regular sugar. For those that suffer from diabetes, or high sugar issues, this may be a better alternative for you. Check out Truvia other products, they have other alternatives to sweetened your baking treats too.
To keep the recipe gluten free I used gluten free  graham crackers, however, you can use any other type of graham crackers of your choice. I am super excited to start making more frozen desserts. My kids love them and so do I.
Because I wanted to maintain the texture of these strawberry cheesecake ice cream smooth and creamy I use heavy cream. I know is not the best of ingredients but once in a while it is OK. Is not like we eat this type of ice cream everyday so indulging once in a while it is fine with me.
Well I hope you get to make this recipe soon. The graham crackers give it a distinctive flavor that I love, the recipe is very easy to make since you don't need an ice cream maker, and it is just plain delicious.
Enjoy!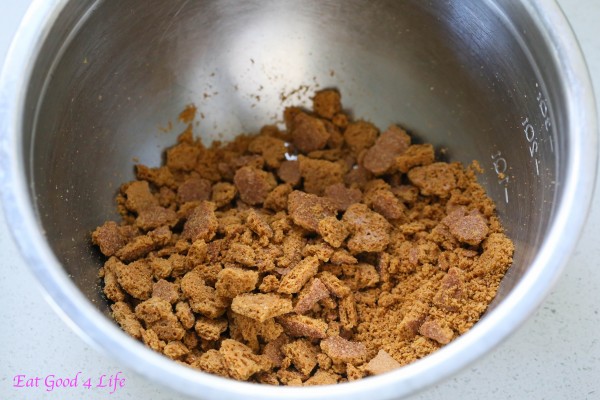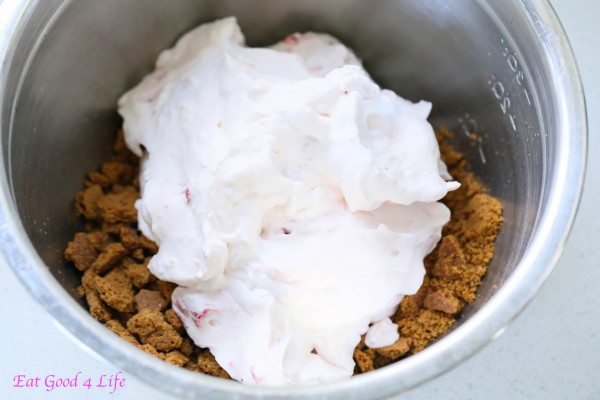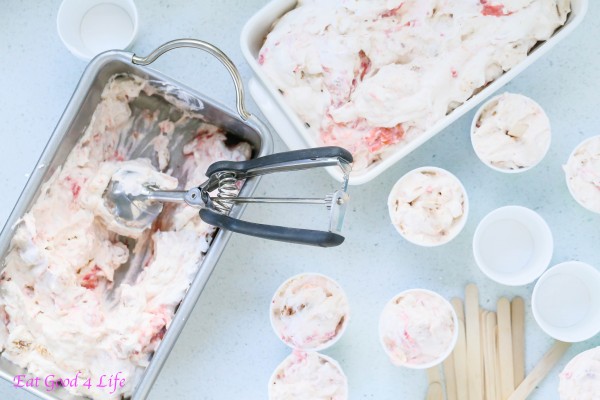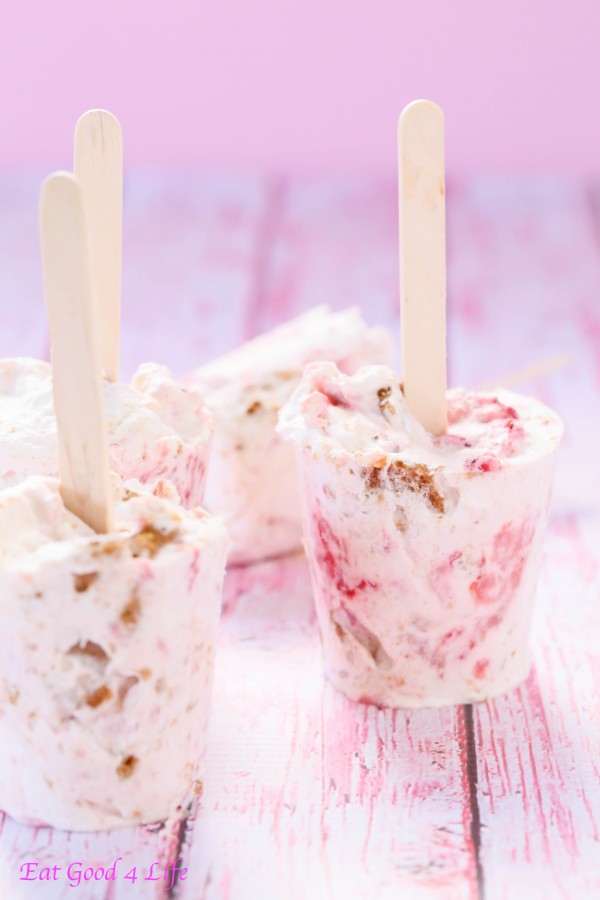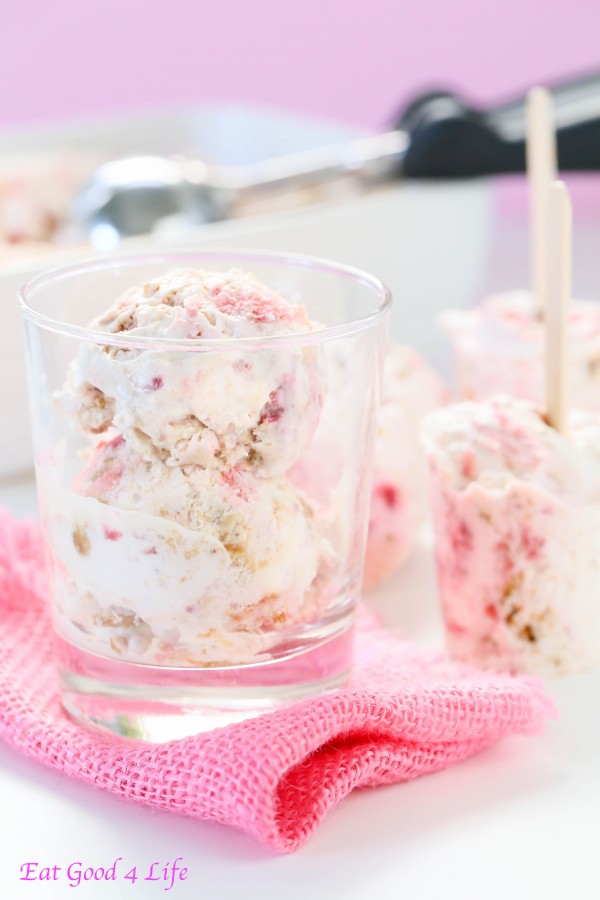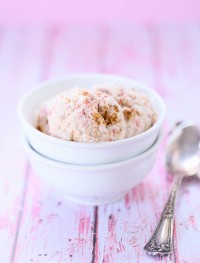 Strawberry cheesecake ice cream
Yield: 12-16 servings
Total Time: 15 minutes
Ingredients:
3 cups heavy cream
8 oz low fat cream cheese, room temperature
12 oz organic frozen strawberries, thawed
10-12 gluten free cinnamon graham cracker, crushed
1-2 tsp vanilla extract
Directions:
In a medium mixing bowl add the graham crackers and with your hands crush them to obtain little pieces like in the picture.
Place the heavy cream and Truvia in your stand mixer, or hand held mixer,  and pulse until you obtain soft peaks. Add the strawberries to the stand mixer and pulse for 10-15 seconds until they crush a little bit. Add this mixture to the graham crackers.
Place the  cream cheese in the stand mixer and beat until soft and creamy. Add the cream cheese to the graham cracker bowl. With a spatula fold the ingredients together making sure that you don't over mix. You want to have some strawberries and graham cracker chunks.
Transfer mixture to a 9 by 5 inch baking loaf pan or ceramic container and freeze for at least 3-4 hours.
Alternatively, you can divide the mixture on 3 oz dixie cups and stick a wooden stick on each and freeze for at least 2 hours.