Strawberry and raspberry tiramisu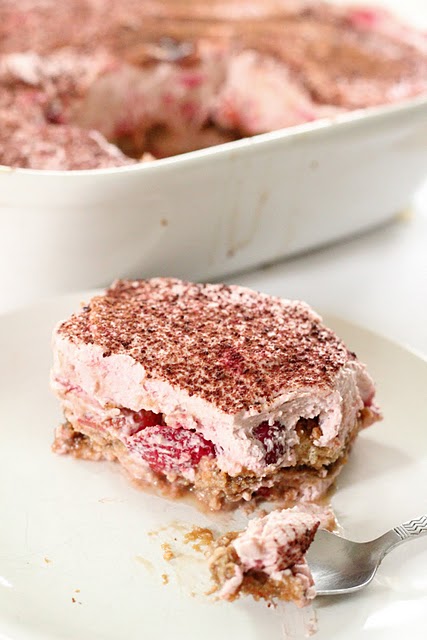 One of my favorite desserts is tiramisu, together with cheesecake and ice cream. I have made tiramisu many times but since it is berry season I figured I try a strawberry and raspberry tiramisu version instead. I am so glad I did.
I think I have an unconventional way of making tiramisu, as the cream filling normally contains egg yolks, not my kind of thing, and the liquor is normally mixed in with the coffee to soak in the lady fingers. I actually add the liquor or sweet Marsala to the cream mixture and that works for me. The end result is still delicious :-).
I must worn you that this is not the every day all day dessert, as it is rather rich. It contains mascarpone cheese and heavy cream, a little bit more saturated fat than I normally would have in desserts. However, in moderation, everything can be eaten, this is something that I truly believe!
Anyhow, I just also wanted to say that I have gotten rid off the recipe drop down page because it was driving me crazy. I have lost half of the lists in many different occasions while adding more information to it. It took me a long time to restore the lists so after losing them for about more than ten times a decided to give it up. I didn't want to keep inputting the information over and over again each time I added something to the list.
I don't know what I am going to do, perhaps switch to wordpress, I don't know, but for now this is the way is going to be, not happy about it but I don't know what else to do.
Anyhow, I hope I can fix this problem soon because I really like having a proper recipe index for you to navigate easier and find old recipes :-)
Enjoy!!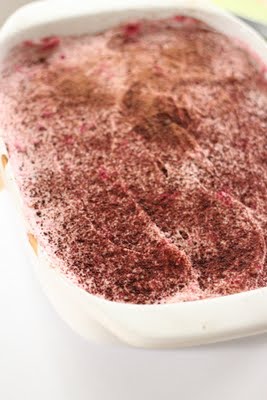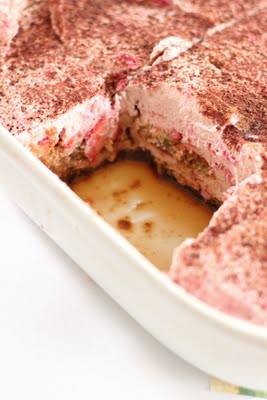 You can do more layers if you want to get a prettier effect although with two it is sufficient for us :-)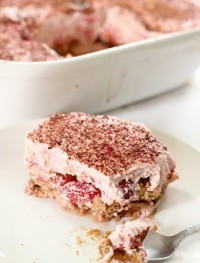 Strawberry and raspberry tiramisu
Ingredients:
8-ounce package mascarpone cheese, at room temperature
1/3 cup maple syrup
1 full dropper of alcohol free liquid vanilla stevia
2 1/2 cup heavy cream
1 1/2 cup strong coffee, at room temperature
1/4 cup raspberry liqueur, optional
1 1/2 cups fresh organic strawberries, stemmed and sliced
1 1/2 cups fresh or frozen organic raspberries, I used frozen. Make sure they are thawed and drained
24-28 ladyfingers
2 teaspoons unsweetened cocoa powder
Directions:
In large bowl, beat heavy cream until soft peaks form. Add maple syrup and stevia and continue to beat until firm. Add cheese and combine until well blended. Add liquor and beat at low until combine. Gradually fold in raspberries.
In small bowl, place the coffee. In a 8 x 9-inch glass baking dish, or any rectangular baking dish really, place enough ladyfingers, previously soaked in coffee, to cover bottom.
Layer half of the strawberries over the lady fingers. Top with half of the cheese mixture and repeat lady finger and strawberry layers followed by another cheese layer. Finish sifting cocoa powder over the top.
Refrigerate tiramisu and for at least 4-6 hours.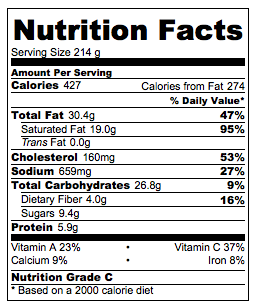 Nutrition facts calculated based on the recipe yielding 8 servings.