Spinach pasta with homemade tomato sauce
I can't rave enough about how exceptionally tasty this Spinach pasta with homemade tomato sauce really is. The difference of course is that you must make your own pasta sauce. Still super easy, only an extra 10 minutes for this recipe so don't be afraid. The recipe is done in just 20 minutes.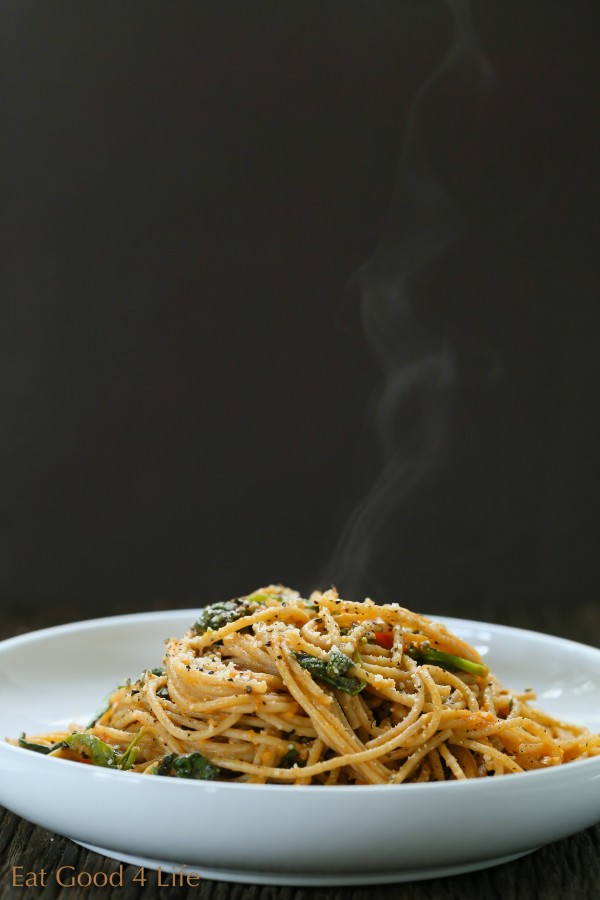 I promise, making your own tomato sauce is not as hard and time consuming as you think, or at least this tomato sauce recipe isn't. This recipe is super easy and it takes just 10 minutes to make. The flavor of this sauce is superb and is what makes this spinach pasta with homemade tomato sauce recipe top notch.
I have actually gotten this recipe from my best friend Carla. Like me, she loves to cook from scratch and feed her family real food. When I first met her 5 years ago we clicked instantly. So much we could talk about. She also handed me down this Caribbean chicken recipe that belonged to her mother in law's house keeper while she lived in the Caribbean. The recipe is truly authentic and the taste is out of this world.
While my friend is not a trained chef she cooks exceptionally well. She has done several Italian culinary trips where she learned the tricks of what Italian food really entails. A trip I must do soon.
I have also gotten the garlic paste idea from her. This little trick has revolutionized my cooking. You see, because I use large amounts of garlic in my cooking, having garlic paste infuses the flavor into my other ingredients a lot better. It also saves me tons of time because instead of mincing the garlic each time I cook, I just take a tablespoon of the garlic paste, that I do and keep in the fridge ahead of time, and I am done. Making the garlic paste takes just 10 minutes and it tastes way superior than store brands. I shall post the recipe here soon!
I intend to do the same with ginger because I cook a lot of Asian food and ginger is like garlic is to Italian food.
Anyhow, I hope you get to make this spinach pasta with homemade tomato sauce. The tomato sauce can be used for any other recipes you need tomato sauce in. You can also make it vegan if you like, just omit the grated cheese at the end and you are good to go.
Enjoy!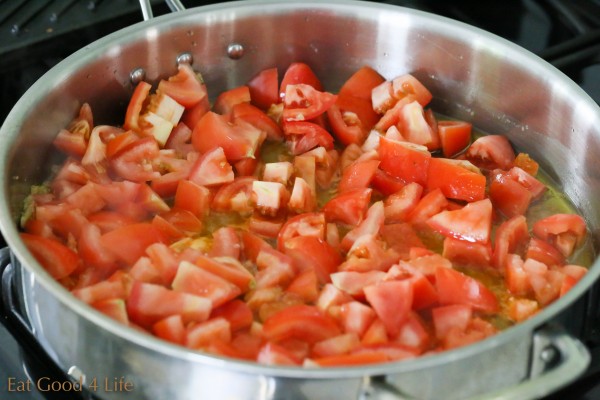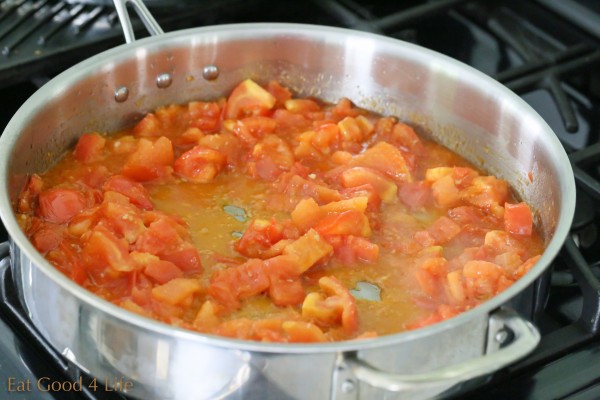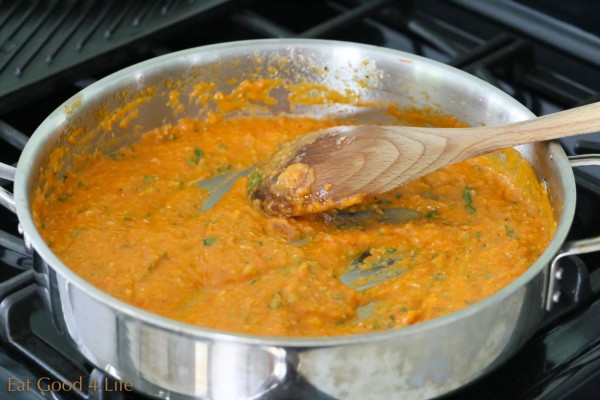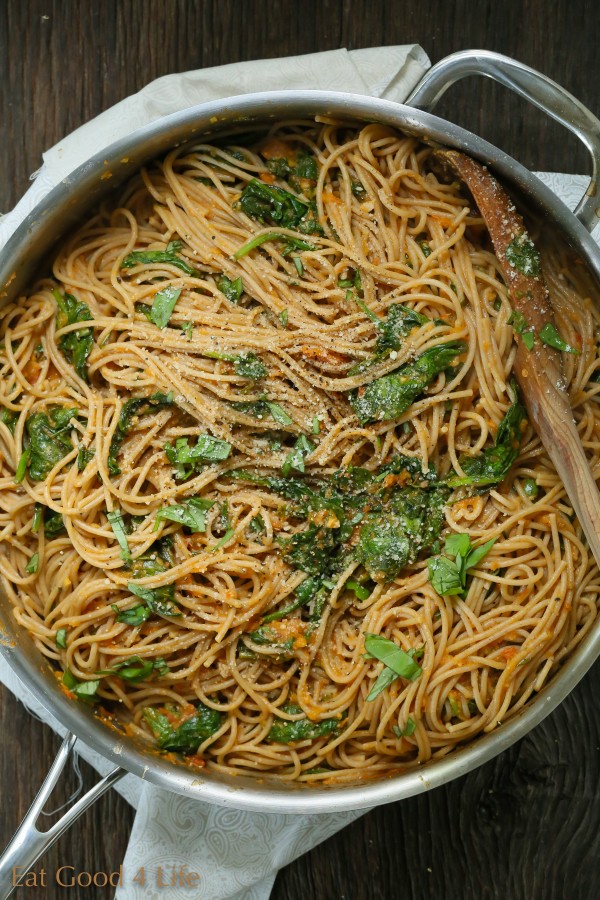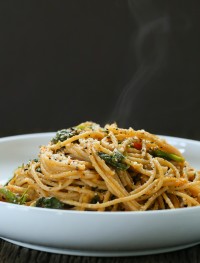 Spinach pasta with homemade tomato sauce
Yield: 4 servings
Total Time: 25 minutes
Ingredients:
Tomato sauce
1 tbsp garlic paste, or 4 garlic cloves, chopped
4 large fresh tomatoes, chopped
2 dried peperoncino peppers, chopped or 1 tsp pepper flakes
3 tbsp extra virgin olive oil
2 tbsp pecorino Romano cheese, or parmesan
1/2 cup fresh basil, finely chopped
1 tsp celtic salt
Pasta
10 oz fresh spinach
1 lb whole wheat spaghetti
Directions:
In a large pasta pot, cook pasta according to package instructions.
While the pasta cooks, over medium heat, place the olive oil and peperoncino peppers in a large skillet. Cook for 1 minute until the oil is infused. Add the garlic paste and cook, stirring, until fragrant. Make sure you don't burnt the garlic.
Add the tomatoes and cook for about 10 minutes or until they are fully cooked and soft. You may have to stir it once or twice. Add the salt, and pecorino Romano cheese. Mix through and blend with an immersion blender or any blender you may have.
Place sauce back in the skillet and add the chopped basil, cooked pasta and spinach. The spinach will wilt with the heat of the sauce and pasta. Mix through and serve.
NOTE: You can use gluten free pasta for a gluten free version and omit the cheese for a vegan version.