Spinach and potato indian pakoras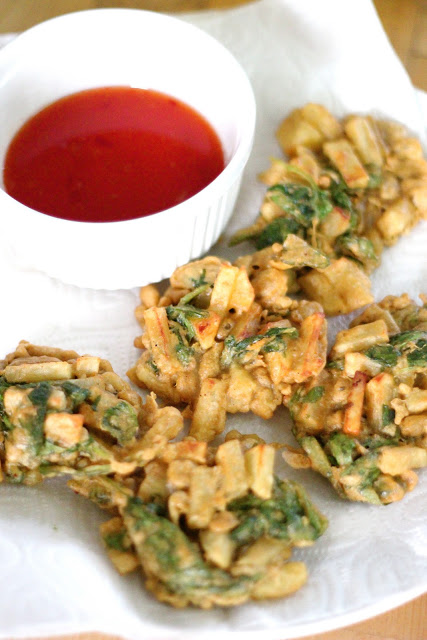 Now, I know I have not posted in almost a week but I have been experimenting on this no bake peanut butter pie that is not working for me. Two tries and still not good. The flavor is totally there but the consistency is not. I think I am giving it one more try and that is IT!!
Why haven't I made this before? The last time I made these pakoras it was probably 5-6 years ago, no kidding.We went to Asheville, NC this summer and ate at this vegan restaurant where we had Pakoras. They weren't that good so I decided to make them home when ever I got a chance. The chance was today.
The ones in the restaurant had nothing on these ones, and my husband strongly agreed :-) These pakoras are awesome, easy, and tasty.Just try and see for yourself.
Anyhow, enjoy this simple and awesome Indian Pakoras. I got my spices at an Indian market 15 miles from my house. You can get them at your local grocery store but they will be 10 times more expensive and you will get a lot less quantity.
By the way, you may add chopped onions or any other veggies of your choice to the Pakoras.
Enjoy!!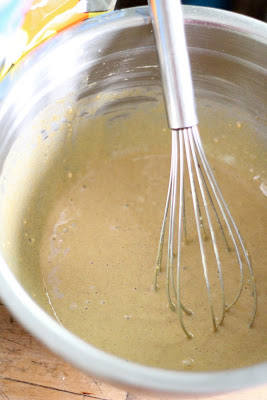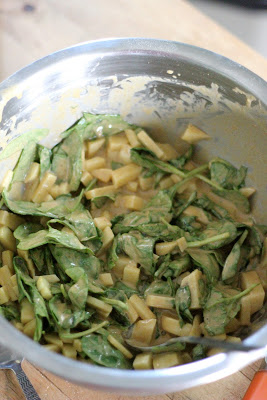 Seems like a lot of filling and not enough batter. Just make sure you mix the ingredients together well enough before placing in the oil to fry.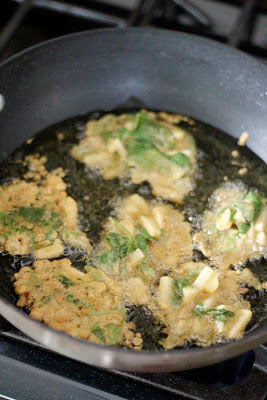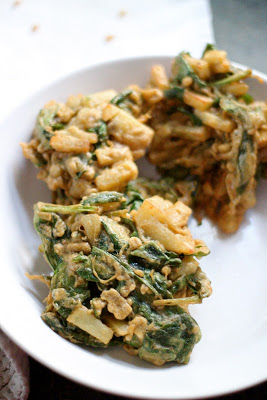 ….and the final result, just superb :-)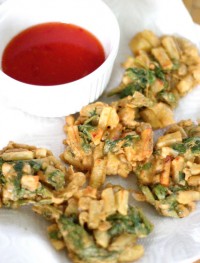 Spinach and potato indian pakoras
Ingredients:
Directions:
In a large mixing bowl, mix together the besan, spices, salt, and  baking powder.
Add the water and mix thoroughly. The batter should be thick, almost like heavy double cream and there should be air bubbles throughout (like in the picture).
Incorporate the chopped potatoes and spinach and mix.
On a heavy deep sauce pan heat any neutral oil of your choice , I use olive oil. Carefully place in heaping tablespoonfuls of batter into the hot oil.
Try not to overcrowd the oil because it will result in greasy pakoras. Fry until the pakoras are a pecan-brown, about 60-90 seconds on each side.
Drain on paper towels. Repeat with the remainder of the batter and serve.