Spanish olive oil torts or Tortas de aceite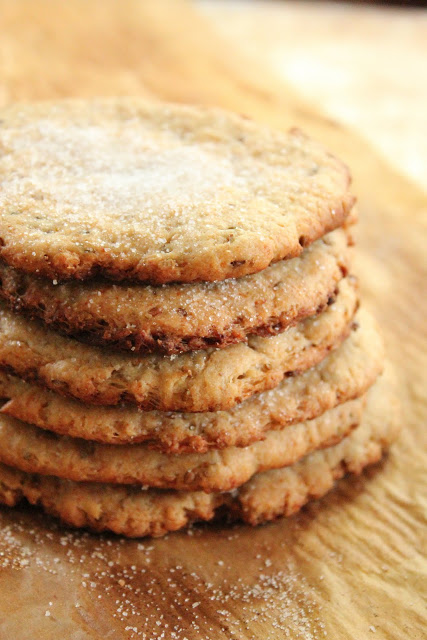 So I have been wanting to do these torts for quite sometime now…..
These torts are very typical of down south Spain and after seeing them for sale at a gourmet store in my neighborhood….. well…..it really made me get to work fast!
I must say that the result was not bad at all although I would have liked them to be a bit more crunchy and thin. Next time around I will flat them even more, that should take care of it, and most definitely I will double the batch as 8 torts was not enough for me at all ;-).
Enjoy!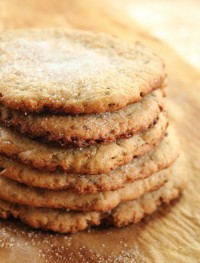 Spanish olive oil torts or Tortas de aceite
Ingredients:
1/4 cup extra virgin olive oil, plain olive oil will also work
1/3 cup lukewarm water, plus 1-2 tablespoons, depending on dough consistency
1 1/2 teaspoons active yeast
1 tablespoon anise seeds
1 tablespoon anise extract
1 lemon, zest, optional
1/3 cup all purpose flour
1/2 cup whole wheat pastry flour, plus 1-2 tablespoons if dough is to wet
1/4 cup sugar, plus 1-2 tablespoons to sprinkle torts before baking
Directions:
In a sauce pan heat oil. Remove from heat and add anise seeds. Let the mixture cool 5-10 minutes.
In a bowl mix water, yeast, sugar, zest, flours and anise extract. Add cool oil mixture and combine (If dough is to wet add add 1-2 tablespoons of whole wheat pastry flour).
Knead the dough thoroughly, place into an oiled bowl, cover with the cling film and leave to rise until doubled in size, about 1-2 hours.
Punch down the risen dough and divide into 8 pieces. Preheat oven to 375F. Roll out each piece into a circle and pierce with a fork. Place torts on a baking pan with parchment paper and sprinkle with sugar.
Bake for 10-15 min or until golden. Cool down on a wired rack and keep in a airtight container.