Spanish Meatballs with Almond Sauce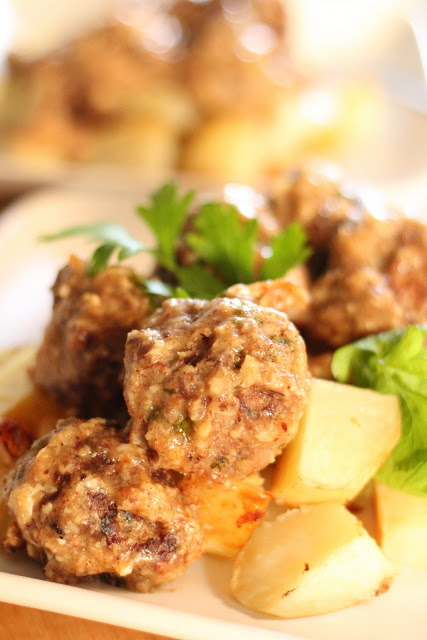 I do not get to make meat dishes often as I do not eat meat much. I used to be a lacto-ovo-vegetarian for over 18 years so the times that I get to eat meat or poultry, which aren't that many, it is organic or grass feed.
I made this for my husband pretty much, since he really likes meat and doesn't get to eat it at home much. It was a very elaborate dish. Took me quite some time to get it together, which I really did not enjoy. I normally don't spend more than 30-40 minutes cooking any type of recipe so for sure will not be making these any time soon.
Don't get me wrong, they were delicious, the almond sauce was very tasty and unique. I think I could use this sauce with a firm white fish and the result will be much better. Not just that but the time to make this dish will be cut in half, my kind of thing :-)
Yeap, I think this is what I will do next time :-).
Also, this can be a great alternative for a thanksgiving dish. We will not be eating turkey. My husband's family doesn't care for turkey so I will have to figure out what kind of protein I will choose for that day. Chicken seems to be an appropriate contender so will see how it goes. Enjoy!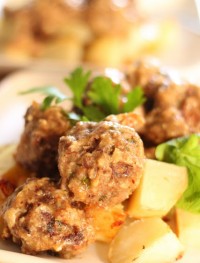 Spanish Meatballs with Almond Sauce
Ingredients:
1 lb ground beef, ours was grass feed
1 egg
3 garlic cloves, minced
2 tablespoons parsley, chopped
2 slices whole wheat bread, crust removed
3-4 tablespoons water
Pinch of salt
2- 4 tablespoon olive oil
Almond Sauce
3/4 cup sliced raw almonds, you can use blanch almonds as well
1 slice whole wheat bread, chopped
2/3 cup white wine
1 3/4 cup vegetable stock or water
Salt to taste, I used about 2 teaspoons
2 garlic cloves, chopped
Directions:
To prepare the meatballs, in a bowl mix beef, eggs, garlic and parsley. Soak the bread with the water for 5 minutes. Squeeze the water from the bread and mix bread with beef mixture. Shape the meat mixture into equal size balls. Heat oil in a skillet and cook meatballs for about 4-6 minutes or until browned on all sides. Remove meatballs and set aside.
To make the almond sauce, use same skillet you cooked the meatballs in. Add bread, and almonds to skillet (you may have to add 1-2 tablespoons of olive oil). Stir frequently until almonds are golden, about 3-4 minutes. Add garlic and cook for an extra minute. Add wine and boil for 1-2 minutes.
Transfer the almond mixture to a blender, add the water and blend until smooth. Return this mixture to skillet. Add meatballs and cook for another 20-25 minutes.
TIP: You can serve these with crusty bread, potatoes, pasta how ever you prefer.
I used potatoes and worked pretty good. I just baked the potatoes on a baking sheet with some olive oil for about 30 min at 400F.