Smashed potatoes
How about some smashed potatoes? This is the perfect comfort food that it is super easy, and suitable for those on a gluten free diet.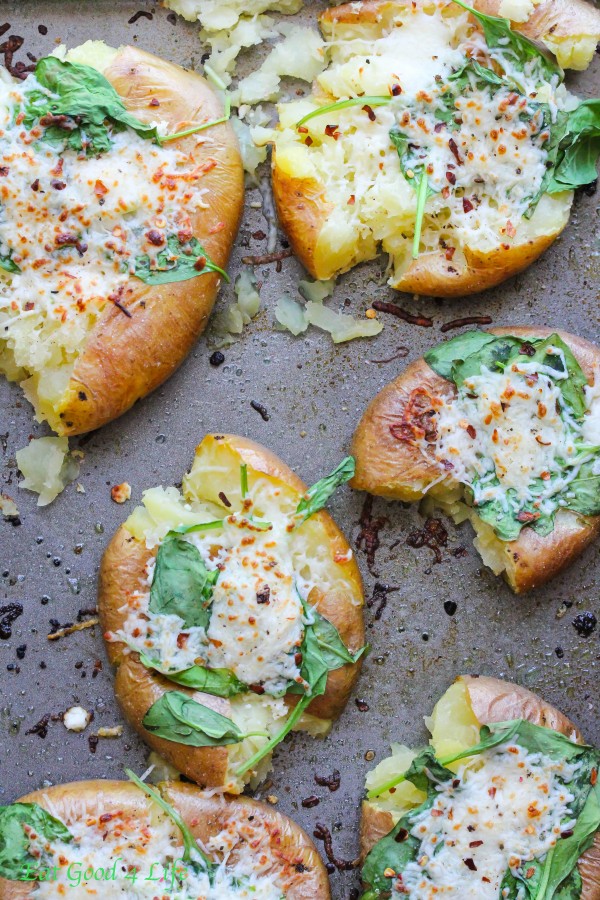 While this is my first time making smashed potatoes for sure it will not be my last. I actually used fresh spinach but I really wanted to use kale, I just didn't have it on hand but next time I will use kale for sure.
I am trying to make some easy appetizer recipes since football season is just upon us. My husband used to play college football so needless to say he is really into it. He is obsessed with fantasy football as well, what guy isn't right? especially if you like football. I have no idea about it all, too many rules for me!
For my smashed potatoes I used different types of cheese. Any type will do so go ahead and use your favorite. Next time I will do a mixture of goat cheese and mozzarella, I love them both, I actually love any type of cheese really! I am a cheese lover all the way!
On another note, some of you know that my house flooded last week. I am trying to keep my posts current. It has been tough but I will do my best. I love sharing new healthy recipes so I hope you keep coming for more.
This smashed potato recipe was a success. A much fun way to have potatoes for sure so I hope you like it.
Enjoy!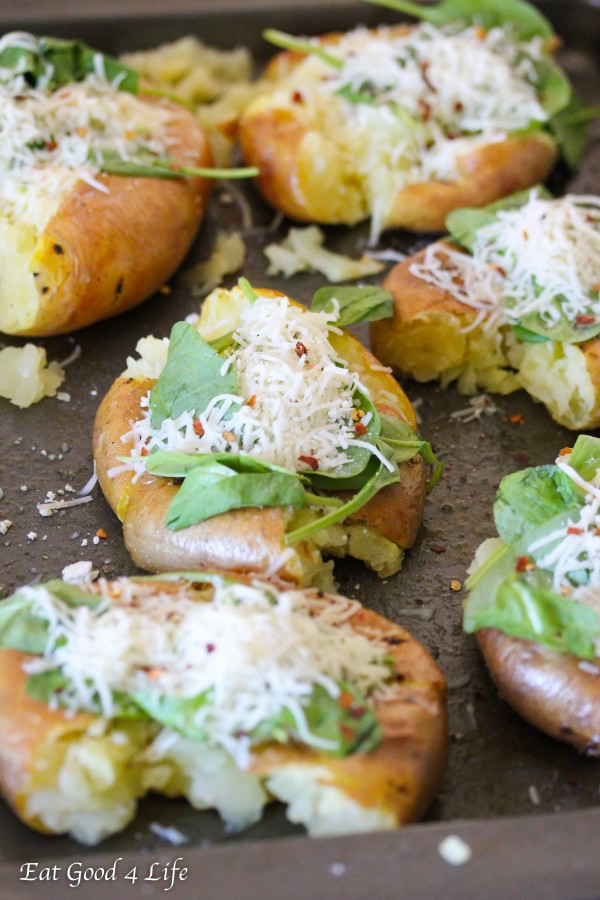 These are the smashed potatoes right before placing them under the broiler. I did for just 3 minutes. Make sure you watch them closely as they can burn easily.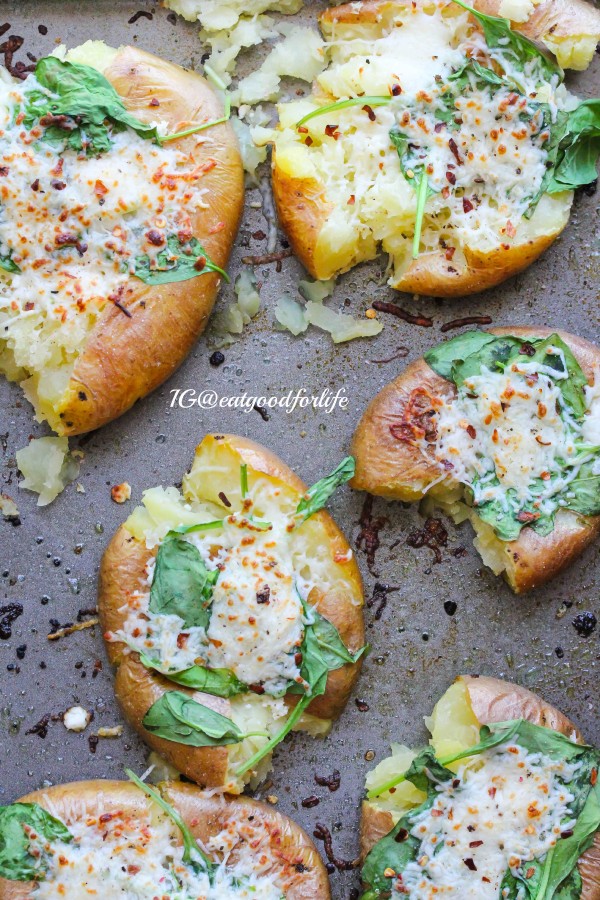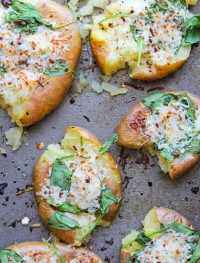 smashed potatoes
Yield: 8 servings
Total Time: 45 minutes
Ingredients:
5 lbs organic yukon gold potatoes
1 cup mozzarella cheese
1/2 cup parmesan cheese
2 tbsp extra virgin olive oil
1-2 cups fresh spinach or kale
1 tsp crushed pepper flakes
1/2 tsp himalayan salt
Directions:
Preheat your oven to 425F. With fresh running water, wash the potatoes to remove any sand they may have. Dry the potatoes with a clean towel.
Place the potatoes on a large baking tray and prickle with a fork. Drizzle the olive oil over the potatoes and bake for 30-40 minutes, depending how large your potatoes are, or until tender. Remove the potatoes from the oven and turn on your broiler.
Mash each potato with the back off a spatula and sprinkle some mozzarella cheese, spinach, parmesan cheese followed by some salt and crushed pepper flakes to each potato. Place the potatoes under the broiler for 3-5 minutes, depending on your broiler, or until the cheese melts and bubbles. Serve immediately.