Slow cooker Caribbean peanut chicken
This is another winer recipe. Slow cooker Caribbean peanut chicken which is super easy to put together.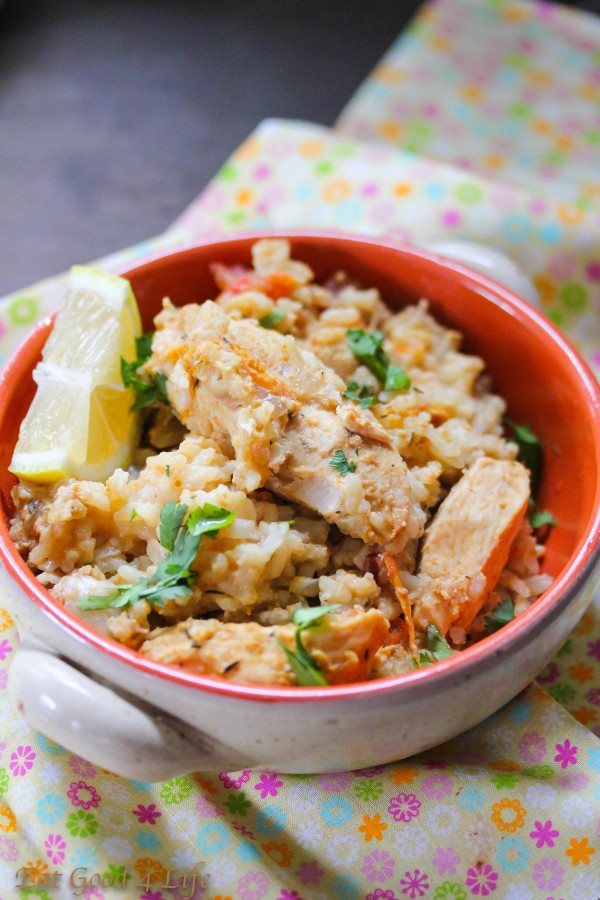 Lately, I have been trying to put my slow cooker to work. I am trying to at least incorporate one slow cooker meal each week.
This Slow cooker Caribbean peanut chicken was absolutely delicious. I enjoyed the flavor of the thyme and peanut butter together. It was rather unique but very good.
I have been finding a lot of chicken recipes for the slow cooker. I want to have more vegetarian options so what I am trying to do is make some of my own recipes in the slow cooker and see how that works. I have done a couple that have turned sort of OK. Not perfect, but OK so I have to try these recipes again.
One important piece of advice for this Slow cooker Caribbean peanut chicken recipe:
Make sure you don't overcook the rice. The recipe called for 45 minutes on high using white rice. I used long grain brown rice and after the 45 minutes my rice was hard so I cooked it for an extra 30 minutes. Big mistake because that was way too long. My rice came out a bit on the mushy side. It was edible but not of my liking. 45 minutes was not enough for the brown rice to cook but the extra 30 minutes was way too long. I think 45 to 1 hour will be more adequate for next time.
Anyhow, mushy rice or not, I really enjoyed this Slow cooker Caribbean peanut chicken. I will be making it again soon but next time I will be a bit more careful cooking the rice. Let me know if you try this recipe.
I hope you like it as much as we did.
Enjoy!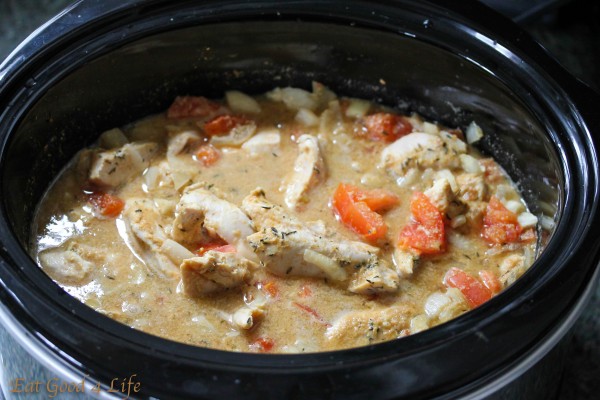 Here is the chicken right before I added the long grain brown rice. Cooking it 45 to 1 hour on high is sufficient but depending on the rice that you use the cooking time may vary a little bit.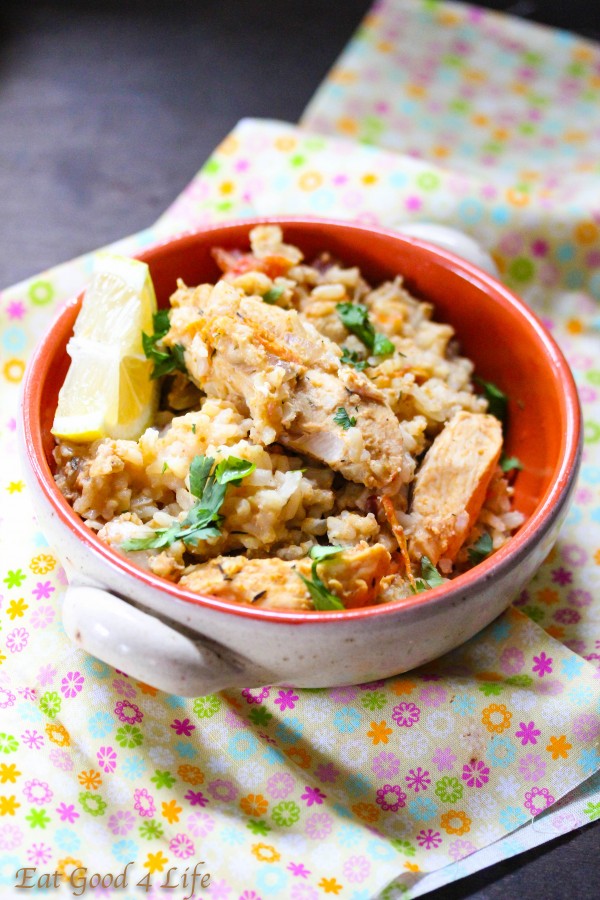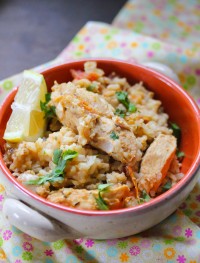 Slow cooker Caribbean peanut chicken
Ingredients:
2 lbs chicken breast, cut into thin strips
1 onion, chopped
1 fresh tomato, diced
1/4 cup organic peanut butter
3 cups chicken stock
2 tbsp olive oil
1 garlic clove
1 tsp dried thyme
1 green chili, chopped
1 tbsp curry powder
1 1/2 cup long grain brown rice
Fresh cilantro
1 lemon
Directions:
In a mixing bowl mix, with a wire whisk, mix the chicken stock, olive oil, organic peanut butter and dried spices. Add this mixture to your  slow cooker.
Add the reaming of the ingredients, except lemon and fresh cilantro, and turn the slow cooker to high. Cook for 2 hours. Sprinkle the rice over the casserole and mix well. Cook for 45 to 1 hour minutes. You many need more time depending on the rice.
Sprinkle lemon juice and the fresh cilantro over the rice and chicken when done.
Recipe adapted from Slow Cooking Cookbook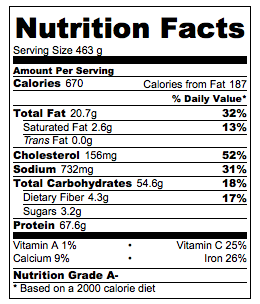 Nutrition facts calculated based on the recipe giving 5 servings.