Slow cooker BBQ pulled chicken
Slow cooker BBQ pulled chicken is one of my ultimate favorite chicken recipes. It is tasty, healthy and easy. I love the my slow cooker.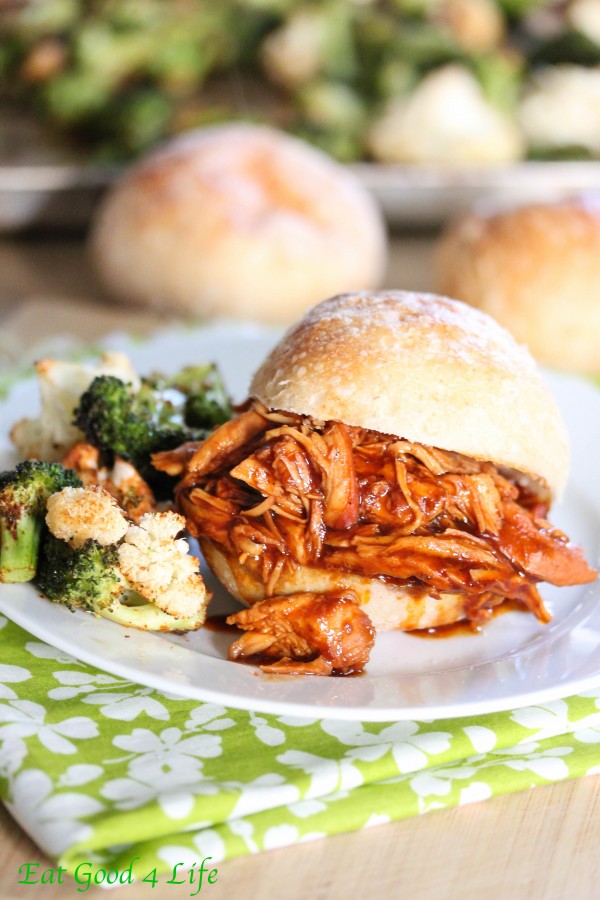 Let me start by saying, this is the best slow cooker BBQ pulled chicken or BBQ chicken you will ever have. No joke, this is the easiest and tastiest BBQ chicken recipe E.V.E.R!
I have not made anything like this before and for sure this is not going to be the last. I really wished I used more chicken because it was truly magnificent. I need to get more recipes for my crock pot. I recently got it and I truly love this piece of equipment.
I changed the original recipe just a tad adding less sugar and using 2 teaspoons of arrowroot powder–cornstarch, to thicken my sauce. I like my sauce to be a bit thicker.
My family truly loved this recipe. I am not much of a meat or poultry eater but this recipe is for sure a winner. You can serve this slow cooker BBQ pulled chicken with some veggies, which is what I did, but I think it will be great with some oven baked fries. The fries will soak up all of the goodness of the BBQ sauce, if you know what I mean. I think that is what I am going to do next time.
For my little girl I actually served it with brown rice, because with the bun and all, it would have been a bit messy for her to eat. It was really great with the rice so that is another option.
Please let me know if you try this recipe and how you like it. I hope that you do. If you like BBQ flavor food I think you will be really pleased.
Enjoy!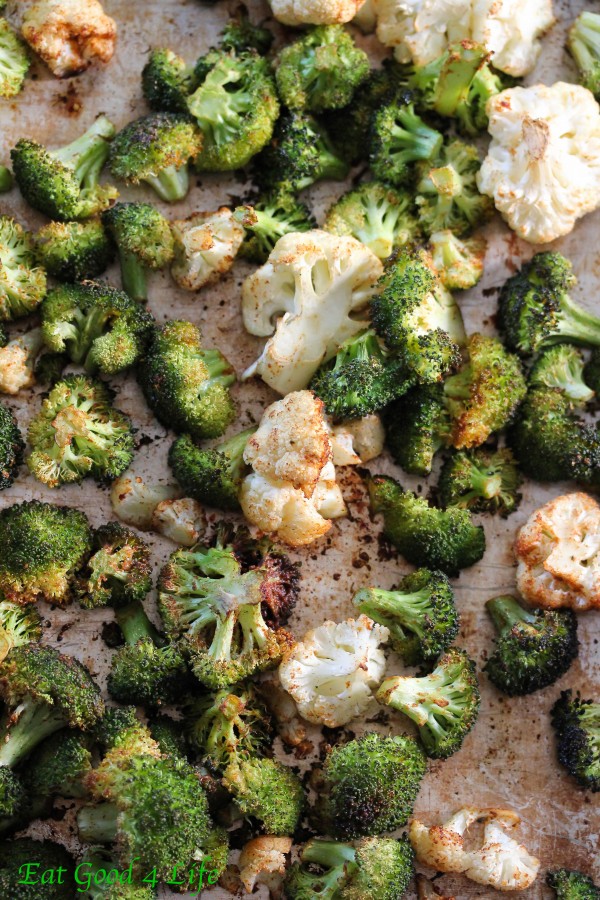 I served our BBQ chicken with roasted veggies. Just choose your prefer veggies with a drizzle of olive oil, salt and prefer spices and roast at 375F for about 20-25 minutes. You are done!!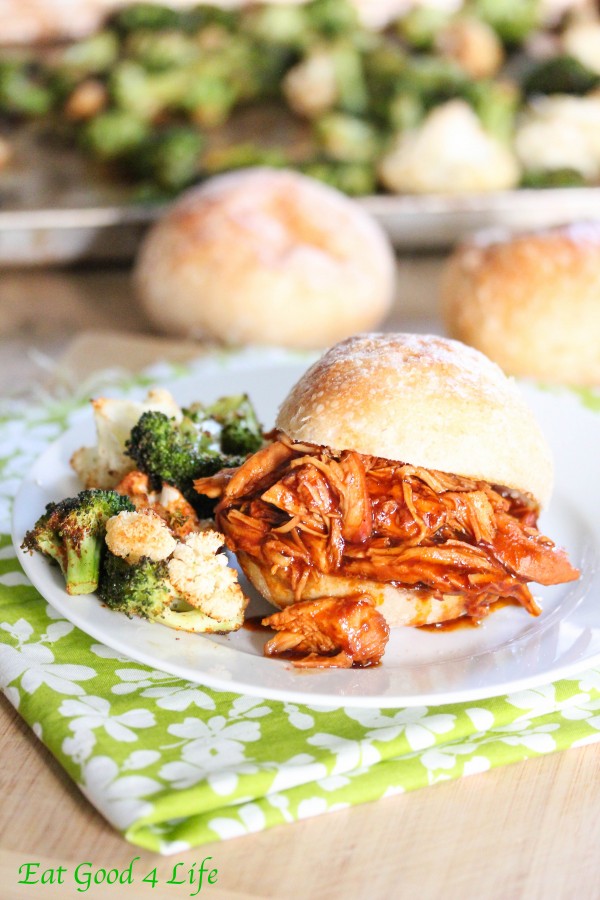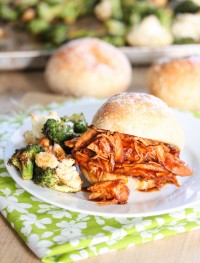 Slow cooker BBQ pulled chicken
Yield: 8-10 servings
Total Time: 4 hours
Ingredients:
4 lbs organic chicken breast, you can also use thighs if you like
¼ cup extra virgin olive oil
¼ cup apple cider vinegar
5 cloves minced garlic
2 tsp oregano
1 tsp Celtic salt
1 tsp black pepper
3 tbs unrefined sugar
1 tsp onion or garlic powder
2 tbs Worcestershire sauce
2 cups of preferred BBQ sauce
2 tbs natural liquid smoke
2 tsp arrowroot powder, or conrstarch
Directions:
In a medium bowl, by the way these are my favorite mixing bowls,  mix all of the ingredients except the chicken and arrowroot powder. Place the chicken breast in the crock pot and top with the BBQ sauce mixture. Just move the chicken around to make sure that each piece is well coated.
Turn the crock pot to high and cook for about 3 hours. Remove the chicken from the slow cooker keeping the lid on. Pull the chicken apart with a sharp knife or fork. Return the shredded chicken into slow cooker. Dissolve the arrowroot powder or cornstarch with 2 tablespoons of the BBQ mixture and add to the crock pot.
Toss the chicken around to make sure it is well coated with sauce and so that the arrowroot powder mixes through too. Cook on high for another 30 minutes.  Keep in the warm setting until ready to serve.
Recipe slightly adapted from Chew Out Loud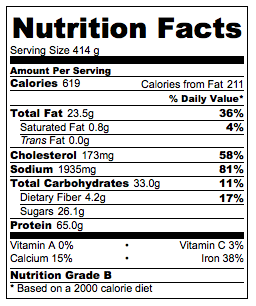 Nutrition facts calculated based on the recipe giving 9 servings