Skinny Nutella and Walnut breakfast muffins
Skinny Nutella and Walnut breakfast muffins anyone? I love Nutella, however, I don't consume it as much as I would want. Once in a while is OK though.
I have just made these skinny Nutella and Walnut breakfast muffins the other day and lasted just that day. The minute they came out of the oven I ate three myself, not good but I couldn't resist. Granted they may not look too good because my nutella was kind of hard and it sank to the bottom in some of the muffins. Nevertheless, they were still really good. My husband actually said they were the best muffins I have made in a while so I guess he was right?
The recipe came from my cranberry breakfast muffin recipe that I made a while back. These are also very good as you can use any type of dry or fresh fruit you may like. Blueberries will work really good so maybe I will do these next.
I am not a very big breakfast muffin person, but because they are so convenient, and they work really good on the go, I tend to make them sometimes. I think I am going to make some bran breakfast muffins next. I have had these on my list for some time now so I will try to tackle them shortly. I know my husband will be thrilled, because him on the other hand, loves muffins for breakfast. Especially with his coffee, which I don't drink.
These ones don't have much sugar in them. Most of it comes from the bananas however you can add more Nutella if you like.
On another note. Have you checked out my new e-books I released a few weeks ago? Here is the link if you haven't.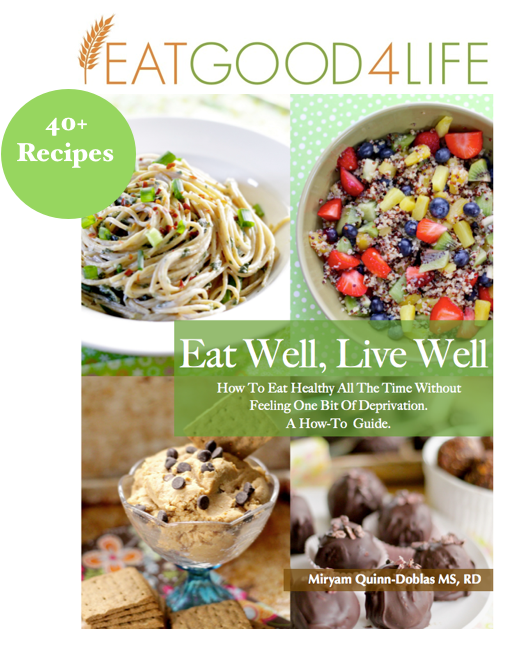 If you are looking to healthify your diet and need some guidance the Eat Well, Live Well e-book would be perfect for you it is only $4.95 and it contains:
A comprehensive guide on how to start eating healthy.
The book contains 8 chapters of brand new recipes which includes breakfast (6), nourishing snacks (5), energizing smoothies (5), quick meals (9), salads (6), international foods (6), and desserts (6).
Nutrition facts with carbohydrates and fat exchanges for each recipe included.
Recipes that are full proof.
A total of 43 recipes.
Over 75 pages of full color photographs.
20 + gluten free recipes
25 + vegetarian recipes. Remaining recipes can be turned vegetarian and vegan by replacing the main protein in the dish to a vegetarian option, substitute the cheese with vegan versions and/or use flax eggs in place of real eggs.
The e-book is on PDF format which can be viewed on your computer, iPad and iPhone.
Anyhow, I hope you like these muffins. We sure did so I will be making them very soon after I tackle the bran muffins first which I have wanted to make for quite some time now!
Stay safe and enjoy!
Make sure you swirl the nutella, I didn't and mine sank to the bottom. They were still good but they would have looked better if I actually swirled the nutella before baking them :-)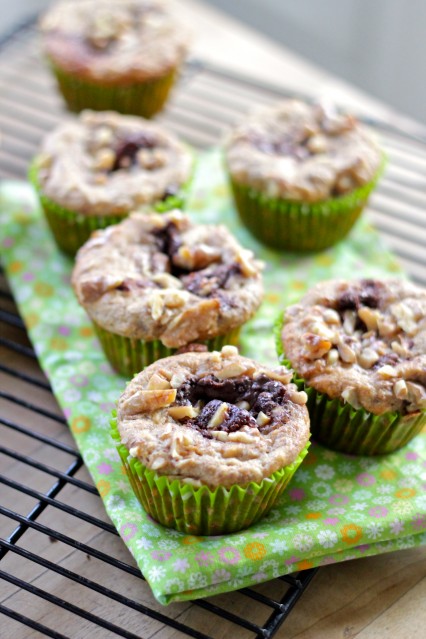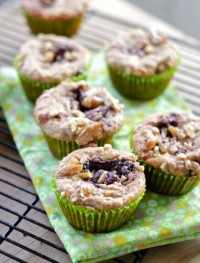 Skinny Nutella and Walnut breakfast muffins
Yield: 11 muffins
Total Time: 40 minutes
Ingredients:
Directions:
Preheat oven to 350F degrees. Line muffin pan with muffin paper cups.
In a mixing bowl combine bananas, milk, oil, sugar and egg. Add the dry ingredients, flour, flax seed meal and baking powder and whisk until well incorporated.
Fill each muffin cup 3/4 of the way. Spoon about 1 tsp of nutella over each muffin and swirl around. Place chopped walnuts evenly through the top of each muffin.
Bake for 25-30 minutes or until tester comes out clean. Remove muffins from the baking pan immediately after they are done. Let them cool on a wire rack and store in an air tight container for up to two days. You can also freeze these and have for future consumption.
Adapted from my cranberry breakfast muffin recipe