Skinny Fettuccine Alfredo with spinach
This is the best Skinny Fettuccine Alfredo with spinach pasta ever. How awesome it tastes and how easy it is to make.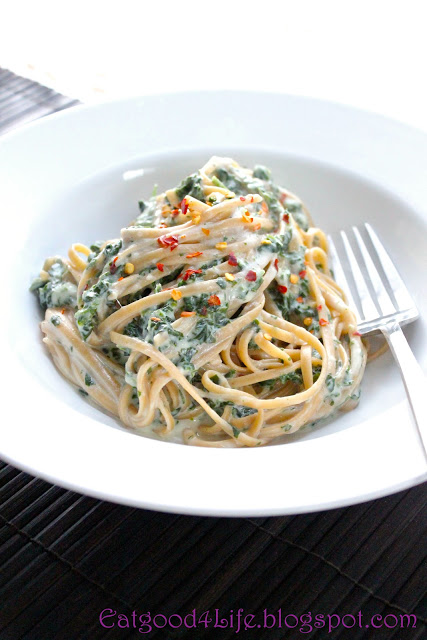 This is the best Skinny Fettuccine Alfredo with spinach pasta EVER. I have actually made this twice in the past week and it was awesome.
The first time I made this pasta I used brown rice pasta that my husband got at the market and it wasn't that great because the pasta consistency was very pasty, but when I used the whole wheat pasta….oh boy….it was heaven on earth.
If you like fettuccine Alfredo you must try this sauce, no joke, it is superb!
You can omit the Manchego and blue cheese and just leave the Parmesan cheese. I just like cheese WAY TOO MUCH, either way, it will still be an awesome sauce.
Anyhow, I hope you try this Alfredo pasta and if you do let me know how you liked it.
Enjoy!!
Before and after blending all of the ingredients in the food processor. You can see that I add it some Manchego and blue cheese. Like I said, I love any kind of cheese!! and by the way, you can also use your food blender if you don't have a food processor.
I made this dish twice within a week. The first time I made the Alfredo sauce I served it with rice brown spaghetti, left picture, which wasn't our favorite but the second time around I used whole wheat linguine and it was way better. Adding frozen spinach to the sauce was just GENIUS :-)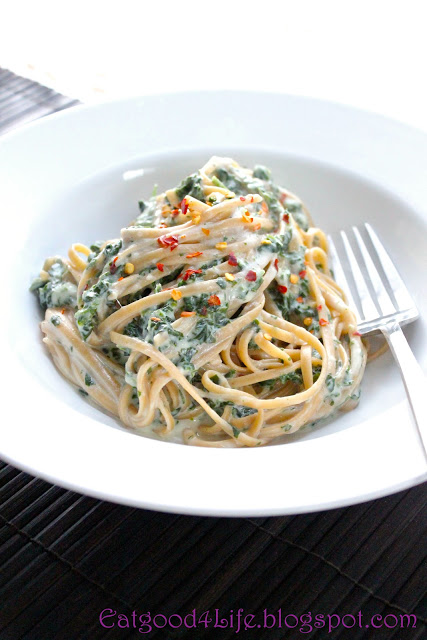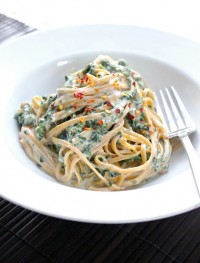 Skinny Fettuccine alfredo with spinach
Yield: 4-6 servings
Total Time: 25 minutes
Ingredients:
13.25 oz whole wheat linguine
1 cup cottage cheese, or low fat cream cheese
1/2 cup plain Greek yogurt
3/4 cup unsweetened milk
1/2 cup Grated Parmesan cheese
4 oz crumbled blue cheese
3 oz Manchego cheese
8 oz frozen chopped spinach, thawed out and drained
2-3 garlic cloves
1 teaspoon salt
1/2 teaspoon cornstarch, to prevent curdling
Pepper flakes, optional
Directions:
Add all the ingredients, except the pasta of course and the spinach, to your food processor and process until smooth.
Pour sauce in a non stick pan and add the chopped spinach. Over a low to medium heat, heat the sauce through for a minute or so before adding the pasta.
Add the pasta to the sauce and heat until sauce starts to thicken and adhere to pasta, about 3-5 minutes. Add pepper flakes if using and serve.
adapted from the healthy foodie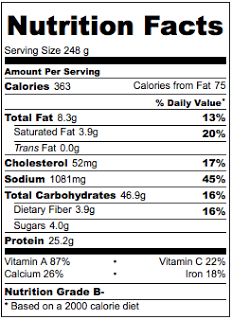 The nutrition facts are based on 5 servings. It is high in Vitamin A and kind of high in sodium however you can omit the salt if you like.