Shrimp Stir Fry with Sweet Sauce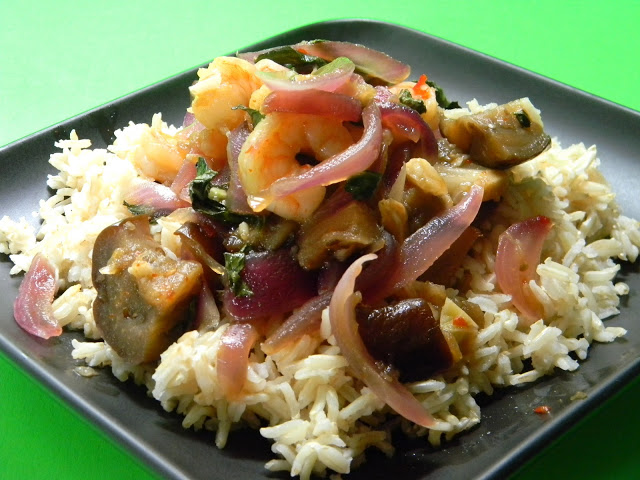 Finally I post a recipe that is not a dessert right? I just have a huge sweet tooth, can't help it plus I rather take pictures of desserts :-)
Anyhow, I just discovered this amazing Asian market near my town. We just moved here 6 months ago and found myself going back to where we used to live to buy Asian groceries, not very practical. I am so happy this one is just 15 minutes away that I already been there twice in one week.
Anyhow, this recipe is tasty, easy and nutritious and can be made with chicken and any other veggies you may desire. One key ingredient for this recipe though is the Chinese basil, do not omit, otherwise the flavor will not be the same. By the way, love, love, love Chinese basil very different from Italian basil.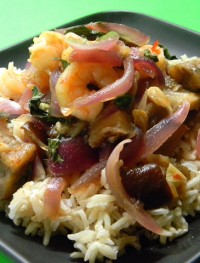 Shrimp Stir Fry with Sweet Sauce
Ingredients:
1/4 cup of reduced sodium soy sauce
4 tablespoons of sweet and sour chili sauce
1/3 cup mirin or rice wine vinegar
1- 2 teaspoons corn starch
3 tablespoons of olive oil
2 medium red onions, cut lengthwise
3 medium eggplants, chopped
4 garlic cloves, chopped
1 lb large shrimp, I used frozen previously thawed
1 cup Chinese basil
Brown rice to serve
Directions:
Mix together first 4 ingredients in a small bowl and set aside.
Heat a large, non-stick pan over high heat and with the oil. Add veggies and stir fry for about 5-7 minutes. Add shrimp and cook for 2 minutes.
Add sauce and basil and cook for a further 2 minutes. Sauce will thicken.
Serve over brown rice.
TIP: I normally make this with other different veggies such as broccoli, shredded carrots and red peppers.