Shrimp broccoli breakfast frittata
I love making frittatas especially for breakfast. Every since I started making frittatas I stopped making omelettes because these are way easier to make. After all, the only thing you have to do is add the egg mixture to the pan and whatever toppings you like place on top and bake it away. This shrimp broccoli breakfast frittata is the prime example. Easy, delicious and good for you!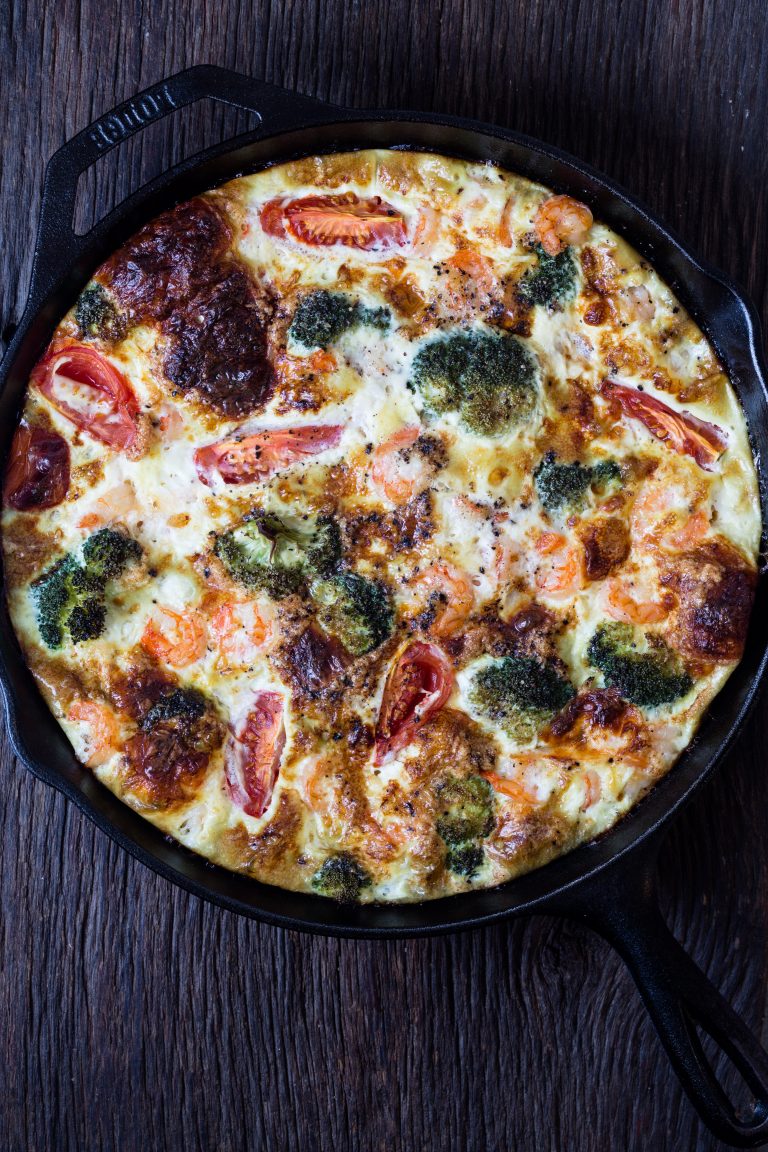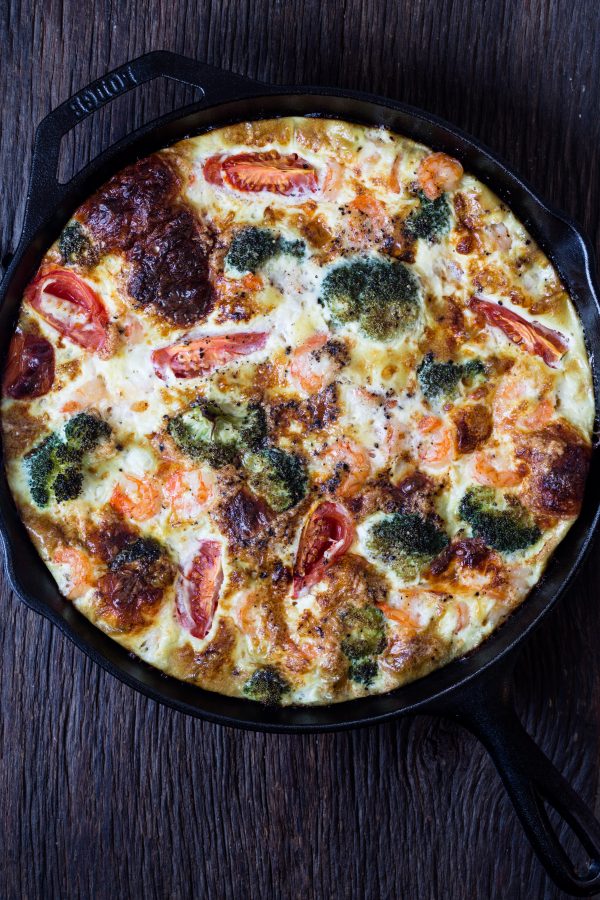 This shrimp broccoli breakfast frittata was the perfect way to start the day. Full of protein, veggies and super tasty to say the least. Frittatas are extremely versatile when it comes to making your own variations. You can add any of your favorite ingredients really. I have made severals variations before and all of them were equally good.
For this frittata variation I added shrimp. We eat shrimp on a regular basis so adding some extra protein to the frittata was just genius in my opinion. I really love seafood so anyway I can incorporate in my meals I will go for it.
If you are like me and love seafood I invite you to visit dishonfish.com Here you will find tons of recipes using fish and seafood. Recipes for breakfast, lunch and dinner. Fish is packed with protein, B vitamins and omega- 3's so get creative or follow a recipe and start incorporating healthier protein into your diet.
Seafood, which includes fish and shellfish, received particular attention in the 2010 Dietary Guidelines because of evidence of health benefits for the general populations as well as for women who are pregnant or breastfeeding. In the 2015-2020 Dietary Guidelines for Americans seafood has actually received the attention it deserves. The health benefits have been thoroughly outlined.
I also have a few seafood recipes that you can find in this link to start experimenting. Sometimes it gets boring to use chicken and meat for protein sources and since fish is much healthier I suggest you give it a try.
This shrimp broccoli breakfast frittata is super easy to put together. All you need are 10 minutes for the prep time. Then you bake it and you are done. It is that simple.
If you like frittatas you will love this version so I hope you get to try it soon.
Enjoy!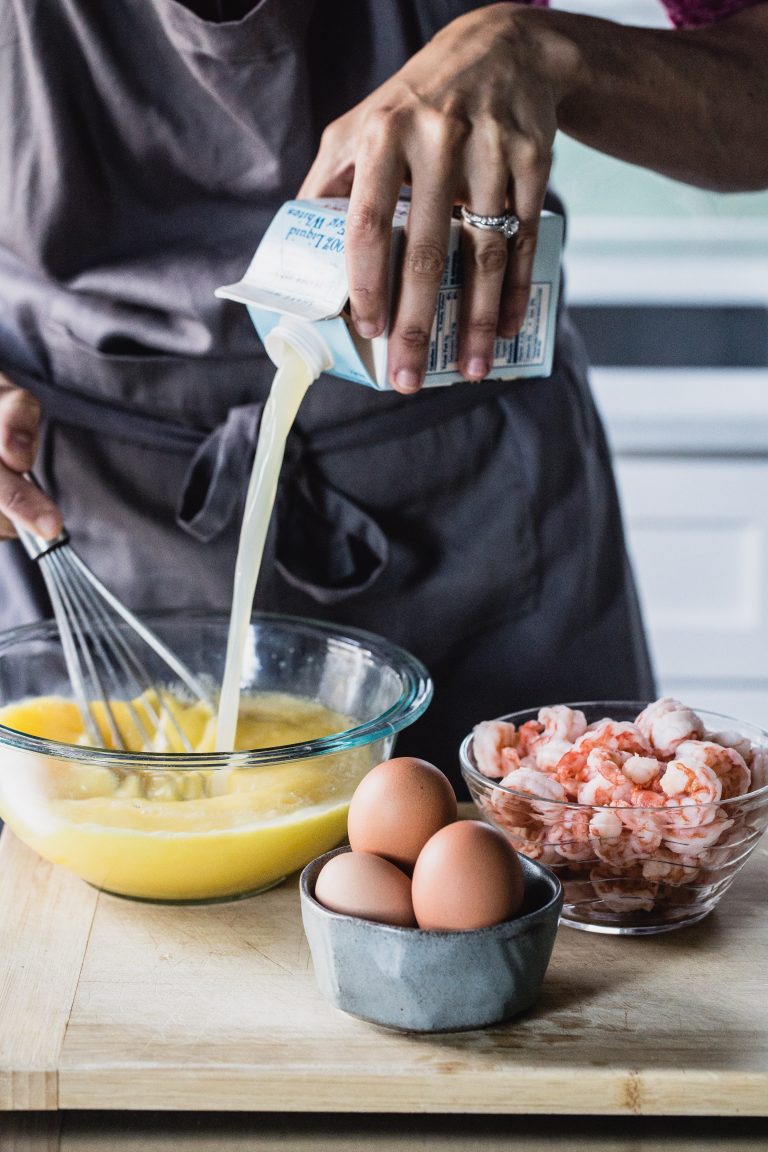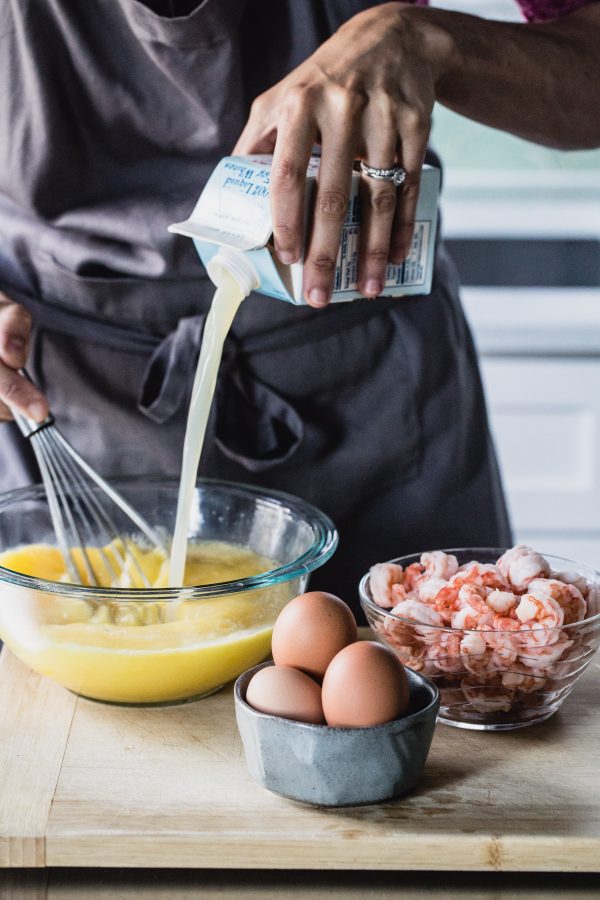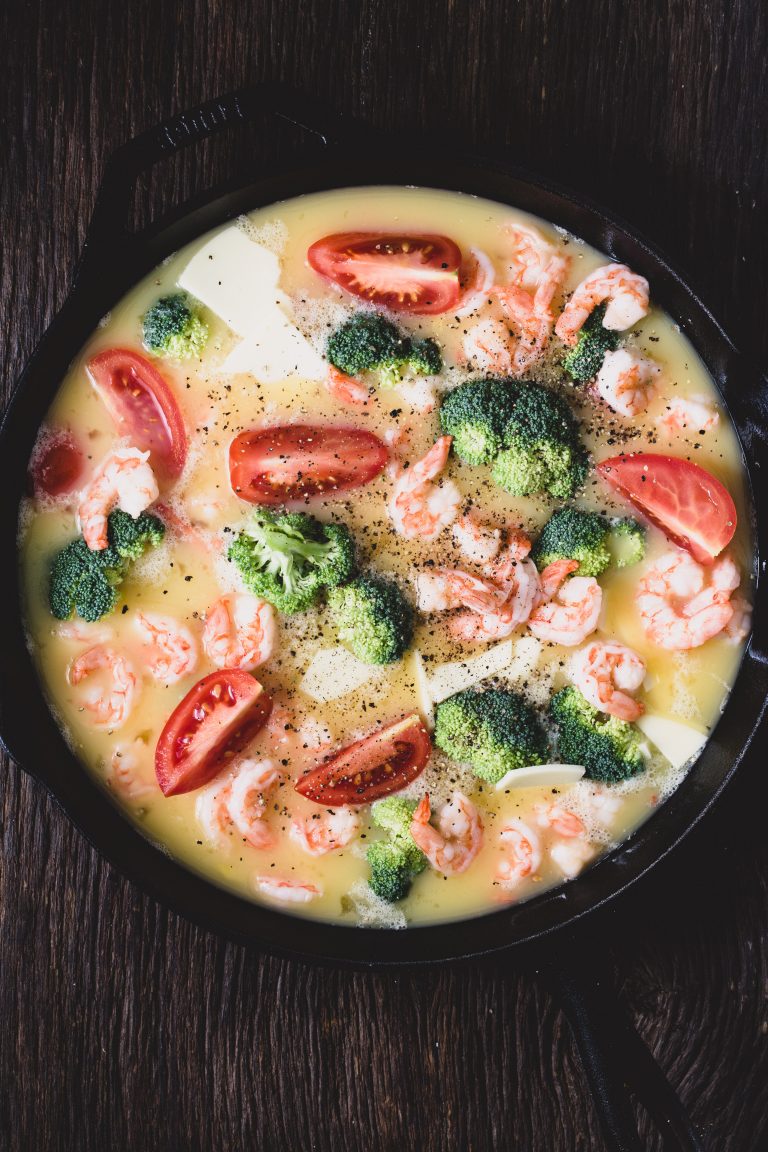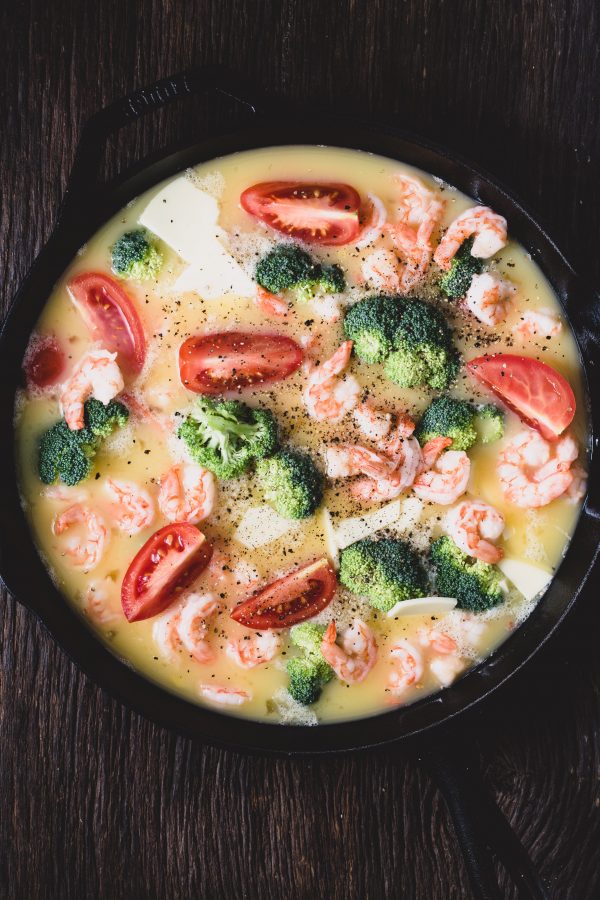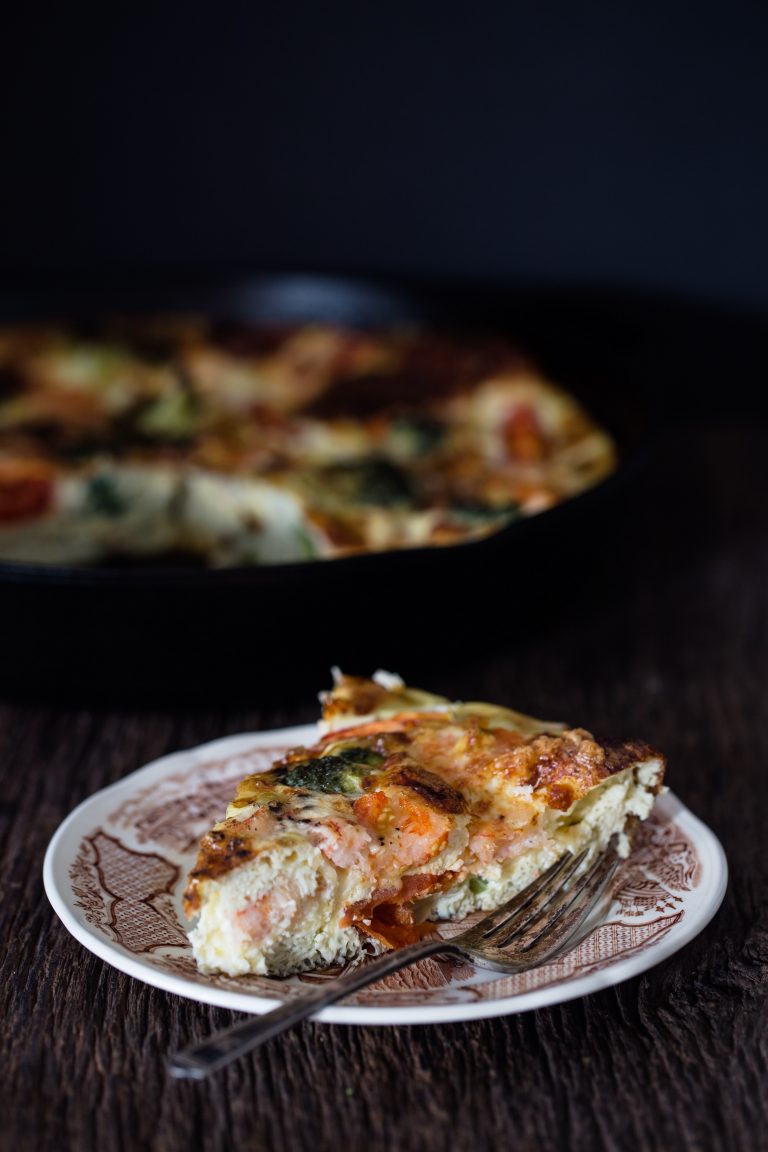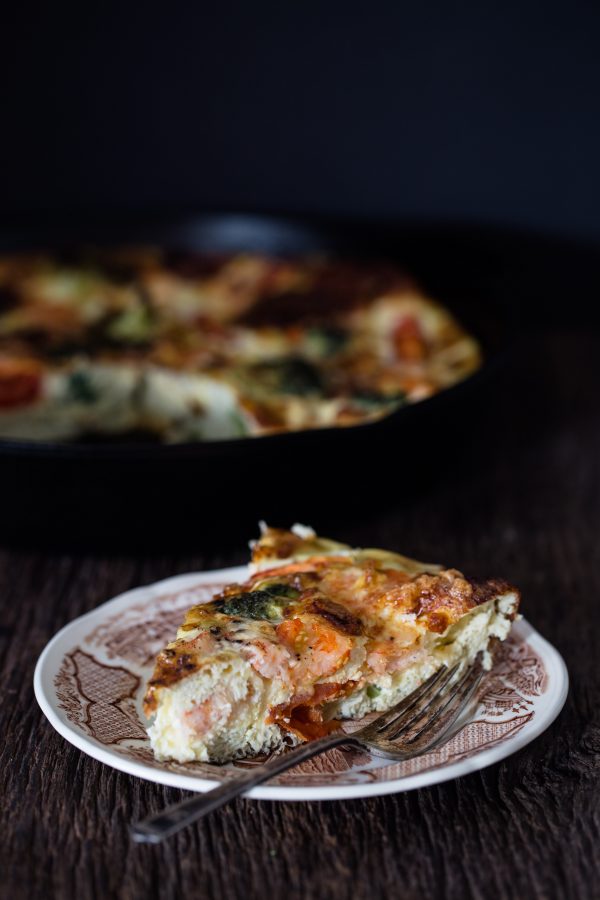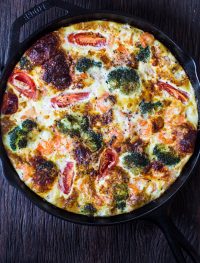 Shrimp broccoli breakfast frittata
Yield: 4 servings
Total Time: 10 mintues
Ingredients:
32 ounces egg whites
4 whole organic eggs
2 tomatoes, quartered
1/2 lb fresh shrimp
7-10 oz fresh broccoli florets
6 oz provolone cheese
2 tbsp olive oil
1/2 tsp ground pepper
1/2 tsp celtic salt, or Himalayan salt
Fresh cilantro, optional
Directions:
Preheat your oven to 425F.
Grease your 12 inch cast iron skillet with the olive oil or any other skillet. Set aside.
In a large mixing bowl add whole eggs and egg whites. With a wire whisk combine the eggs. Place the mixture in the cast iron skillet and arrange the broccoli, tomatoes followed by the cheese and shrimp. Add the salt and black pepper.
Bake in your preheated oven for 25-30 minutes. Sprinkle some cilantro if desired and serve while it is still hot with some whole grain bread.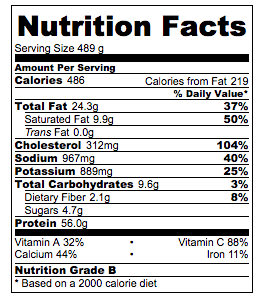 This is a sponsored conversation written by me on behalf of National Fisheries Institute. The opinions and text are my own.