Shrimp and Vegetable Quesadillas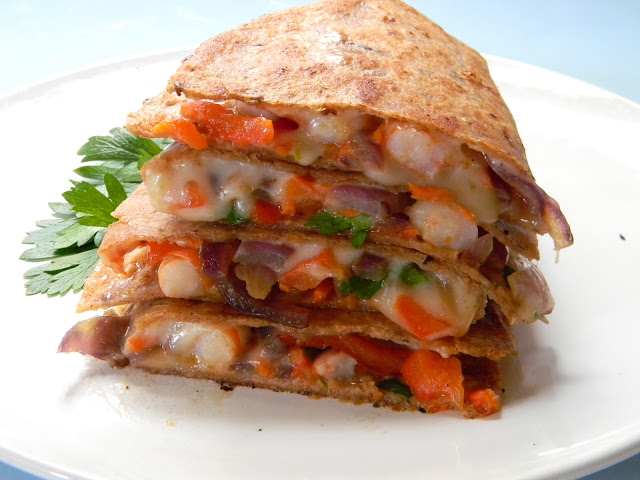 I love quesadillas but for some reason I do not make them often. I don't know why because they are really easy to put together and you can pretty much put in them whatever you want.
What can go wrong with making a quesadilla? Pretty much nothing right?
These quesadillas were long gone the minute I made them. I made quite a bit of the filling so that we are able to have another batch of these beauties sometime soon.
This is one of the things I tend to do when I cook. Make sure I double the batch of things, so that we can eat it a second time some other day of the week. This way I am not in the kitchen every day all day :-)
Enjoy!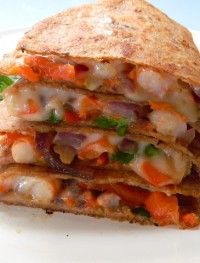 Shrimp and Vegetable Quesadillas
Ingredients:
1 lb of cooked shrimp,  if you use frozen make sure they are thawed
2 medium red peppers, sliced
2 medium red onions, sliced
2 tablespoons parsley, chopped
1/4 cup sliced carrots
Salt to taste
8-10 whole grain tortillas
8-10 slices provolone cheese
4-6 tablespoons of olive oil
Directions:
On a heavy sauce pan over medium heat add 2-3 tablespoons of oil and cook onions and pepper until translucent, about 8 minutes. Add sliced carrots half way of onions and peppers being done. Add shrimp and heat through, about 2 minutes. Add chopped parsley and salt to taste.
To assemble the tortillas. Over half the quesadilla place half a slice of provolone cheese and 2-3 tablespoons of the shrimp mixture. Place the other half of the provolone cheese onto the shrimp mixture. This will work as the glue. Fold the empty half of the tortilla over the fillings and place it in the skillet previously coated with about 1 tablespoon of olive oil ( I had a pretty big skillet so I was able to do at least two at a time)
Cook each side of the quesadilla until it is crispy and the cheese is melted (3-5 min each side). Slice the quesadilla into triangles or leave whole.
TIP: Next time I will do them on a grill pan. I know that also works well. You may use any type of cheese, veggies etc to make this quesadillas