Shrimp and Vegetable Fried Rice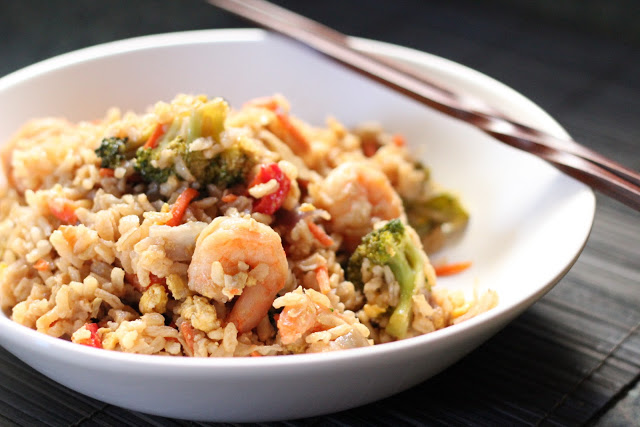 Another of our favorite in our house. The vegetable mixture can be really what ever you would like. I normally put peas in it but this time I skipped it. Even the sauce can be adjusted to your tasting. Also, instead of shrimp you can add chicken, beef or simply omit it all together.
I do have a rice maker. We eat quite a bit or rice in my house, we also love pasta, so I find a rice maker of much help. I only spent $25-30 about of couple of years ago and it is still going strong :-)
On any event if you try this recipe let me know, I hope you like it.
Enjoy!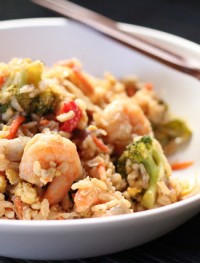 Shrimp and Vegetable Fried Rice
Ingredients:
3-4 cups brown rice, cooked
1 lb medium cooked shrimp, if frozen make sure is thawed out
2 tablespoons vegetable oil
2 eggs
1 onion, diced
2-3 carrots, chopped
1 red pepper, chopped
10 oz bag shredded cabbage
5 oz fresh broccoli florets
3 tablespoons hoisin sauce
2 tablespoons sesame oil
1/4 cup rice wine vinegar
4-6 tablespoons soy sauce, low sodium if you can
Directions:
Mix last 4 ingredients in a bowl and set aside. You may add more or less of any of them according to your taste buds, I tend to perhaps put some more rice wine vinegar sometimes.
In a heavy bottom sauce pan add oil at medium to high heat. Add onion, carrots and pepper. Cook for about 5 minutes. Add shrimp, cabbage and broccoli and cook for an extra 2-3 minutes. You do not want to over cook the broccoli. Make a well in the center of the pan among the vegetables and add the eggs. Cook for about 1 minute braking the egg into small pieces.
Add cooked rice to the pan and cook 2 minutes stirring constantly. Add soy sauce mixture. Serve while warm.