Samosa stir-fry
I have never made samosas before, as they are a bit time consuming and have to be fried. This samosa stir-fry recipe is just something else, healthier and a lot easier.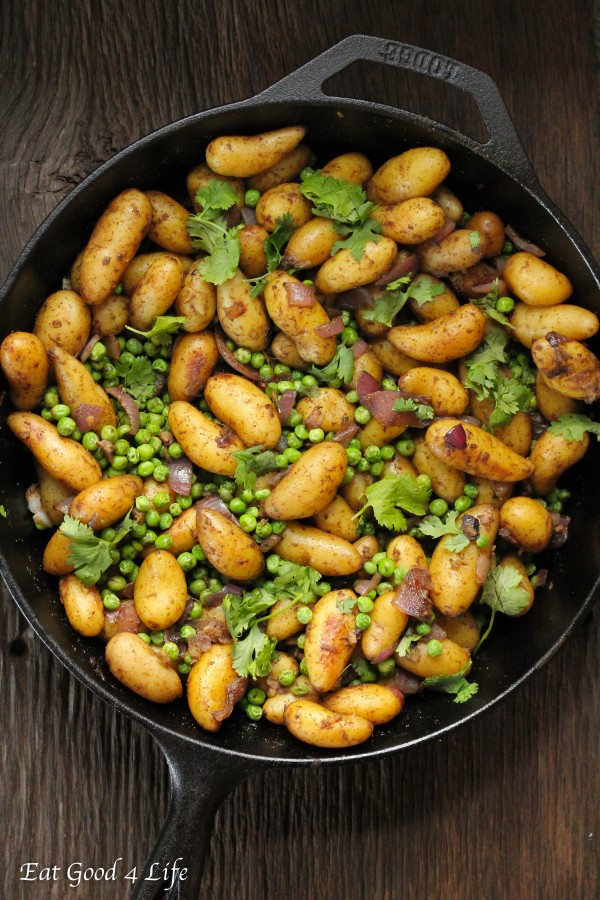 Indian food, besides Thai food, is one of my favorite cuisines. I have pretty much every type of Indian spice there is all stored in mason glass jars. I just love them.
I figured instead of making the classical samosa, which has to be fried and filling packed into a soft dough, I made this version which way easier and healthier.
These samosa stir-fry was a super hit, especially for my 8 year old son. I couldn't believe how much he enjoyed it.
I froze the leftovers to have later on, as I like to save some of the food I make for the busy days ahead. It is so much easier for me.
On another note, I just finished summer I of school and just started the second session. The amount of work is just unreal at times but I will stick to the end. I kind of sucks because I will have to cut my family vacation short, which I have never done before. My family will be without me and my kids have never been more than 2-3 days without mom. It makes me sad. I just hope my sacrifices pay off soon. Will see.
Anyhow, enough of my complaining! I leave you with this samosa stir-fry that I hope you like.
Enjoy!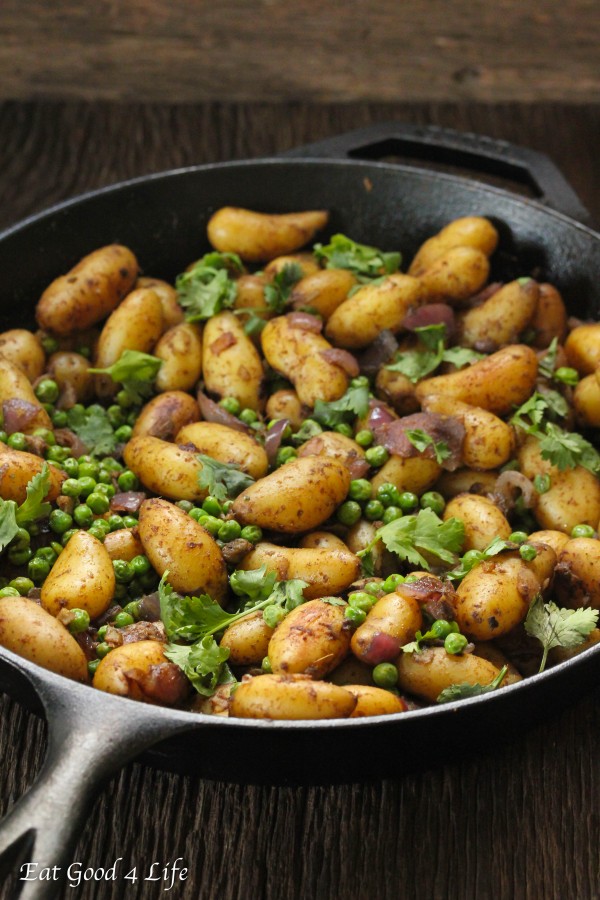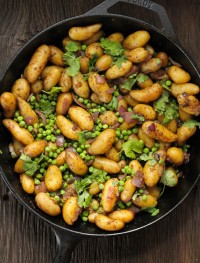 Samosa stir-fry
Yield: 4 servings
Total Time: 20 minutes
Ingredients:
Directions:
Boil the potatoes on a big pot filled with hot boiling water for 10-15 minutes or until they are almost tender. On the meantime, add the oil, ginger and onion to a cast iron or non-stick skillet and set aside.
When the potatoes are done, drain them and transfer them to the cast iron skillet. Turn the flame to medium-high heat and cook together with the onions until they are tender stirring occasionally. About 3-5 minutes. Add the spices, salt and peas and cook further for 1-2 minutes.
Turn the heat off and add the chopped cilantro. Serve while they are still warm. I served mine with some curried lentils and brown rice.