Salmon and Egg Sandwiches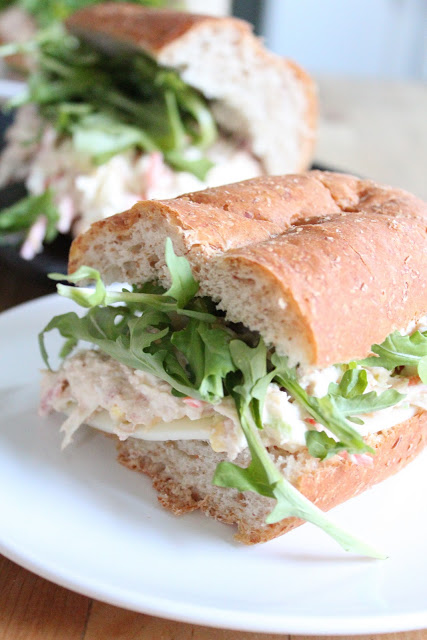 Today I got my new candy thermometer in the mail. I have tried to make candy in the past without using one, crazy me!! Of course I didn't have any success, but how could I have? how could I have known when the mixture reached the firm ball stage?  Just crazy. Well at list the mixtures did not go to waist and now that I have the thermometer I will be making caramels very soon. I will post a REALLY good caramel recipe in a day or so :-)
Onto this post though. This is one of our favorite sandwiches. In my household we love salmon but because it can get quite pricey I tend to buy it in cans sometimes, much more economical. For this one you can leave the salmon as is, just the mayo and some chopped onion or other veggies like I used here would do, but for us adding eggs is even better :-) More protein right?
Also, a soft whole wheat bread is what I choose to go with it, any other bread will do, even regular sandwich bread would work. This is a quick fix for lunch or dinner and very nutritious and healthy I must add.
Enjoy!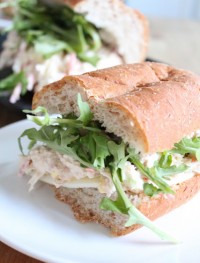 Salmon and Egg Sandwiches
Ingredients:
4-6 tablespoons mayonnaise
4 oz shredded coleslaw
4 oz shredded carrots
4 boiled eggs
3 6 oz cans salmon
8 slices Provolone cheese
Arugula, other greens will do
100% Whole wheat bread
Directions:
In a bowl mix all ingredients except the cheese. Place about 3-4 tablespoons of the mixture on each sandwich topped by 2 slices of provolone cheese and some arugula.
A little of hot sauce also goes good with this :-)