Rustic Pumpkin whole grain fried donuts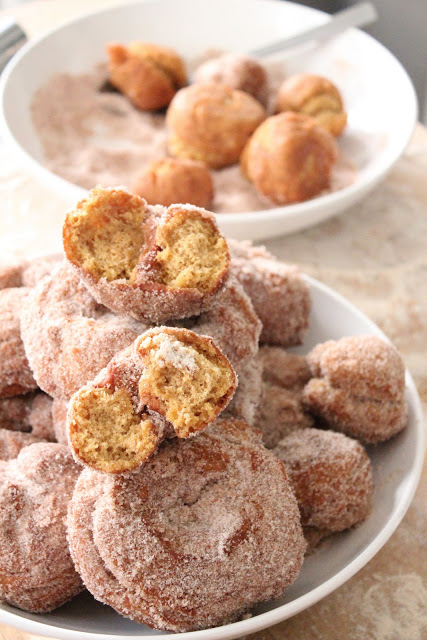 I just made these donuts and they are killer. I must confess that I have never made fried donuts before and this will not be the last.
The truth of the matter is that these donuts where a bit of a pain to make though. The dough is not dense enough to be able to use a donut cutter so I just simply used my hands and rolled each donut shape by hand.
To do this just make sure that your hands are well floured otherwise the dough will stick all over the place. Just take a look at at some of the pictures I posted. Lots of flour every where :-)
Another thing I must add is that you also have to make sure that the oil is at a constant temperature, between 350 and 365F. I had to discard my last batch of donuts because the oil temperature dropped to 340 and the donuts starting to absorb to much oil so they became way to oily for me, not good!!
Anyhow, in spite of all of the work that these donuts imposed, they were well worth making. It is fall season after all so using pumpkin is right on? I will also use the leftover pumpkin I got from the donuts next week for some pumpkin muffins so stay tuned.
Enjoy!!
Here you can appreciate the batter. It is kind of wet. Let me tell you what a pain in the neck it was to shape the donuts :-)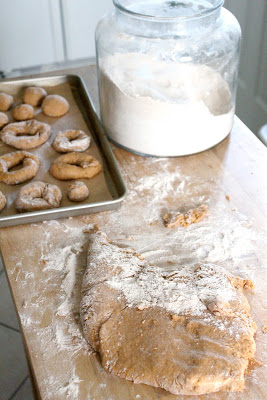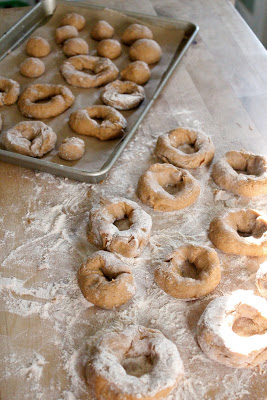 Here you can see the shape of the donuts. I did it by hand. The dough was to sticky to use a donut cutter so use any method you would like just make sure your hands and working surface is well floured!!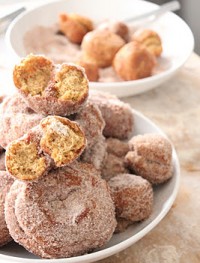 Rustic Pumpkin whole grain fried donuts
Yield: 26-30 donuts
Total Time: 2 hours 30 minutes
Ingredients:
1 cup of all purpose flour
1 1/3 cup of whole wheat pastry flour
1/2 cup of oat flour, you can us whole wheat pastry flour if you don't have oat flour
4 teaspoons of aluminum free baking powder
1/2 teaspoon of aluminum free baking soda
1 teaspoon of salt
1 teaspoon of cinnamon
1 teaspoon pumpkin spice
1 cup of unrefined sugar
3 tablespoons of olive oil
1 teaspoon vanilla extract
1/2 cup milk
2 organic eggs
1 cup of canned pumpkin puree.
Cinnamon sugar
1 cup of sugar
2 teaspoons of cinnamon, more if you would like
olive oil for frying
Directions:
In a bowl, with a wire whisk, combine eggs, milk, oil, vanilla and pumpkin. Add the sugar. Whisk in the flours, baking soda, baking powder, spices, and salt. The batter should be smooth like in the picture. Cover the mixture with plastic wrap and refrigerate for at least 2 hours.
Make the spice sugar by whisking all of the ingredients together. Set aside.
Sprinkle your working surface with flour (I probably end it up using at least another 1/3 cup of flour or so) Make a ball with the dough and press it down into a round 1/3 of an inch thick. Add more flour, as needed. The dough will be sticky.
I used my hands to shape the donuts by rolling each piece and attaching them at the ends. Just make sure your hands are well floured. You can also make some rounds ones like I did if you like. Place the rolled donuts on a floured baking sheet and continue shaping the donuts until you have used up all of your dough.
When you're ready for frying, add oil to a large pot until it reaches a depth of about 1 1/2 - 2 inches. Attach a deep fry or candy thermometer and heat the oil until it reaches about 360 degrees F.
Fry your donuts until they are golden brown, about 1 minute per side. Have a plate lined with several paper towels handy to place donuts once done.
Once the donuts have cooled a bit roll them in the sugar mixture and serve.