Rustic Caramel and chocolate covered apples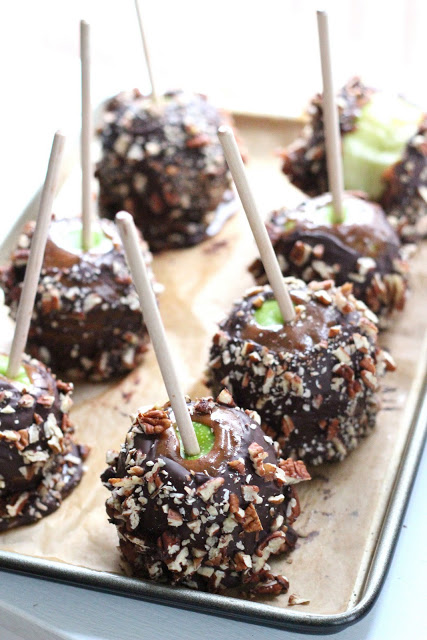 This is the first time I make caramel apples and it will not be the last. While I found them to be easy to make there were a few things to keep in mind.
I used organic granny smith apples and regardless of what kind of apples you used make sure you wash them really good with soap and hot water and sand them gently with a fine grit sandpaper to remove the waxy coat so that the caramel can stick.
I started coating the apples without completing this last step and the caramel would not stick….so guess what? I had to sand the apples and let my caramel sit for a while, NOT GOOD!
I had a lot of pictures I was taking while preparing the apples but I lost every single one of them. My memory card would not read the pictures I was taking and the computer wouldn't upload them either so I had to reformat the card and as a result I lost every single shot….about 100 of the them :-(
The pictures that you see here are pretty much of the completed product and not the process. Well at least there is something.
Anyhow, this is going to be my super baking week this week just in time for Christmas gift bag preparation. Excited but overwhelm…….lets see how it goes
Enjoy!!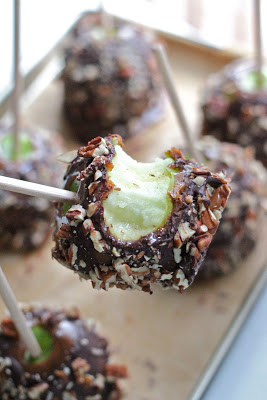 These caramel covered apples are the bomb. Two or three bites and I had enough :-) It definitely gives you the sugar fix need it!!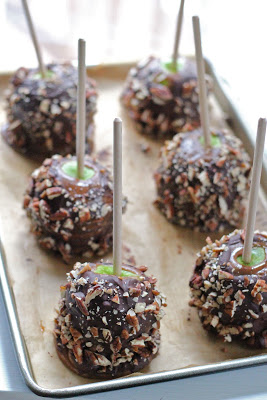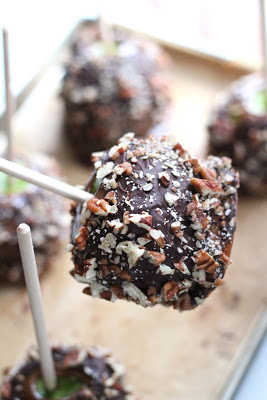 These caramel apples were sensational.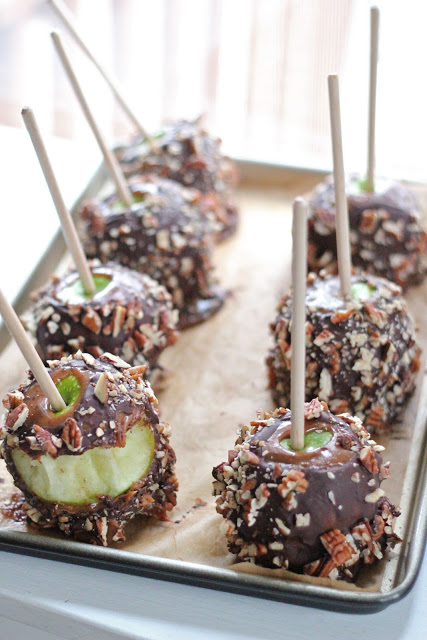 These caramel apples are a really nice and sweet TREAT :-) Using the Granny smith apples off sets the sweetness of the caramel and chocolate but you can use any kind of apples you wish.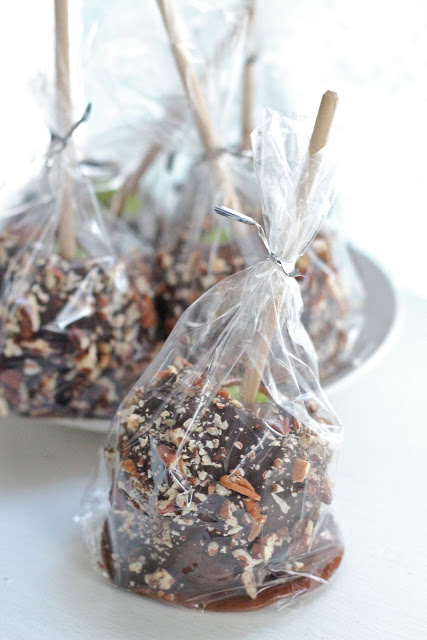 This is how you can package the apples. Very simple and easy. You can make it fancier by using colorful bows and staff :-)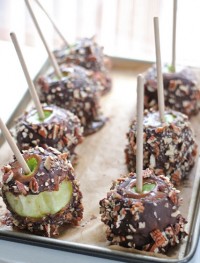 Rustic Caramel and chocolate covered apples
Ingredients:
1/2 cup butter, 1 stick
2 cups brown sugar, packed
1 cup maple syrup
1 14-ounce can sweetened condensed milk, I used organic
1 teaspoon cinnamon
1 teaspoon vanilla extract
10-12 Apple sticks
TOPPING
12 oz semi sweet chocolate chips, melted, 1 bag
1 cup pecans, chopped
Directions:
In a large saucepan set over medium high heat, melt the butter. Stir in the brown sugar and reduce heat to medium, stirring until the sugar is dissolved. Add the maple syrup, mixing thoroughly, then stir in the condense milk and cinnamon.
Bring to a boil, then cook, stirring often, until the mixture reaches 235 degrees, (soft ball stage however you can reach 245 if you like the caramel layer to be harder) this will take at least 10-15 minutes. Remove from heat and stir in vanilla.
Immediately dip in the apples. Rotate the apple until it is well coated. Allow excess caramel to drip off then place the apples on a baking sheet lined with parchment paper and allow to cool.
At this stage you can leave the apples as is or decorate them in endless ways. I melted the chocolate in the microwave and used a spatula to cover each apple. If doing this coat one apple at a time with the melted chocolate and immediately follow with the chopped pecans.
Let it sit until the chocolate sets.
Take a peek and look at the link below at bakingdom. She has different type of toppings.
Slightly adapted from here