Raw halloween cookies – vegan gluten free
This week it was my first attempt of the month to make halloween cookies. Because I didn't have much time I came up with these Raw halloween cookies – vegan gluten free that were the bomb. So healthy, tasty and fun.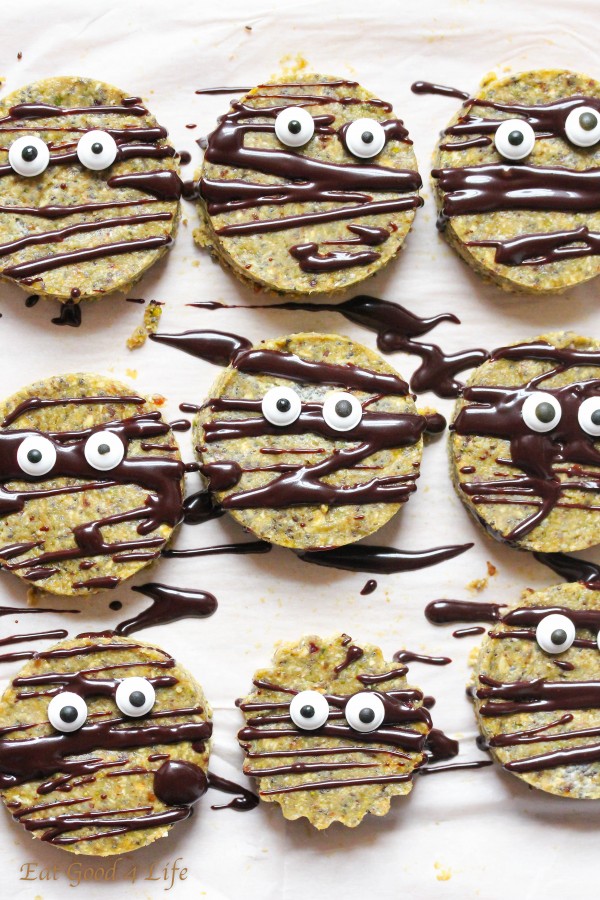 My kids thought they were the  best cookies ever. They weren't that sweet at all and they kept their shape pretty good. The eyes were made of confectioner sugar but since they are minimal in the cookies and we never eat this sort of thing I figured it would be OK. I think my kids thought it was the coolest part.
I kept my cookies in the fridge and they hold very well. You can cut them into different shapes. I had the ghost cookie shapes but it was too late when I thought of using it. I think that would be even more fun.
I also used dark chocolate for the drizzle since it has less sugar. This is the chocolate that I always use for my desserts. The higher the cacao content the better and the less sugar. I love that!
This is going to be my only halloween recipe for the year. I have been swamp with school and other recipes I have had to tackle for other companies…shew…I think this has been one of the busiest months for my blog.
Anyways, I hope you get to make these Raw halloween cookies – vegan gluten free. Your kids and family will love them.
Enjoy!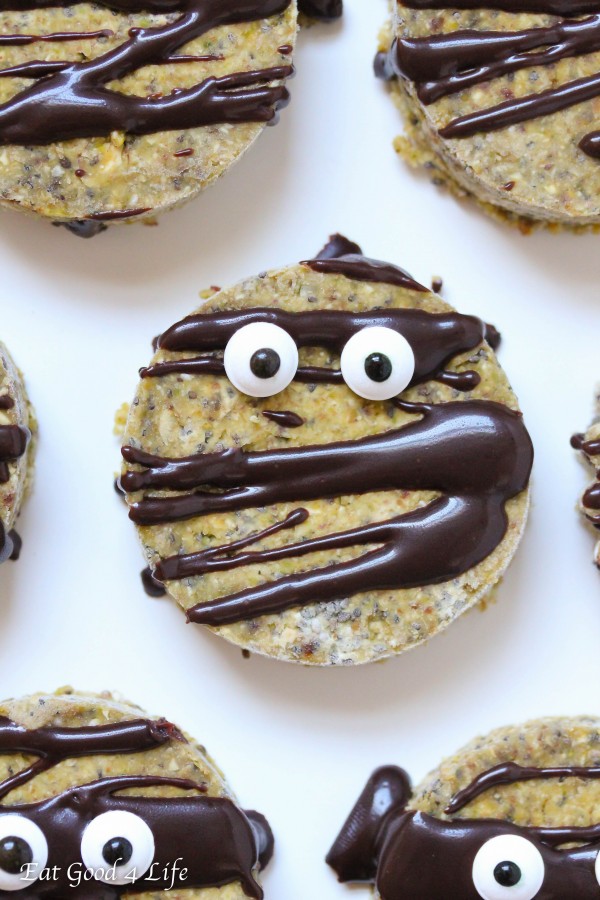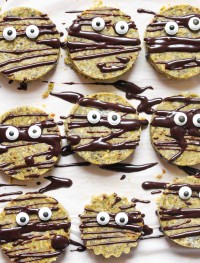 Raw halloween cookies - vegan gluten free
Yield: 12-16 cookies
Total Time: 20 minutes
Ingredients:
Directions:
Line a 8x8 baking square pan with unbleached parchment paper and set aside.
In a food processor add all the cookie ingredients. Pulse until it comes together. Place the mixture in the prepared baking pan and with a spatula press down evenly. Freeze for 15-20 minutes.
Take the cookies out of the pan and with any halloween cookie cutter of choice cut shapes onto the cookie mixture. Place the chocolate and coconut oil in a microwavable dish and microwave in 20 seconds intervals until melted. Drizzle this chocolate over the cookies and decorate with sugar eyes if using.
Store covered in the refrigerator for up to 1 week.