raspberry smoothie bowl
Smoothies are something that I do almost every day. Weather it is for breakfast or as a snack it is one of my favorite things to prepare that is healthy and fast. Sometimes, I can't get as much fruit as I would like to so smoothies are an easier way for me to consume fruit and this raspberry smoothie bowl is just simply delicious, refreshing and easy on the go.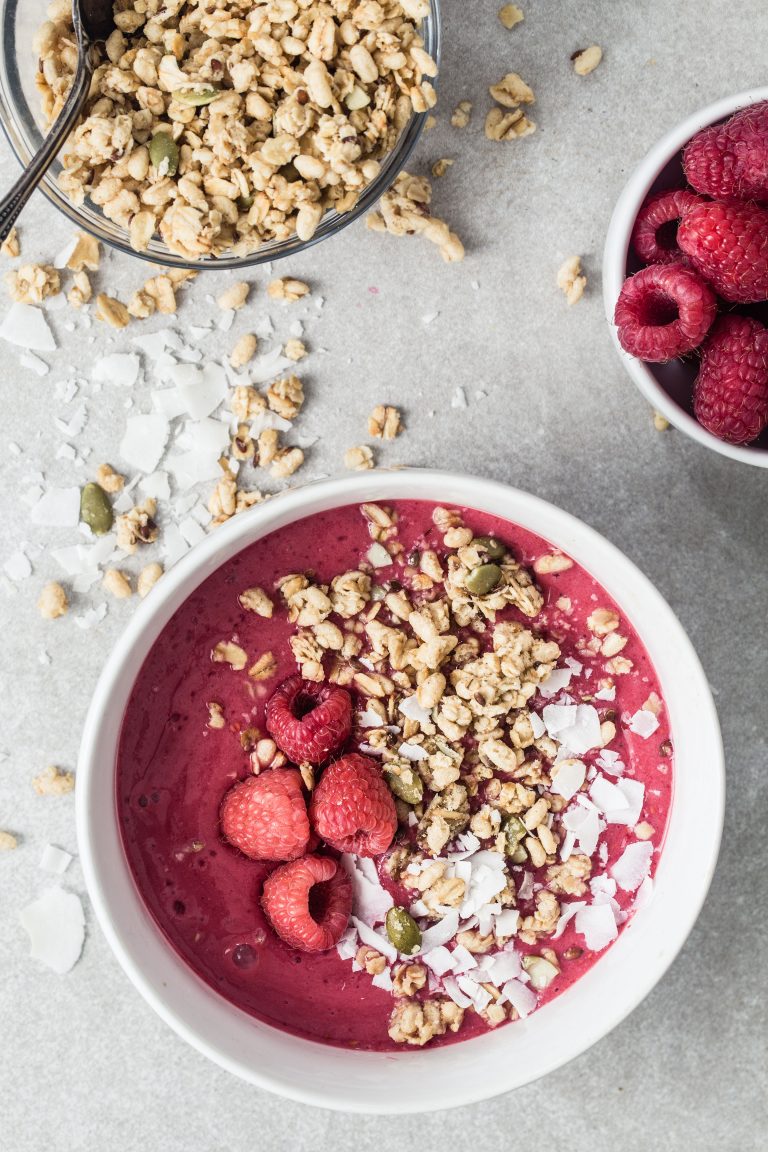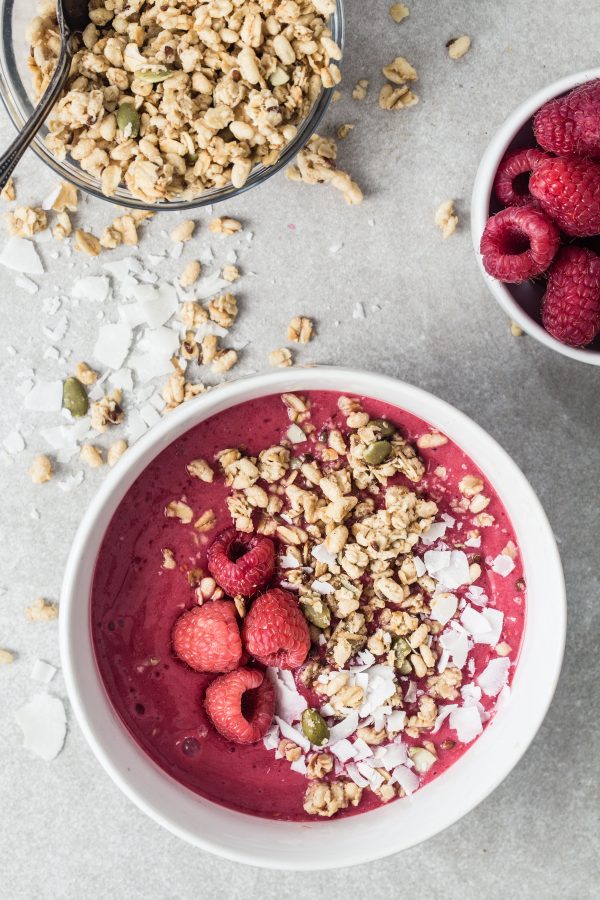 With smoothie bowls you can make endless variations. For this one I just kept it simple. Pretty much just bananas, raspberries and some healthy toppings.
Many other times I add some other ingredients such as spirulina and turmeric, which I love to incorporate as much as possible. I love spirulina because it helps rid the body off harmful toxins. The taste is quite funky, so if using, a teaspoon goes a long way.
Anyways, I know spring is here and in NJ, which is what I live, it actually snowed today. I am really looking forward to some warmer days. Not summer quite yet because I despite the humidity, however, a bit of warmer days would be great.
Where are you located? I must confess that even though I live in NJ it has never felt like home. I have been exploring the idea of moving my family somewhere that is not as populated, more quiet and where houses are not on top of each other. I would like to have my neighbors a bit more spread apart. Will see what I can find because I know my family wouldn't mind a change of pace.
Onto the raspberry smoothie bowl. If you have a favorite variation, would you please share?. I have been looking for some other top hit flavors so if you have one please let me know. While my kids like every variation I make I am still looking for some other top hit contenders.
Anyways, I leave you with amazing, healthy and easy raspberry smoothie bowl that I hope you get to make, and remember, if you have an ultimate favorite smoothie bowl recipe, please share.
Until my next recipe.
Enjoy!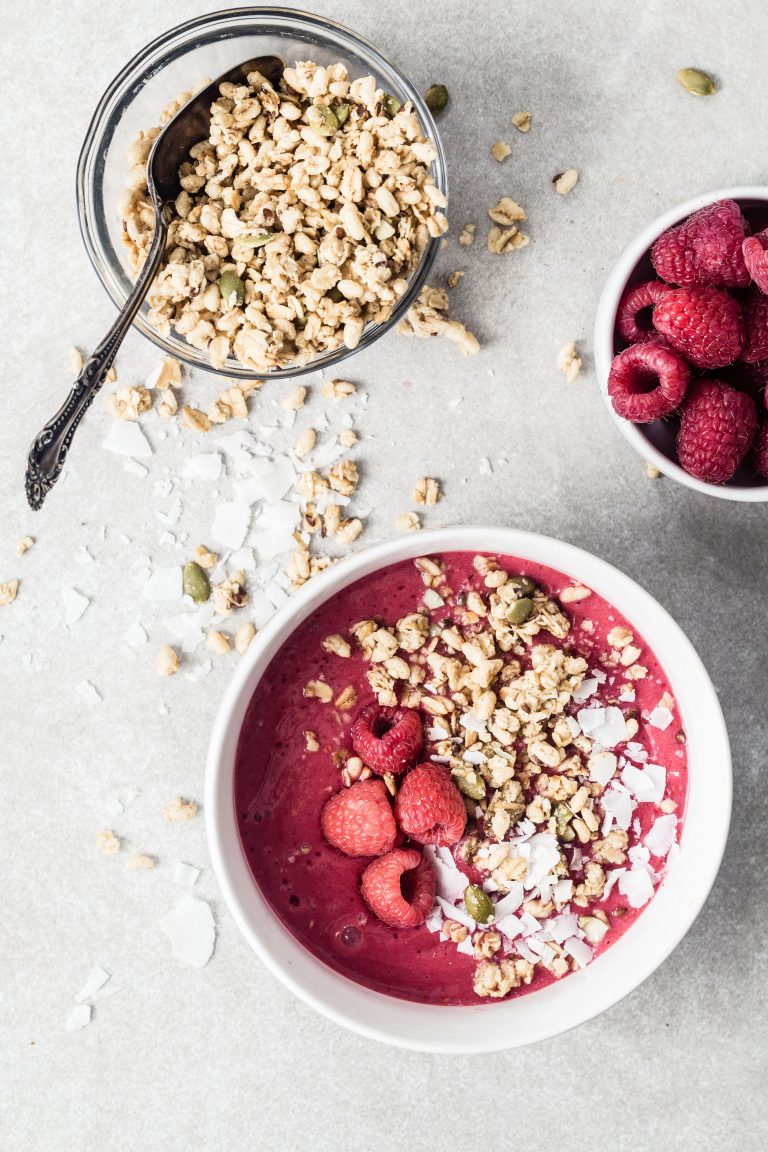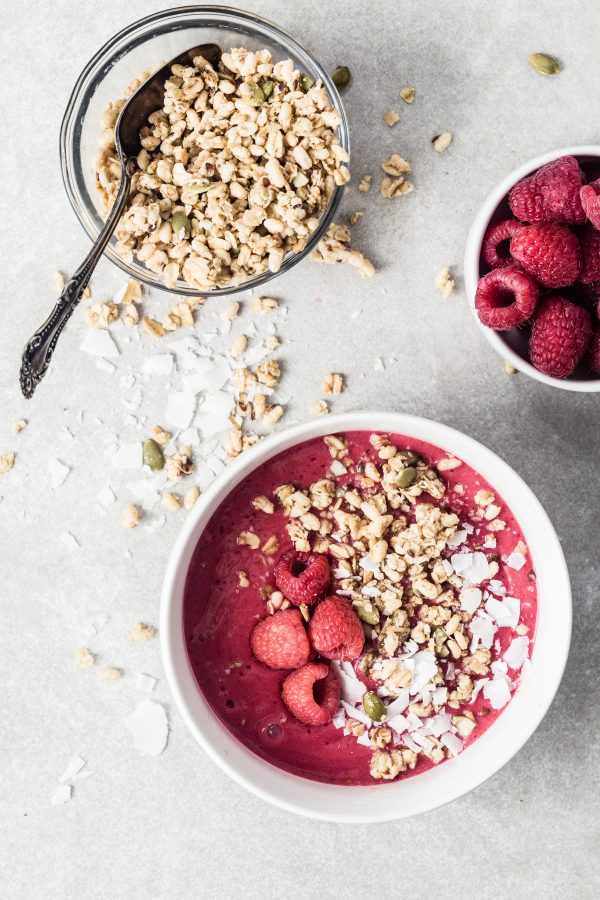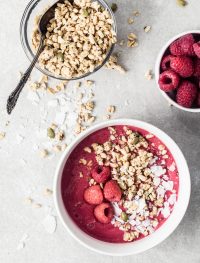 raspberry smoothie bowl
Yield: 4 servings
Total Time: 5 minutes
Ingredients:
1 lb frozen organic raspberries
2 bananas
4 cups non dairy milk
2 tbs flaxseed meal
Toppings
1/2 cup granola
Fresh fruit
Unsweetened shredded coconut
Directions:
Place ingredients in your blender and blend until smooth. Divide soomthie mixture onto four bowls and spread topping ingredients over smoothie. Serve immediately.