Quinoa Kale and pea salad
Spring time is just around the corner and making salads with an array of vegetables is what I enjoyed eating more than anything especially for dinner. This Quinoa Kale and pea salad was enjoyed even by kids.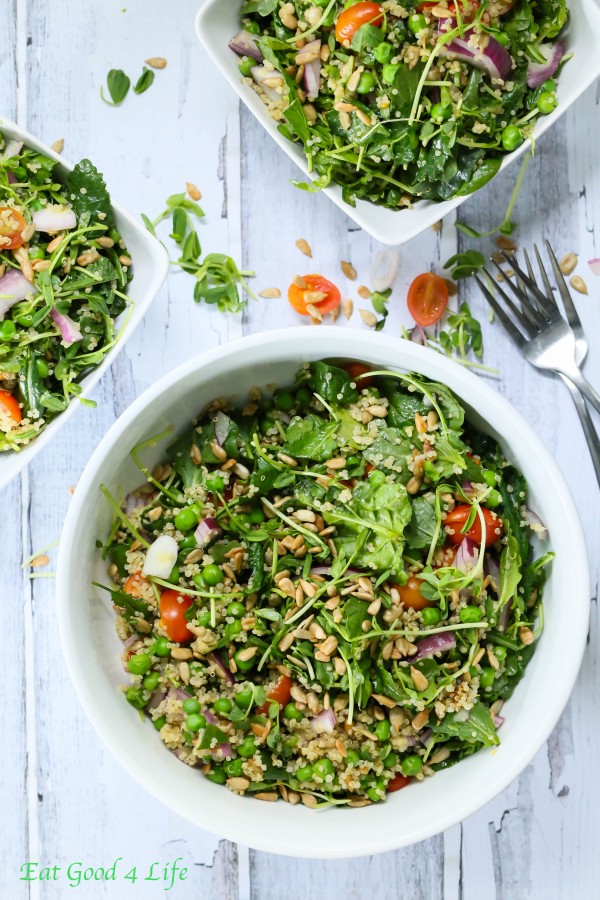 I love how making salads is so versatile as you can add any type of veggies, grains and protein. For this Quinoa Kale and pea salad I added some sunflower seeds which I love. I add nuts to most salads I make for the simple reason that they are nutrient dense. Not only they have an array of vitamins and minerals but they also have healthy fats, protein, and great taste.
The vegetables I used are almost always organic too. I know that organic food can be a bit more costly sometimes but the little difference in price is well worth it for me and my family. It gives me piece of mind plus organic products taste way better.
One of the most reliable companies I like to purchase my products from is Cascadian Farms. I actually was able to visit one of their farm locations in Seattle not long ago and it was truly awesome. I was able to see first hand how they grow their produce. Not only they do sustainably but their principles on doing so should really be modeled by many food manufacturing companies out there. They are also enrolled on their non-GMO project. I love supporting companies such as this one and purchasing their products.
They not only have organic fruits and vegetables but they also have granola bars, fruit spreads and much more. You can browse their many products here.
For this salad I used their organic peas. I have gathered a few more products from Cascadian Farms when going to the grocery store so stay tuned for more awesome recipes. I think I have a sweet treat coming your pretty soon.
Well I hope you like this healthy, gluten free, super easy and nutritious salad. You can use fresh arugula, spinach or any green leafy greens of your choice.
Enjoy!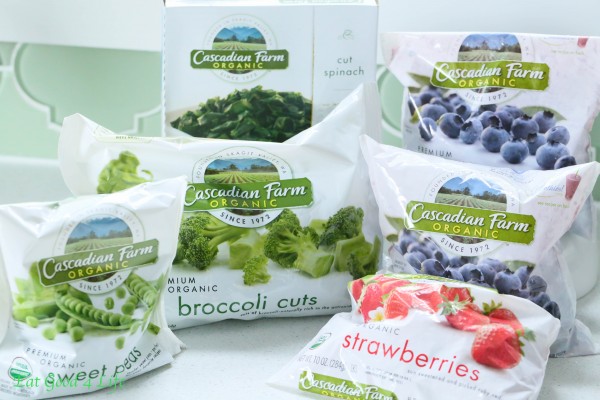 I love Cascadian farms many products. Not only they are enrolled in the GMO-project but the way they grow their many products is sustainably. I loved when I visited their farm in Seattle a few months back and saw for myself.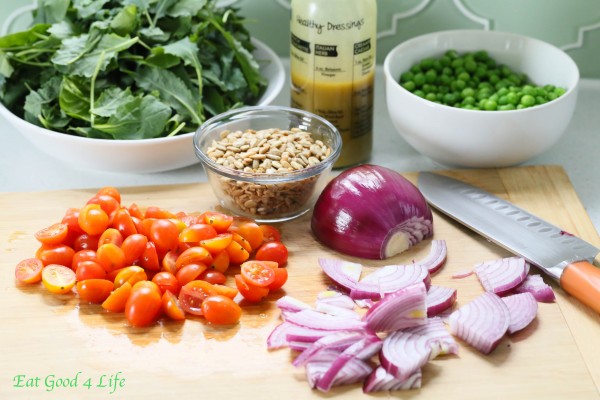 The only thing you have to do to make this salad is chop the tomatoes and onions and you are good to go. Then you just have to mix all the ingredients. A very simple salad to put together and you can add any other veggies of your choice if you like.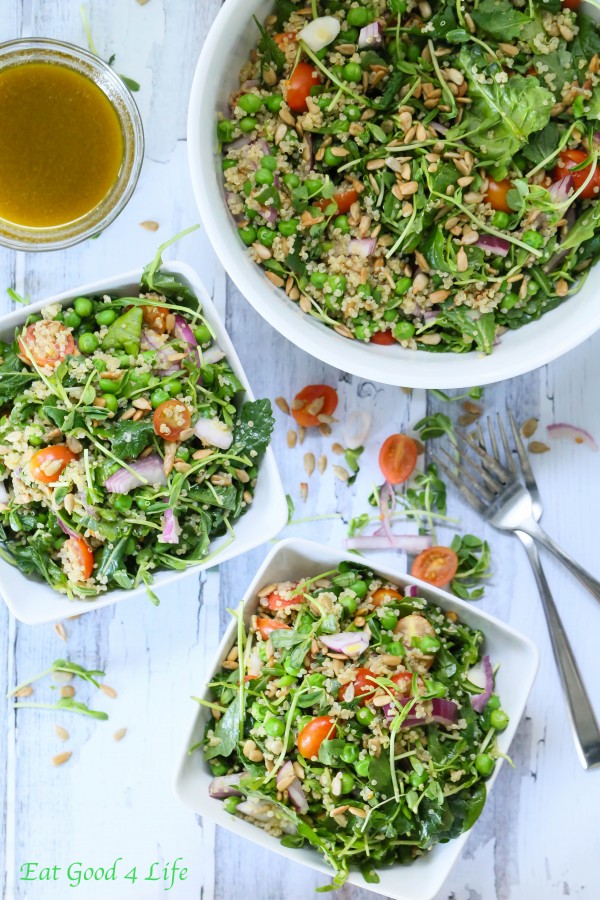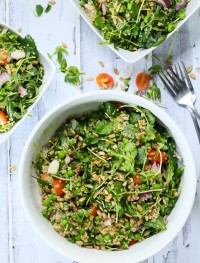 Quinoa Kale and pea salad
Yield: 4 servings
Total Time: 10 minutes
Ingredients:
4.5 oz baby kale
2 cups quinoa, cooked
2 oz pea shoots
1/2 red onion, sliced
4 oz cherry tomatoes, diced
10 oz Cascadian Farm organic sweet peas, frozen
1/3 cup raw sunflower seeds
Dressing
1 tbs Dijon Mustard
1/4 cup rice wine vinegar
2 tbs extra virgin olive oil
1 tbsp honey, maple syrup for a vegan version
1/2 tsp ground fresh black pepper
Directions:
In small mixing bowl mix the dressing ingredients and set aside. Place the sweet peas in a microwave safe bowl with a tablespoon of water and microwave for 2-3 minutes on high.
In a large mixing bowl place the salad ingredients including the peas and mix through. Add the salad dressing and combine. Serve immediately.
NOTE: Use maple syrup for a vegan version.