Quinoa granola-Peanut butter and dark chocolate
Have you added quinoa to your granola before? I have not but this quinoa granola is the bomb.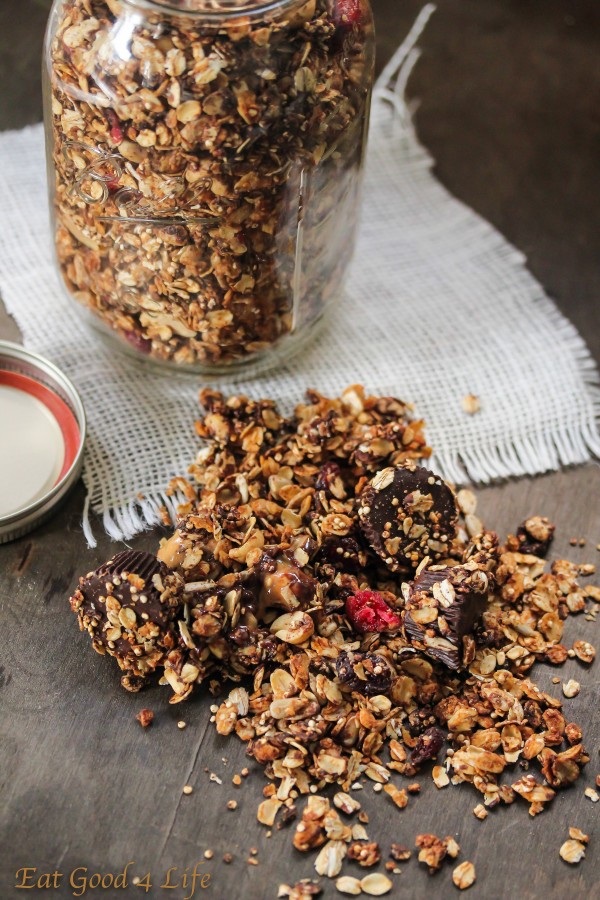 At last I am posting my granola recipe. This is my first time adding quinoa to my granola. I made my favorite flavor, peanut butter and chocolate, which is the one I do most of the time. It is our favorite flavored granola.
Each time I make granola I make about 10 pounds of it, no kidding. You should see my professional bowl where I mix the granola, it is huge!
This quinoa granola will keep for at least 2 months. I always keep mine in an airtight container. I love these two I got because the are huge and keep everything airtight. I have two different sizes, this one, and this one for the granola.
When I made my quinoa granola I didn't rinse the quinoa, which was fine. I have seen other recipes where they rinse the granola. I might try that next time and see what the difference is. Also, I added a few peanut butter cups besides the chocolate chips to my granola. You don't have to do this but I just wanted to experiment a little bit. I didn't add that many so my granola wasn't too sweet at all. I mean for about 10 pounds of granola I think I added only 10 peanut butter cups so I think that is no so bad.
I love making granola and this quinoa granola recipe is going to be one of my ultimate recipe that I will make time and time again. I hope you get to make it soon.
Enjoy!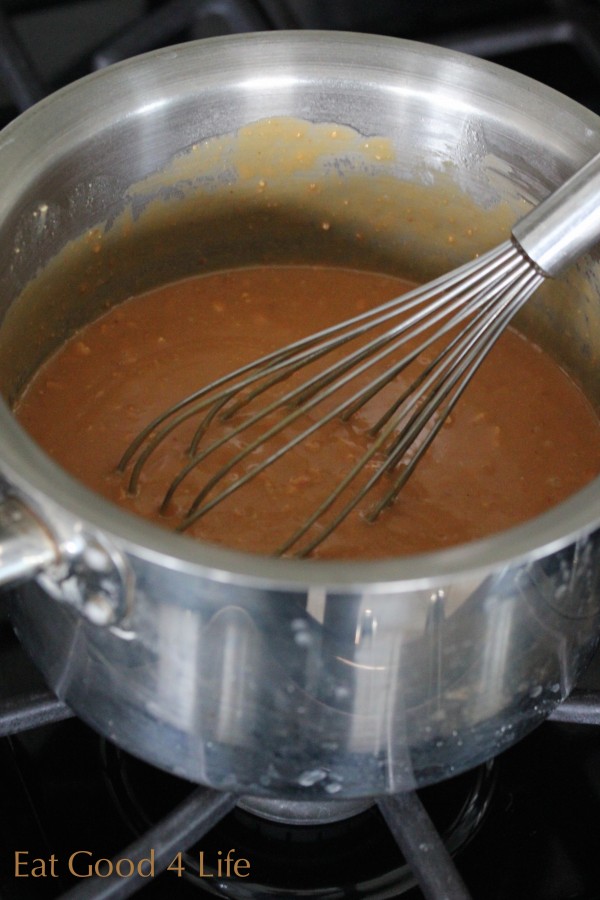 This is the peanut butter mixture. Peanut butter, coconut oil, and honey. Just heat the ingredients and mix until incorporated. It should take you about 2-3 minutes.
On the left picture you can see the granola right out the oven on the first rotation time. The right granola tray is just about done.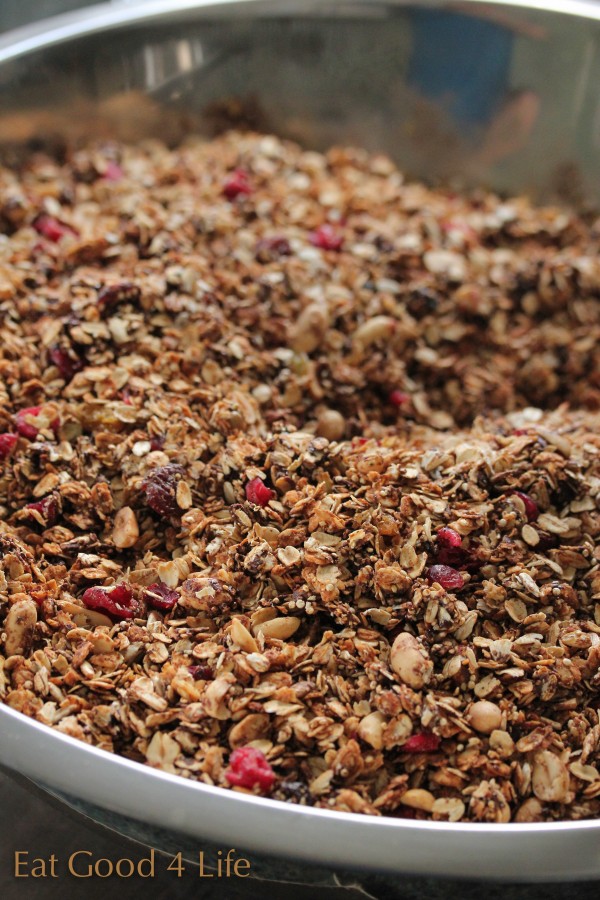 Once the granola is cooked and done I add the rest of the ingredients. The dried fruit, dark chocolate chips, peanut butter cups and peanuts.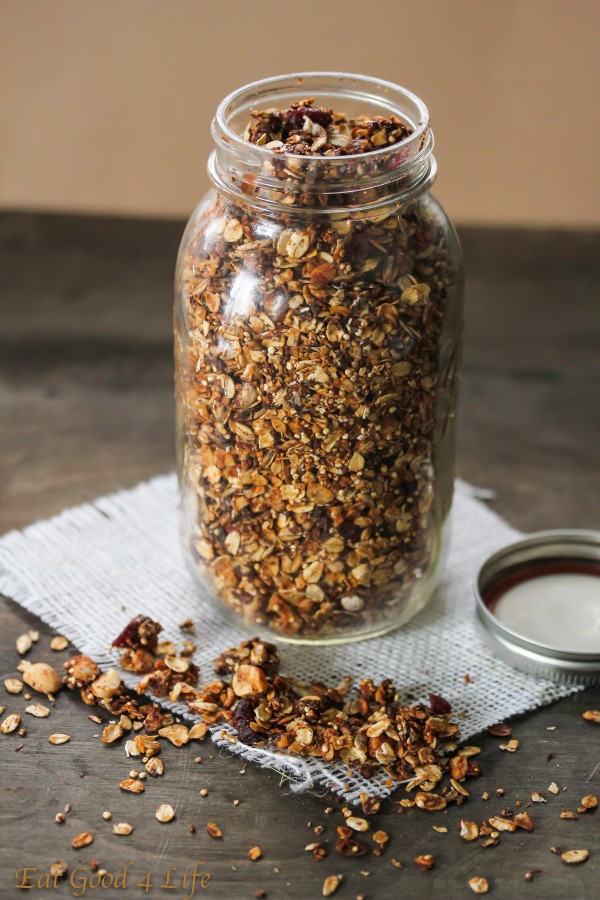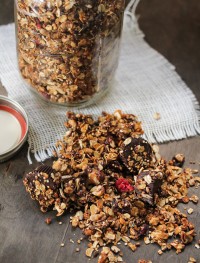 Quinoa granola
Yield: 40 servings
Total Time: 2 hours
Ingredients:
5 cups rolled oats, gluten free if you like
1.5 cup quinoa, rinsed and dried
1 cup raw sunflower seeds
1 cup roasted unsalted peanuts
1 cup dried cranberries
1/4 cup coconut oil
3/4 cups honey
3/4 cup organic peanut butter
1 cup dark chocolate chips, vegan if needed
5 peanut butter cups, optional
Directions:
Preheat your oven to 275F.
In a medium saucepan, over medium heat, add the honey, coconut oil and peanut butter. Stir constantly for 2-3 minutes until the mixture comes together. Turn the heat off and set aside.
In a large mixing bowl and the rolled oats, quinoa, and sunflower seeds. Mix through. Add the peanut butter mixture and mix well with the oat mixture. I use my hands for this step.
Divide mixture between two large baking cookie sheets and bake for 30 minutes. Take the granola out of the oven and place back into the mixing bowl. Stir. Place the granola back onto the baking trays and bake for another 30 minutes. Repeat this step once more for a total of three times.
After the granola is baked and you have obtained the desired toasted color, place the granola back into the mixing bowl.  Add the  dried fruit, dark chocolate, roasted peanuts and peanut butter cups if using and mix through. Store in an airtight container for up to two months.