Quick and easy Asian Meatballs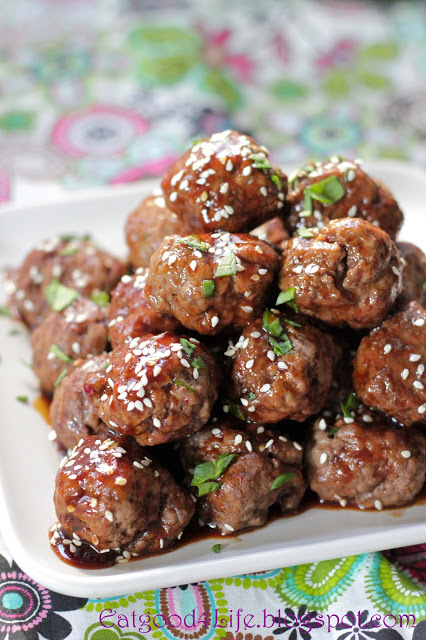 I am not a big meat or poultry eater but once in a while I will whip some dishes with meat or chicken to keep my family satisfied. They quite complaint about me not cooking enough with them, well sorry, I am just not a big meat or poultry eater, and since I am the one that does the cooking, well, that is just the way is going to be!
These meat balls are quite simple to make. For the beef mixture, there are hardly any ingredients. I have seen recipes with eggs and breadcrumbs added to it, but I think that without them the meatballs where good.

These would be great for the upcoming super bowl as you can serve them as finger foods. I am sure that they would be a super hit, they wereat my house!
I always buy grass feed beef but because they run out over the weekend, I just bought organic beef, which is far superior than the conventional one. A tad more expensive but worth every extra penny in my opinion.
The sauce that I came up with for the meatballs is just simply out of this world. I am going to be using it to make some chicken in the crock pot. We really like it a lot.
Just one note I want to make, if you get the hoisin sauce, as well as the rice wine vinegar, make sure you get them free of MSG and high fructose corn syrup. There are certain brands that have them free of these ingredients, you just have to look around. I have attached the link of the kinds that I use, which I get at an Asian supermarket in NJ where I live. 
Enjoy!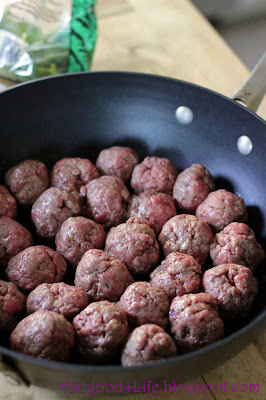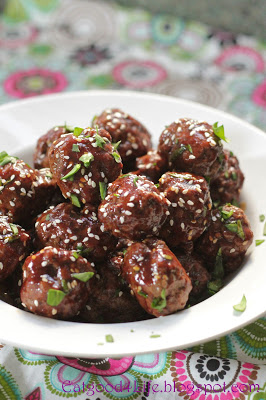 I use a deep non stick sauce pan to bake the meatballs in. Bake them for 15 minutes. Mine where rather large and that was enough time other wise they will get hard. You will also have some liquid that will generate from the meatballs, just discard that liquid before pouring the sauce over them.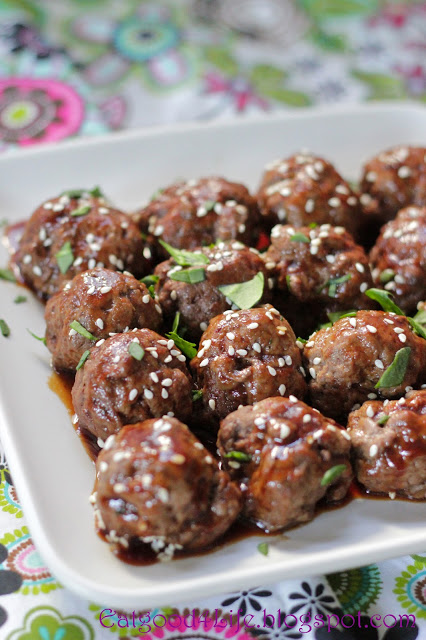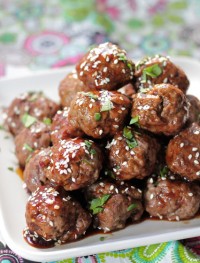 Quick and Easy Asian Meatballs
Ingredients:
2 lbs organic or grass feed ground beef
2 Tbsp Worcestershire sauce
2 Tbsp sesame oil
1 Tbsp olive oil, to grease the pan
1 Tbsp sesame seeds, to sprinkle meatballs at the end, optional
SAUCE
1/3 cup Hoisin sauce, gluten free
1/3 cup honey
1/4 cup rice wine vinegar
1/4 cup ketchup
1 Tbsp sesame oil
Directions:
Preheat oven to 400F.
In a bowl, mix together meatball ingredients, except olive oil, and shape into balls. I shaped my balls rather large so I obtained 28. Grease your baking pan with the olive oil and place meatballs in it. Bake for 15-20 minutes, or until meatballs are cooked through.
While the meatballs are baking, in a bowl, whisk together all of the sauce ingredients until mixed through. When the meatballs are done, discard any liquid that the beef might have generated and pour sauce over cooked meatballs. Stir them until they are all covered with the sauce. Sprinkle some sesame seeds if using.
Serve while warm.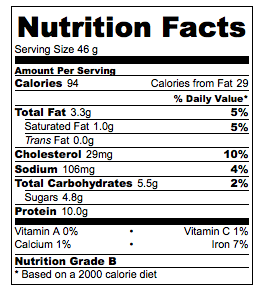 Nutrition facts calculated based on the recipe giving 28 meatballs. 1 serving = 1 meatball.