Pumpkin spice whole wheat dutch baby pancake
Have you tried to make your own dutch baby pancakes before? This is my first time making this Pumpkin spice whole wheat dutch baby pancake and to be honest the first time around was a total flop. I think the versions I have seen using regular all-purpose flour work best so with whole wheat version was a bit of a challenge!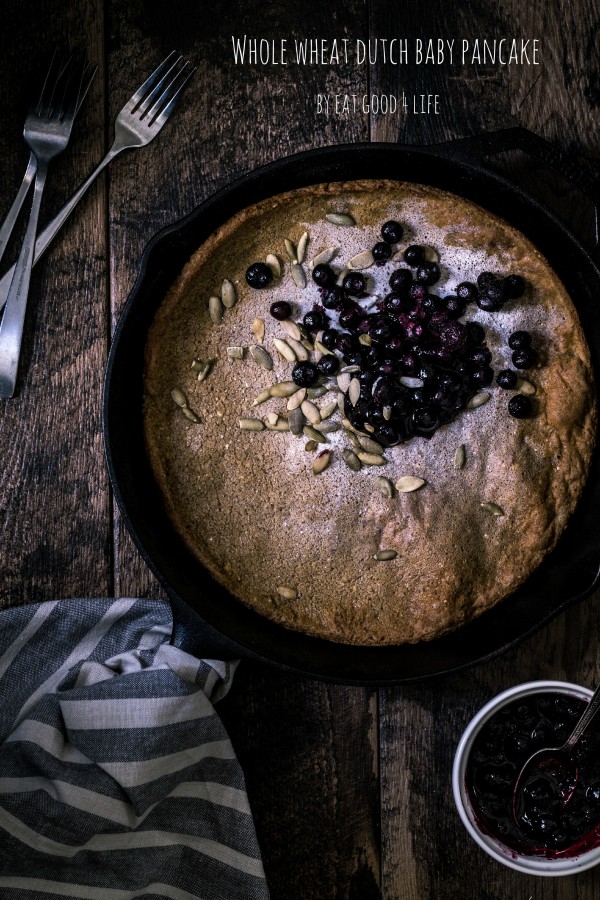 While you can use all-purpose flour, with whole wheat pastry flour this pancake will turn out just fine. My first try didn't come out good at all because I used too much sugar and then I also added some pumpkin puree to the batter which made it too heavy for it to rise and bubble up.
Whole wheat pastry flour works best for these pumpkin spice whole wheat dutch baby pancake. Don't use regular whole wheat flour because it is heavier and the pancakes may not puff up and bubble at all.
You can serve these pancakes with any fresh fruit you like. I used fresh blueberries. Fruit is naturally sweet so you don't have to add any extra sweetener if you don't like.
I have purchased two smaller cast iron pans so that I can make these again in a smaller version. I love the fact that these are so much easier than conventional pancakes. All you do is mix-in the ingredients together to get a batter, which literally takes two minutes, and then you just place the batter in the cast iron pan and bake it in the oven. So much easier!
For this recipe all you need to sweetened the batter is about 1 tablespoon of Truvia® Brown Sugar Blend. You don't want the batter to be too sweet since you will be adding some fruit later on and that will sweetened the pancakes even more.
I hope you like this recipe. I am going to be making these pumpkin spice whole wheat dutch baby pancakes over and over agin. They are so much easier than regular conventional ones.
Enjoy!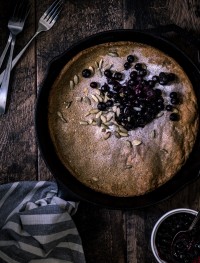 Pumpkin spice whole wheat dutch baby pancake
Yield: 4 servings
Total Time: 30 minutes
Ingredients:
1/2 cup whole wheat pastry flour
1/2 cup almond milk
3 eggs
1 tsp pumpkin spice
1 tbs coconut oil
1 tbsp Truvia brown sugar blend
Directions:
Preheat your oven to 425 degrees.
Place a 12 inch cast iron pan in the oven and let it get hot while the oven preheats.
Mix all the ingredients together, except the coconut oil, in a mixing bowl until frothy. Do not over beat. Take the cast iron out of the oven and add the coconut oil to it. Swirl the coconut oil to cover the bottom of the pan.
Pour batter into the pan (the batter will bubble up around the edges) and place back in the oven for 15-20 minutes or until the pancake has puffed up and it is completely cooked. Serve immediately with fruit.