Pumpkin pie with honey and caramel whip cream topping
 I love making pies but never made a pumpkin pie before until today. This pumpkin pie with honey and caramel whip cream topping turned out great. To my surprise it was gone in no time!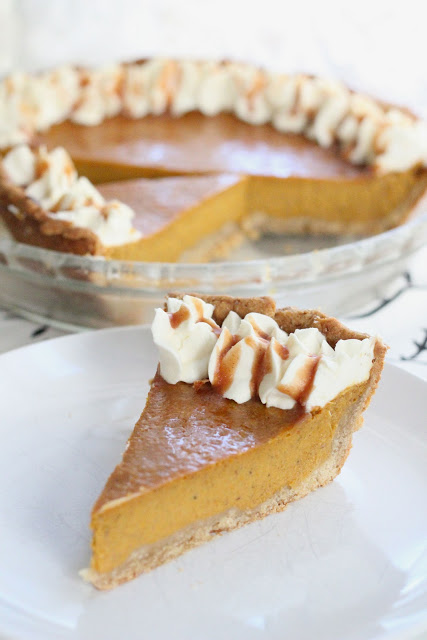 Let's just say I don't like pumpkin much. I know is holiday pumpkin time and with that comes making some pumpkin desserts.
I made Cream cheese pumpkin muffins about a couple of weeks ago but since you can't really tell the pumpkin flavor in them I was ok with it, they were pretty sensational actually :-)
Anyhow, so my husband bought some organic pumpkin puree and asked me to make pumpkin pie the other day. I decline because I really couldn't see myself eating it. I thought, why make something if I can't eat it? plus I had other baking things in mind……
Well he actually turned around and said he would make it!! I thought to myself….I really want to see this one happen because he hardly gets in the kitchen and if he does for sure it is not to bake pie!
He wanted me to make the crust but I also decline, I told him " if you are going to make a pie you are going to make it from scratch including the crust". I got him the recipe but that was it!
He used my recipe for the crust from the whole wheat apple pie slab I made a while back and goggled the filling. He actually half the crust recipe and as far as the filling is concern we just made it up since we found that recipes called for cream cheese, a bunch of eggs, sugar, evaporated milk etc…… things I did not like!
I also use my recipe for the cinnamon caramel sauce since I had some stored in the fridge. You could omit this if you like.
The pumpkin pie turned out pretty good and as a gesture I agreed to decorated it. The pie is on the unsweetened side so if you like a bit more sweetness I suggest adding a 1/4 cup extra unrefined sugar to the filling.
It is pumpkin season after all so…..
Enjoy!
Left pictures is the pumpkin pie right after coming out of the oven and the right picture just after decorating with the whip cream and caramel :-)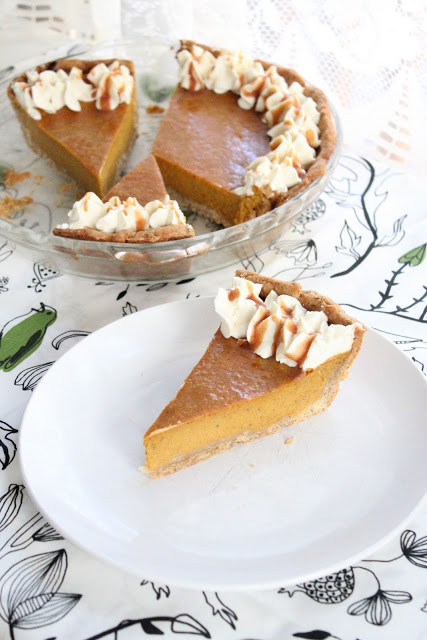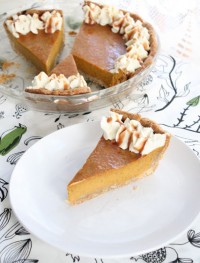 Pumpkin pie with honey and caramel whip cream topping
Yield: 8 servings
Total Time: 1 hour
Ingredients:
FILLING
2 eggs
1 15 oz can pumpkin puree
1 14 oz condensed milk
1 teaspoon cinnamon
1/2 teaspoon nutmeg
1/2 teaspoon ginger
1/4 cup unrefined sugar, optional,
CRUST
Whip topping:
1/3 cup heavy cream
1-2 tablespoon honey
Directions:
Preheat oven to 425 F.
Mix crust ingredients together in a bowl and pat down on a 9 inch round pie plate. Set aside.
In another bowl, with a wire whisk, combine the filling ingredients. Pour the mixture into the prepared pie plate.
Bake at 425F for 15 minutes. Reduce the temperature to 350 and bake for another 35-40 minutes or just until a cake tester comes out clean.
Cool pie down before decorating.
To decorated the pie add topping ingredients in a bowl. With a hand mixer, whip until firm. Transfer mixture to a piping bag and used any decorating tip of your choice. Pipe a small amount over the edges of the pie and drizzle with caramel sauce.