Popcorn Energy Bites- gluten free and vegan
I am totally in love with these Popcorn Energy Bites. Who would have thought you could add popcorn to energy bites and have a healthy combination?  I have seen many different versions with loads of sugar and high fat but these bites are nothing like that. They are filling, healthy and nutritious.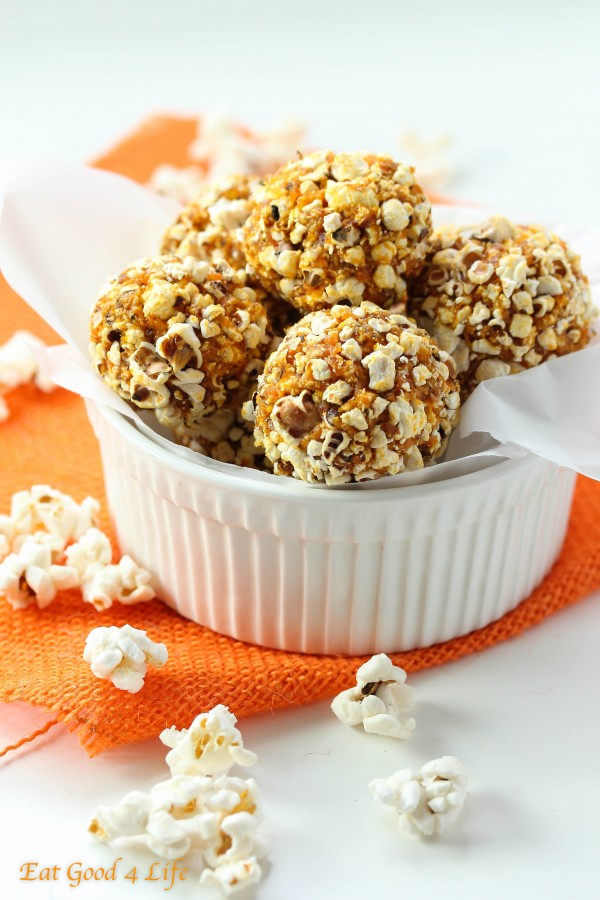 What can I say about these popcorn energy bites other than I am totally blown away. Who thought you could incorporate popcorn into energy bites. Plus, my kids thought this recipe was the coolest thing in the world.
JOLLY TIME Pop Corn turns 100 this October and to celebrate I made these Popcorn Energy Bites. They are healthy, nutritious and super easy to make.
I wanted to make something that could cater to my gluten-free and vegan community. No-bake recipes are always a plus and since some of my readers are also college students with no access to an oven (and sometime a stove), I figured these little popcorn bites would be a great choice.
For this recipe I used JOLLY TIME Organic Yellow Pop Corn kernels. This popcorn is USDA certified organic, non-GMO popcorn, whole grain, high in fiber and gluten-free. This one has natural ingredients; no fake stuff here, which means this is totally up my alley.
Have you ever wonder how the story of popcorn started? If you want to find out, here is a link to the JOLLY TIME museum. It is extremely informative and very interesting. You will learn a great deal about JOLLY TIME's family history.
Popcorn is one of the top snacks, especially when it comes to watching movies. I wanted to come up with something unique and healthy and at the same time enticing and different. My kids couldn't believe that I came up with this recipe, and that they were able to taste the pop corn. They also thought it was totally cool that the bites had a yellow color coming from the dried apricots.
After I rolled up the popcorn mixture into little balls I kept the leftovers in the fridge. They will last for at least 2-3 days. Just make sure you keep them covered. Also, if you like, you can keep them longer in your freezer and have them as you please. Just make sure that when you roll up the bites into balls you don't have any unpopped kernels. They will be hard to chew on.
I also recommend you visit the JOLLY TIME Pop Corn 100th virtual birthday party Pinterest board where you will find other great popcorn recipe ideas that I am sure you and your family will enjoy!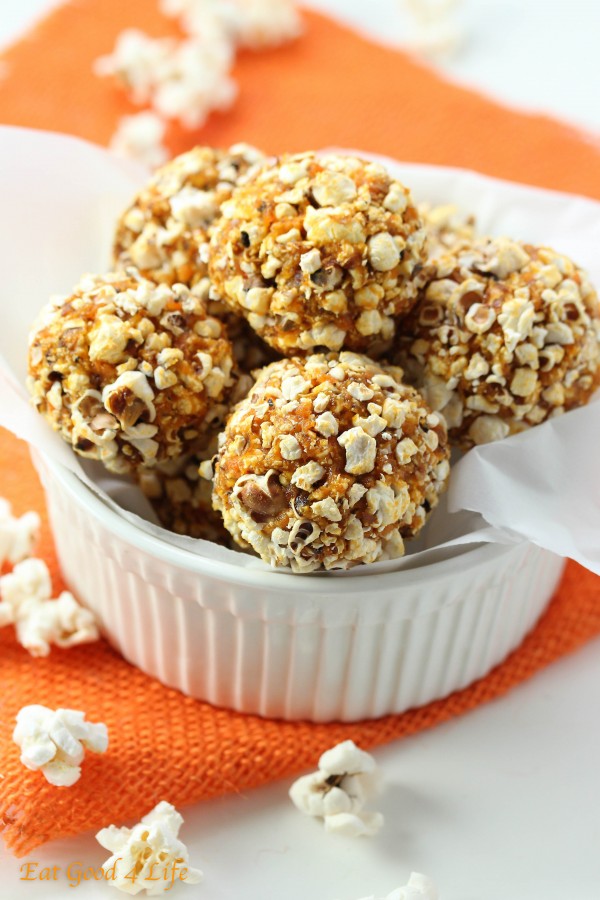 Disclaimer: This post is sponsored by JOLLY TIME Pop Corn. All opinions are my own and I speak from personal experience. The end :-)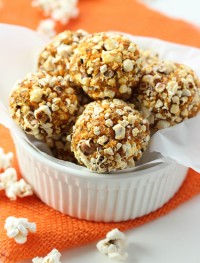 Popcorn Energy Bites
Yield: 12 large bites
Total Time: 20 minutes
Ingredients:
Directions:
Pop the popcorn, following manufacturer instructions and set aside.
In your food processor, process the dried apricots until they are finely chopped. Add the cashew butter, coconut oil, almond milk, maple syrup, salt and vanilla extract. Pulse until a liquefied paste forms. Add the protein powder, flax seed meal and 4 cups of popped popcorn. Pulse for 5 seconds until the popcorn just breaks down a bit.
Transfer the mixture to a large mixing bowl and with a spatula incorporate all the ingredients.
With your hands, break the remaining 2 cups of popcorn into finer pieces. This will take you just 5-10 seconds. Form balls with the popcorn mixture and dip into the broken popcorn pieces. Transfer popcorn balls to a plate and continue to form balls until you finish your mixture.
Store popcorn balls in your fridge for up to 2-3 days or in your freezer for up to a month.