Pistachio cookies with cream filling
I haven't made pistachio cookies in a long time and for sure never made raw cookies before. This pistachio cookies with cream filling not only are vegan but also gluten free.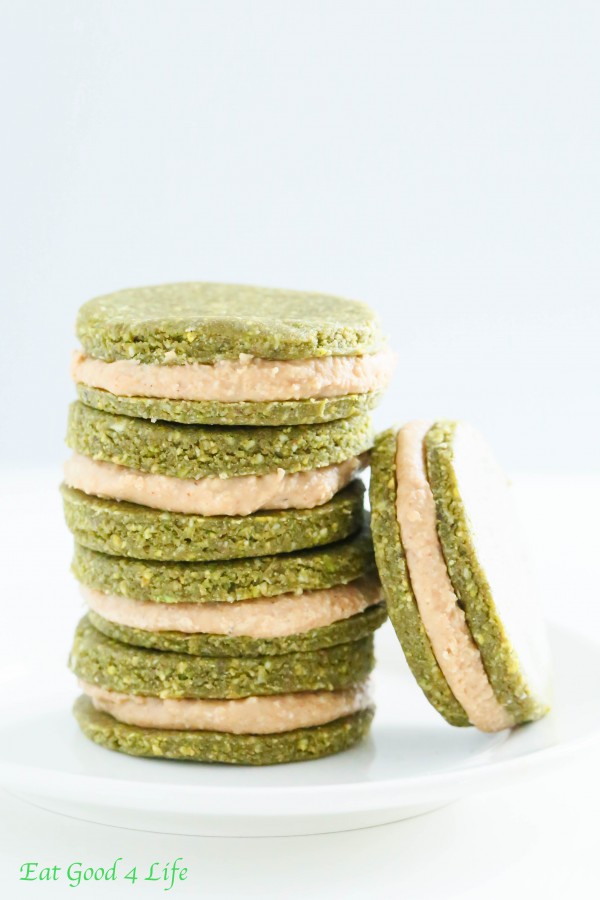 I have been making a few healthier desserts given that St. Patrick's day is just around the corner.
I have seen tons of dessert recipes indicative of St. Patrick's day, however, very few qualify as healthy. While nuts are high in calories and fat, the fat composition in this cookies is much healthier. A little goes a long way and the vitamins and mineral content in them is also better than having the traditional baked cookie.
Not only this recipe will save you time but they are pretty easy to make. You can also use any other nut of your choice but to keep it sort of in a green tint color and keeping with St. Patrick's day theme I wanted to use pistachios.
It is actually my first time making raw cookies but for sure it will not be my last. I can't believe how good these were so for sure I will be posting some different variations of this one recipe.
I would suggest keeping these cookies in the fridge. They will hold a lot better. If you like you can double the batch and freeze some for whenever you are looking to have something healthier for a sweet treat. I know I will be doing that next time I tackle this recipe.
I will not make your wait any longer so if you would like to make this sensational pistachio cookies with cream filling visit my friends at nuts.com. Be sure to browse around for any other ingredients. They have a large array of nuts and dried fruits so I am sure you will be able to get everything you need for you baking needs.
Enjoy!