Peanut Butter and Dark Chocolate Mini Muffins
I love these Peanut Butter and Dark Chocolate Mini Muffins. My kids think they are awesome especially when I pack them for their school lunches.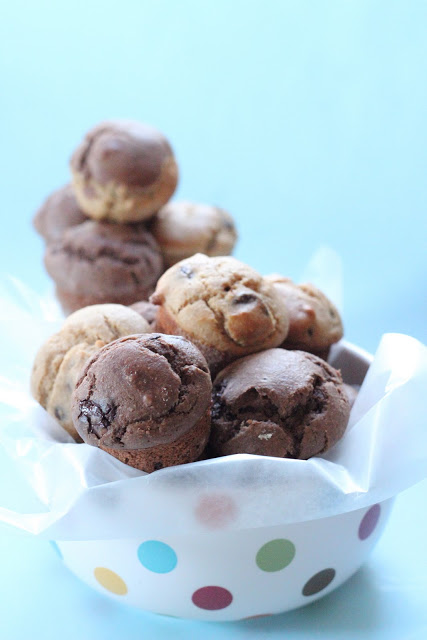 These Peanut Butter and Dark Chocolate Mini Muffin recipe was a recipe I used to make from a long time ago. I recently run into the recipe by accident while cleaning my desk so I figured I make it and post it so that I wouldn't lose it again. I love mini muffins even though I don't get to make them often. They are really convenient to eat since they are almost bite size, and perfect for my son :-).
This time around, for the Peanut Butter and Dark Chocolate Mini Muffins, I half the batter and added cocoa powder to it to get the chocolate looking effect of some of the muffins, great move I must add! I love the two different mini muffin tones and they look more fun, especially for my kids.
These will freeze well so if you like you can place half of them in the freezer and have as you go for some other days.
Anyhow, these, again, are very easy to make. If you don't have a mini muffin pan just used a regular muffin pan, the result will be equally good.
Enjoy!
Here the muffins are cooling down right after taking them out from the oven, minus a few that we ate :-)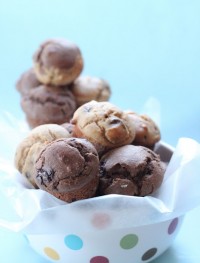 Peanut Butter and Dark Chocolate Mini Muffins
Yield: 24-28
Total Time: 45 minutes
Ingredients:
Directions:
Preheat oven to 375F. Grease and flour the mini muffin pan or line with muffin liners.
In a bowl mix egg, banana, milk (minus 4 tablespoons), peanut butter and sugar. Add flour, baking powder and chocolate chips. Pour 1 teaspoon onto each muffin hole.
When you have come to half the batter add the cocoa powder an extra 4 tablespoons of milk. Pour the remaining chocolate batter into the muffin pan.
Bake for 15-20 minutes or until tester comes out clean. Immediately remove mini muffins from pan and cool on a wire rack.