Peanut vegetable shrimp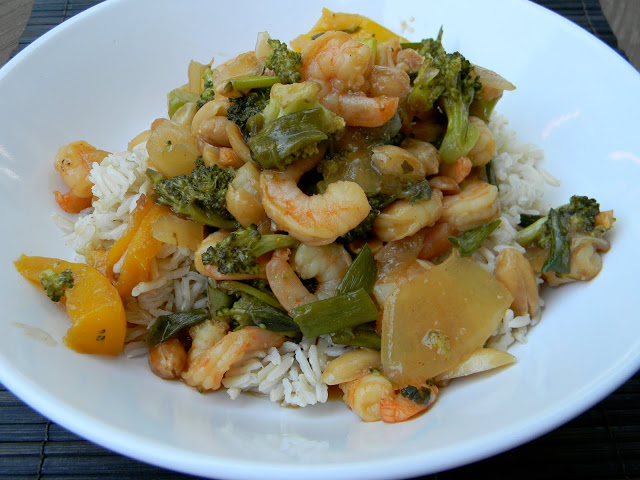 This dish is extremely simple to make and so delicious. I have just recently made this and have add it to my recipe repertoire. I pretty much make this at list once a week. You can change the type of veggies to include in this dish. I normally add broccoli as well since cruciferous vegetables are extremely good for you.
You can also substitute the protein and do chicken instead of shrimp, what ever flows your boat. Hoisin sauce is readily available at supermarkets so go ahead and try it, you won't be disappointed.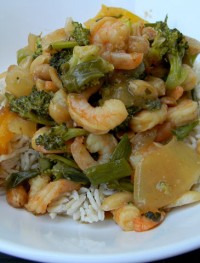 Peanut vegetable shrimp
Ingredients:
1 1/2 pounds medium or large cooked shrimp
2 large red, yellow or green peppers
1 lb broccoli
1 large onion
1 tablespoons whole wheat flour
4 tablespoons olive oil
6 cloves garlic, minced, you can also used ginger instead
8-10 scallions cut into 1-inch pieces
1/4 cup rice vinegar
1/3 cup of hoisin sauce
1/3 cup water, maybe a little bit more. Add more if sauce is to think
3/4 cup roasted peanuts
3 cups of whole wheat rice
Directions:
In a large nonstick skillet, heat oil over medium-high heat. Cook veggies for about 5-7 minutes.
Add vinegar and cook until evaporated, about 3 minutes. Add shrimp and heat through. About 2 minutes.
Add hoisin sauce and whole wheat flour previously dissolved in 1/3 cup water. This will help to thicken the sauce. Cook, tossing veggies and shrimp for about 1 minute. Remove from heat. Stir in scallions and peanuts. Serve immediately over whole wheat rice.