Peanut butter, coconut and dark chocolate crispy bars.
Holly molly these Peanut butter, coconut and dark chocolate crispy bars are to die for. I need to have this in my pantry at all times. Granted they are dangerous but so so good.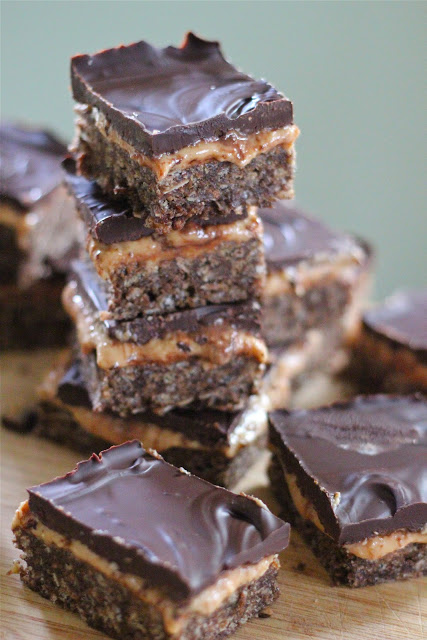 What can I say about these Peanut butter, coconut and dark chocolate crispy bars? These are just sensational. Sorry to say but I do really think they are and so does my family!!
I got the recipe originally from these peanut butter and dark chocolate crispy bars I made a while ago, although I added a few more ingredients. While those were really good these are a bit different and still super good. Originally the bottom layer called for 1/2 cup of unrefined sugar but as suggested by a fellow blogger using 1/4 cup was sufficient. Much much better!!
These Peanut butter, coconut and dark chocolate crispy bars are a little bit more involved than the original version ones, but not much for that matter.
For the next time doing this, I will just do the bottom crispy part and keep it as a rice crispy treat. I have not done just a crispy treat yet in the blog so that will nice to have. I mean who doesn't like rice crispy treats? especially when they are a bit healthier right?
Anyhow, I hope you get to try these bars. They are not that sweet at all, easy to make and really good.
Enjoy!!
Here you can see the bottom layer of the bars being mixed and padded down onto the square baking pan previously lined with foil paper. I did not grease the foil paper by the way!!
Coconut butter and peanut butter before and after being mixed. I made my own coconut butter by placing some coconut chips in the food processor. You can do the same with shredded coconut.
Here you have the coconut and peanut butter layer on the left and on the right you can see the last layer which is the dark chocolate chips that are already set. I placed the pan in the fridge for 20-30 minutes to speed up the process.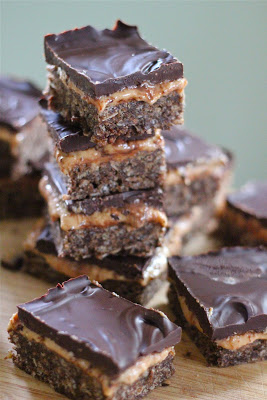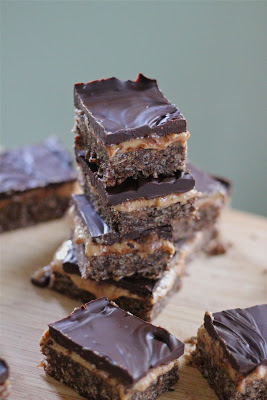 These bars are to die for. Next time I am just going to do the bottom layer as dark chocolate rice crispy treats. So simple and so yummy. The kids would love them.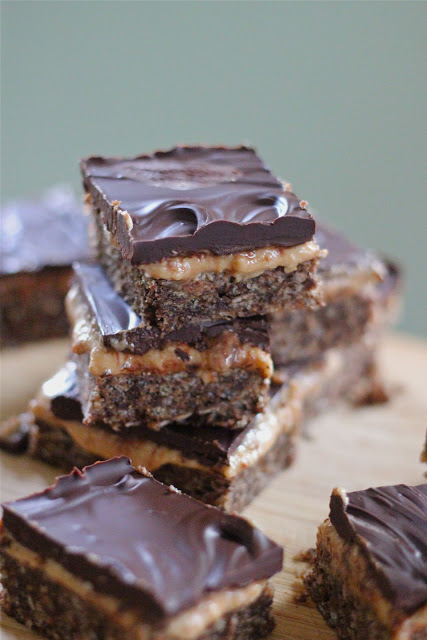 Keep the bars in the fridge other wise the middle coconut and peanut butter layer would become soft. Nothing wrong with that though but they will get messy!!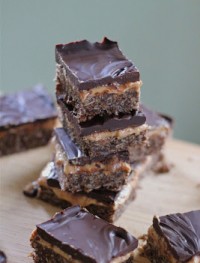 Peanut butter, coconut and dark chocolate crispy bars.
Yield: 18-20 pieces
Total Time: 1 h 45 minutes
Ingredients:
Bottom layer
Middle layer
3/4 cup coconut butter, used coconut chips or shredded coconut to make your own
3/4 cup peanut butter
Top layer
1 1 /2 cup dark chocolate chips
2-3 tbs coconut oil
Directions:
In a sauce pan, at low heat, combine honey and peanut butter. Heat for about 1-2 minutes stirring to dissolve the peanut butter. Remove from heat and add cereal, oats, dark cocoa powder and flax seed meal. Press into a 8x8 square baking pan lined with foil like in the picture.
If you are making your coconut butter, blend the coconut chips (or shredded coconut) in a food processor until it resembles butter consistency (you probably need about 2 cups of the chips to make 3/4 cup of coconut butter). Transfer to a bowl and add the peanut butter and combine.
Pour mixture over the dark chocolate crispy part and place in the refrigerator until it sets, about 1 hour or so.
Melt chocolate with coconut oil in a medium bowl over a saucepan over boiling water (double boiler method). Stir until smooth and spread melted chocolate over the coconut butter mixture.
Let cool to set chocolate. I normally put it in the fridge for 20-30 minutes until chocolate is almost set but not so hard that it will brake when cutting the squares. Lift out of the pan, remove foil and cut into small bars or squares. Store in the refrigerator.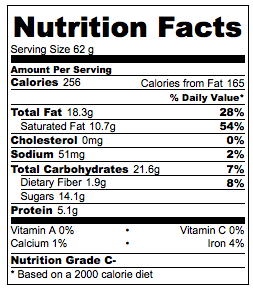 Nutrition facts calculated based on the recipe giving 18 pieces.