Peanut butter cheesecake with caramel sauce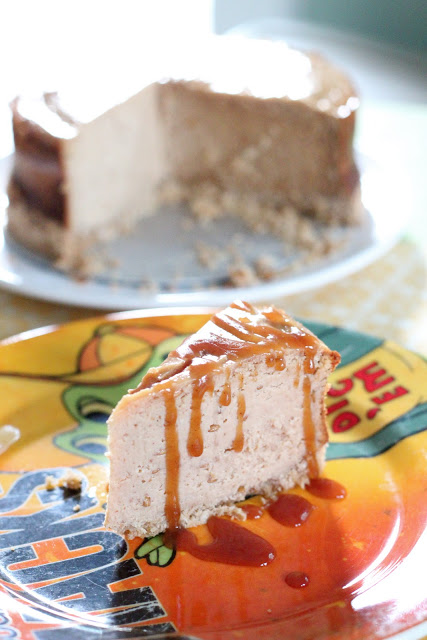 I have been developing a no bake peanut butter cheesecake for quite sometime and after much failure I decided that baking one would be easier, but that was just up until a few days ago when I made the no bake peanut butter cheesecake for the third time that finally became a success. Finally the consistency was right!!
Anyhow, this cheesecake is also super easy, delicious and simple. I add it some chopped peanuts to the crust and I think it was awesome. It gave it a little crunchy feel to it. I also use my cinnamon caramel sauce, which was a nice addition.
For the cheesecake batter I used a kind of peanut butter that contained flax seeds but you can use any peanut butter of your liking, smooth or crunchy.
Anyhow, my cheesecake was a bit on the over baked side so I have decrease the amount of baking so you don't over bake yours!
Enjoy!!
On the left picture you  can see that my cheesecake is slightly over baked so I have decreased the amount of baking time so that you won't over baked yours :-) Also, I used a 6 inch cheesecake pan with removable bottom.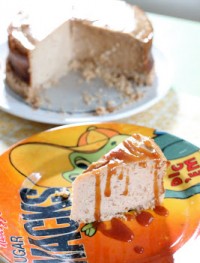 Peanut butter cheesecake with caramel sauce
Ingredients:
2 8 oz 1/3 less fat cream cheese
1/2 cup sugar, if you are not using the caramel do 3/4 cup sugar
1/2 -3/4 cup crunchy or smooth peanut butter
2 eggs
Crust
1/2 cup oatmeal
1/4 cup unsalted peanuts, chopped
1/2 cup cheerios, you can also use graham crackers or cookies, I used multi grain cheerios from Trader Joe's
3-4 tablespoons butter, melted
Directions:
Preheat oven to 325F.
In a food processor add oatmeal and cheerios and pulse until pulverized.
Add this mixture to the 6 inch cheesecake pan with removable bottom and incorporate the peanuts and melted butter. Mix thoroughly and press down onto the pan.
In a bowl beat cream cheese until smooth. Beat in the sugar, and peanut butter and combine. At low speed incorporate the eggs. Blend until smooth.
Pour cheesecake batter over the crust and bake for 25-30 minutes or until set. Turn oven off and let cheesecake set for about 20-30 minutes before placing in the fridge.
Refrigerate cheesecake for at least 4-6 hours before serving. If using caramel sauce pour caramel over entire cake or to individual pieces.