No bake Peanut butter banana dark chocolate bites
The no bake peanut butter banana dark chocolate bites are to die for. I have made this several occasions and it is always a hit. These are gluten free and vegan.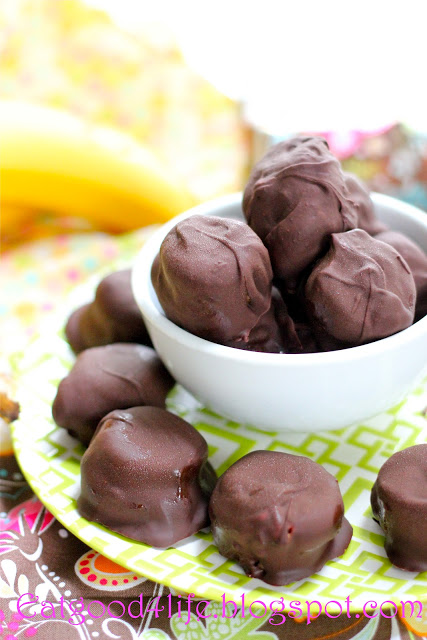 As promised, here is the other sweet treat that saved us while on vacation. No bake Peanut butter banana dark chocolate bites.
Still to come, one more favorite though, so stay tuned because you really do not want to miss that one :-). I think that one was my family's favorite!!
Hardly any prep time here, as you can see, and for sure no especial skills needed to put this together!!
This time around I used a peanut butter that I did not like too much, as it was a bit runny and the bananas wouldn't stay on top of it that good. The peanut butter that worked the best was the organic one from Trader Joe's.
Choose a peanut butter that doesn't have too much oil and for sure one that doesn't have hydrogenated oils, trans fats!!
I was thinking that you could actually use Nutella or home made caramel instead of peanut butter in between the bananas, wouldn't that be awesome? Just being a bit more naughty :-)
Well not much to elaborate here so I will leave you with these no bake Peanut butter banana dark chocolate bites
Enjoy!!
Here you can see the first steps of putting the bananas together, rather simple. They don't have to be perfect. Mine actually looked quite messy :-)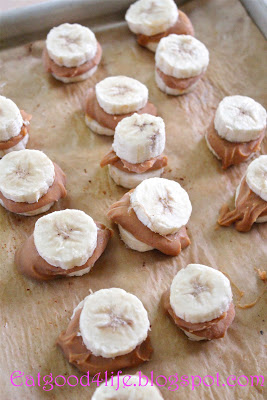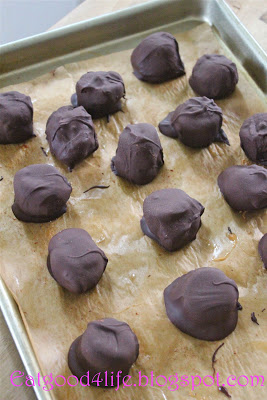 On the left picture you can see the bananas right after taking them out of the freezer. Make sure you work quickly when you coat them with the melted chocolate other wise the bananas will became mushy and they will be harder to coat!
I used a couple of forks to help me coat them. No especial equipment needed :-)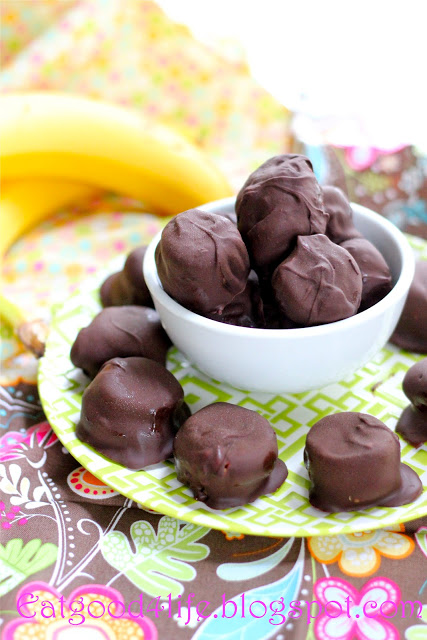 After you are done coating them you can keep them in the fridge or the freezer, which ever you prefer. I like them better when kept in the freezer!!
These are awesome. The kids will love them!!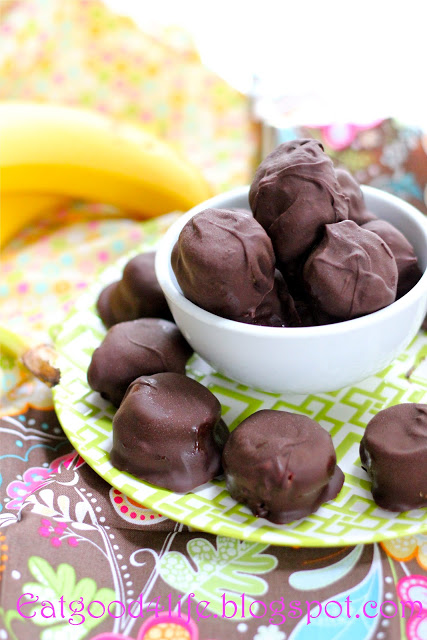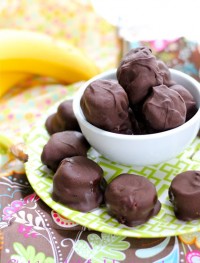 No bake Peanut butter, banana and dark chocolate bites
Yield: 18 pieces
Total Time: 20 minutes
Ingredients:
3 medium bananas, ripe and sliced
1/2 cup organic creamy peanut butter
1 1/2 cup dark chocolate chips, vegan if need be
Directions:
Slice bananas and place on a baking tray. Spoon about 1/2 tablespoon of peanut butter on top of each banana slice. Place another banana slice over the peanut butter and sandwich together. Freeze until firm, about 2-3 hours.
On a double boiler, melt dark chocolate chips. Place banana pieces in the melted chocolate, one by one, until covered in chocolate all around (I used a couple of forks for this step). Place the bananas back in the baking tray and let them stand until set.
This will not take long, as the bananas are frozen and this will help set the chocolate rather quickly!
Try to work quickly when coating the banana pieces though otherwise they will become mushy and harder to coat with the chocolate.
Keep banana bites in the freezer or fridge. I prefer them right out of the freezer but it is totally up to you :-) They are good. both ways.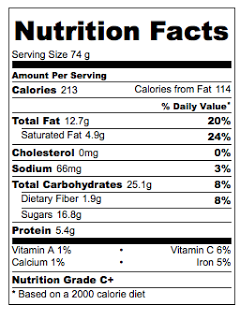 Nutrition facts calculated based on the recipe yielding 9 servings. 1 serving = 2 pieces