Peanut Butter and Oatmeal Cookies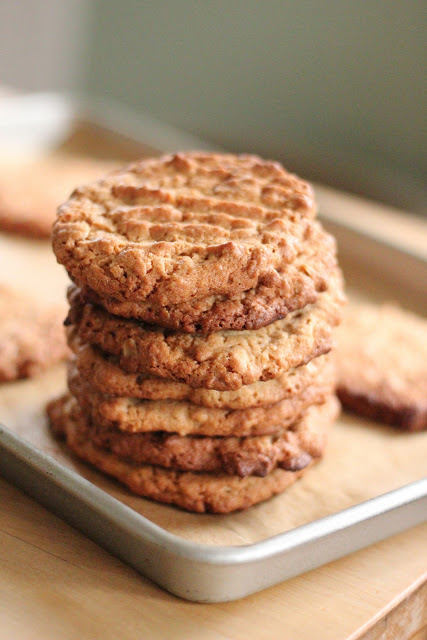 Who doesn't like peanut butter cookies? I think, unless you are allergic, pretty much no one right?
So here you have it. I just started making cookies since we are in December, after all it is cookie month right? I don't know how many different cookies I will be making because to be honest there are way to many other things that I would like to bake as well. I figured I will try to post at least a couple more, will see how it goes.
These cookies remind me a little bit of this ones that I used to eat when I used to live in England, it brings back some memories. There its where I really started baking and where my baking obsession really took form :-) I really loved my time in England, I miss it. Maybe I will visit some day with my family, heck my sister lives there on and off…….
Anyhow, I hope you like these because they sure are perfect with a glass of milk.
Enjoy!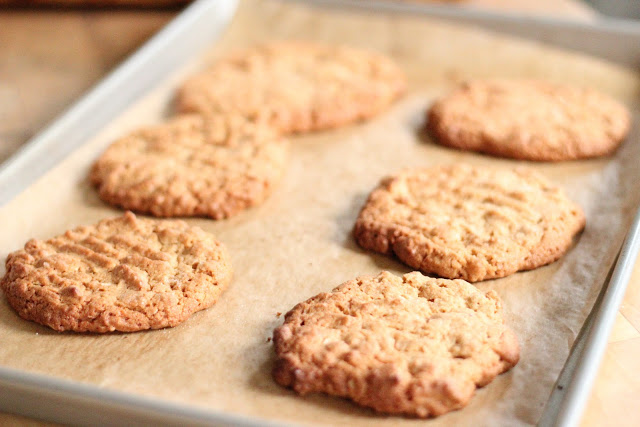 Make sure you really pay attention to them. They need no more than 8-9 minutes max. I baked mine for 10 and kind of got toasted a bit too much for my taste so watch out for yours.
Peanut butter and oatmeal cookies
Ingredients:
1/2 cup firmly packed brown sugar
1/3 cup sugar
4 tablespoons butter
1/4 cup olive oil
3/4 cup chunky peanut butter
1 teaspoon vanilla
1 egg
3/4 cup whole wheat pastry flour
3/4 cup old fashion oats
1 teaspoon baking soda
1/2 teaspoon salt
Directions:
Preheat oven to 350F. In a bowl combine sugar and butter and beat until fluffy. Add vanilla, eggs, and peanut butter and blend well.
Add remaining ingredients. Drop teaspoons of dough 2 inches apart onto cookie sheets lined with parchment paper. With a fork dipped in sugar flatten balls in crisscross pattern.
Bake for 6-8 minutes. Removed cookies from cookie sheet immediately after being done.