Peanut Butter and Dark Chocolate Krispie treats
These are my favorite rice krispie treats of all time. They are easy, healthier and fun to make with the kids.

These peanut butter and dark chocolate krispie treats are one of my son's favorite. We actually tend to make them together. It is extremely simple and rather fast. You can enjoy these treats in no time. You may also like this other peanut butter, dark chocolate and coconut crispy bars!!
Now I have to warn you that rice krispies, the very famous brand that everyone knows, won't give the name away in case they would like to come after me, contains high fructose corn syrup. You may have heard on TV that it is good in moderation and that the body can't tell the difference. Well let me tell you that your body CAN TELL THE DIFFERENCE. They just want you to believe otherwise because it is a very lucrative business.
Sugar its metabolize in the small intestine while HFCS has to go to the liver because the body can't recognize it, not good…..
I won't bored you with all of the science so let me just stop here.
Anyhow the point that I wanted to make is that I happen to have a very great store near my house, Trader Joe's, which I can't live without. Products at this store don't contain either hydrogenated fats, aka, trans fats or HFCS so here is where I get my rice krispies :-)
On any event, where ever you get your rice krispies you will enjoy these peanut butter and dark chocolate krispie treats as much as we did, they are just AWESOME. This year these treats are making it to my give away Christmas goodie bags.
Enjoy!
In these two pictures you can see the first steps. Getting the rice krispie mixture onto the lined foil pan and the chocolate being melted on a double broiler, which you can also do in the microwave.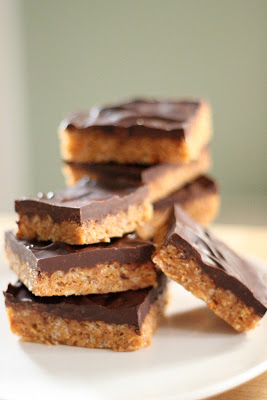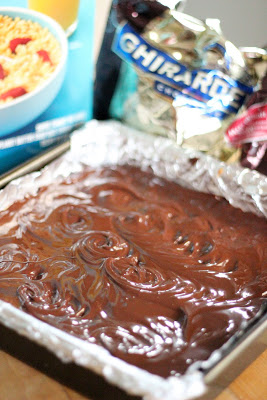 Here you can see the chocolate already melted that I spread over the rice Krispie mixture and the final result, just superb :-)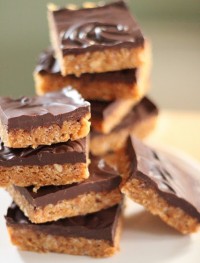 Peanut Butter and Dark Chocolate Krispie treats
Ingredients:
1/2 cup honey
1/2 cup organic crunchy peanut butter
3 cups brown rice crisped cereal, regular crisped cereal will also work
1 1/2 cup dark chocolate chips
Directions:
In a sauce pan, at low heat, combine  honey and peanut butter. Heat for about 1-2 minutes stirring to combine. Remove from heat and add cereal. Press into a square baking pan lined with foil like in the picture.
Melt chocolate in a medium bowl over a saucepan of boiling water. Stir until smooth and spread melted chocolate over the rice crispy mixture in the lined pan.
Let cool to set chocolate. I normally put it in the fridge for 20-30 minutes. Lift out of pan, remove foil and cut into small bars. Store in covered container up to for one week.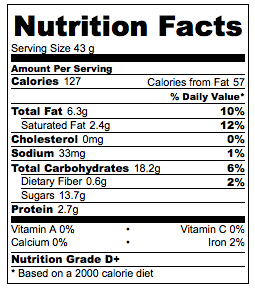 Nutrition facts are calculated based on the recipe giving 18 servings (pieces).