Peanut butter and chocolate blondies- vegan and gluten free
Holly molly these peanut butter and chocolate blondies are fantastic. They are gluten free, vegan and a lot healthier than other versions out there. These are a must try.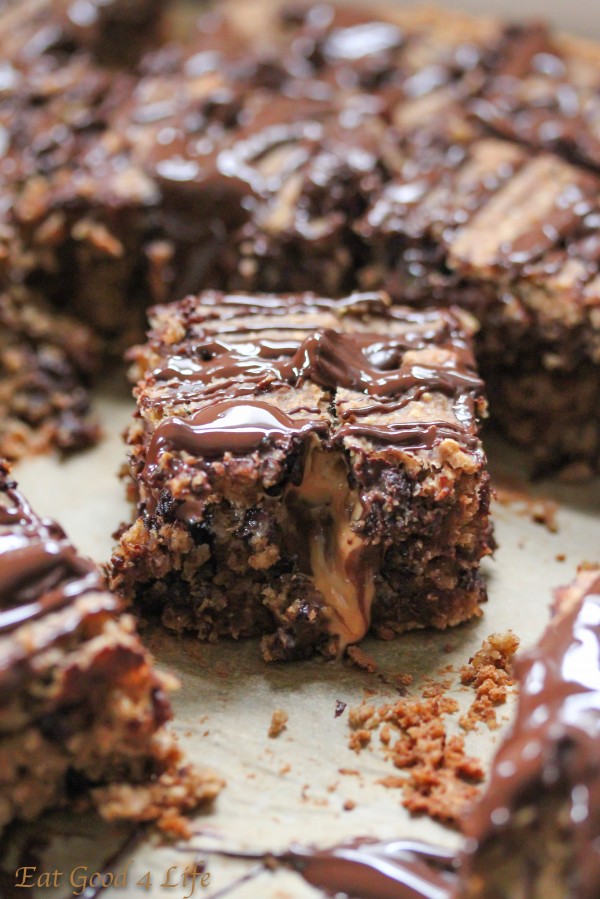 I haven't made blondies in for ever. I actually don't I had a blondie recipe in the blog until today. When making these peanut butter and chocolate blondies I was glad I doubled the batch. They were so good…
If you like you can freeze some of them and have later to make sure they don't spoil. These will keep at room temperature for 2-3 days, but after that I am not sure.
If you are not vegan, you can use regular peanut butter cups, if not you can use homemade, store bought or simply just use more chocolate chips if you don't care for the peanut butter cups.
This is my first time using peanut butter cups on a dessert while baked. Peanut butter cups are the bomb. I am going to to find other ways to incorporate them because the oozing of the warm peanut butter was just delicious.
I hardly eat warm desserts. I like my cookies when they are cooled but these blondes, oh boy, you must eat them the minute they come out of the oven. They will crumble a little bit but that is OK. If you like you can wait for them to cool as well. Either way, I think you are going to like these peanut butter and chocolate blondies.
Let me know if you get to try them. I know I am going to be making them for time to come. They are super good and not so bad for you.
Enjoy!
Here you can see the banana mixture. Just add the liquid ingredients to your food processor and liquify. Pour this mixture over the pulverized rolled oats and mix through.
Here you can see the blondies right before and after pouring the drizzle all over it. I didn't allow the blondies to cool but you could if you like. I just couldn't wait to dig in.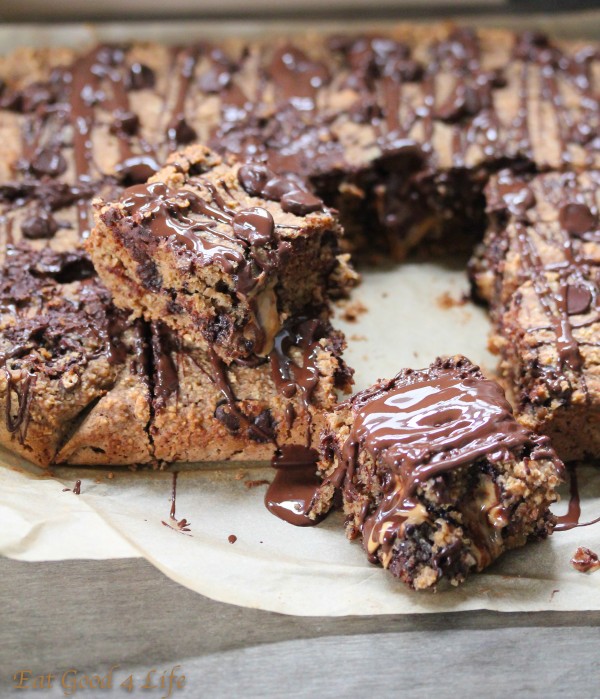 These peanut butter and chocolate blondies have become one of my favorite desserts. If you like peanut butter and chocolate you will love these.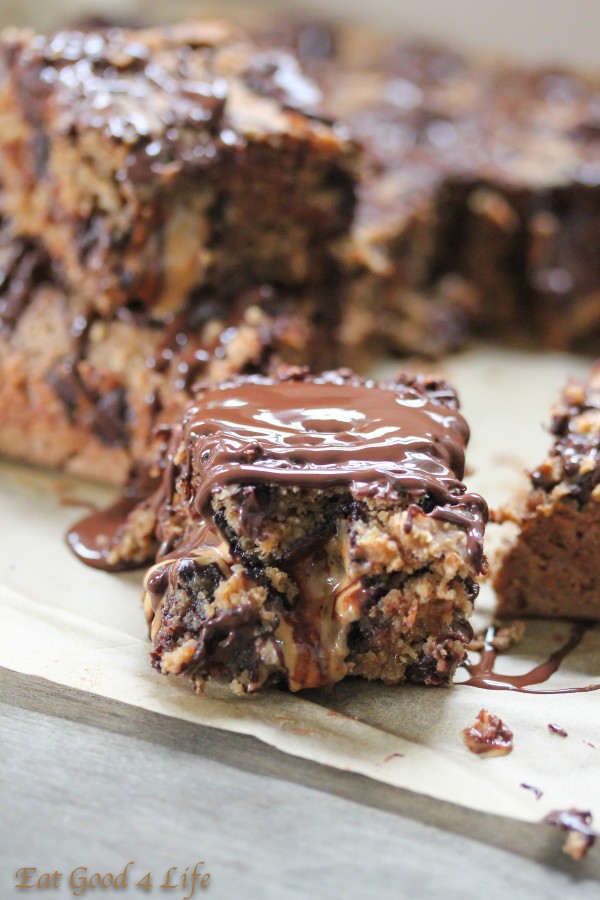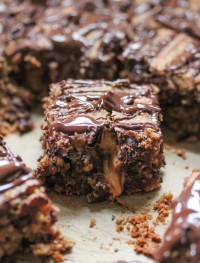 Peanut butter and chocolate blondies- vegan and gluten free
Yield: 20 squares
Total Time: 60 minutes
Ingredients:
Directions:
Preheat your oven to 350F. Line a 9x13 rectangular baking pan with unbleached parchment paper.
In your food processor add the rolled oats and pulse until they are pulverized. Place on a mixing bowl and add the baking powder, baking soda, salt and cinnamon. Set aside.
Add the bananas, apple sauce, peanut butter, and maple syrup to the food processor. Pulse until it is liquified. Add this mixture to the oat mixture and combine with a spatula. Add the 1 cup of chocolate chips and the peanut butter cups. Save the two tablespoons of chocolate chips for later.
Spread the batter into the prepared baking pan. The mixture will be thick. Sprinkle the extra 2 tablespoons of chocolate chips over the batter and bake for 30 minutes.
Transfer the blondies to a wire rack. For the chocolate drizzle, place the chocolate chips and coconut oil on a microwavable dish and microwave in 45 second increments until the chocolate is melted. With a fork drizzle the chocolate over the blondies and serve.
You can keep the blondies in a cake stand in  your kitchen counter for up to 3 days. Alternately you can freeze them and have them later on.
NOTE: You can divide the ingredients by two and bake on a 8x8 square baking pan 
Recipe adapted from Ambitious Kitchen