Pastrami, Watercress, Tomato and Heinz Mayonnaise Sandwich
This post has been sponsored by Heinz® . I received product and compensation. All opinions are my own.  "Thank you for continuing to support the brands that make Eat Good 4 Life possible"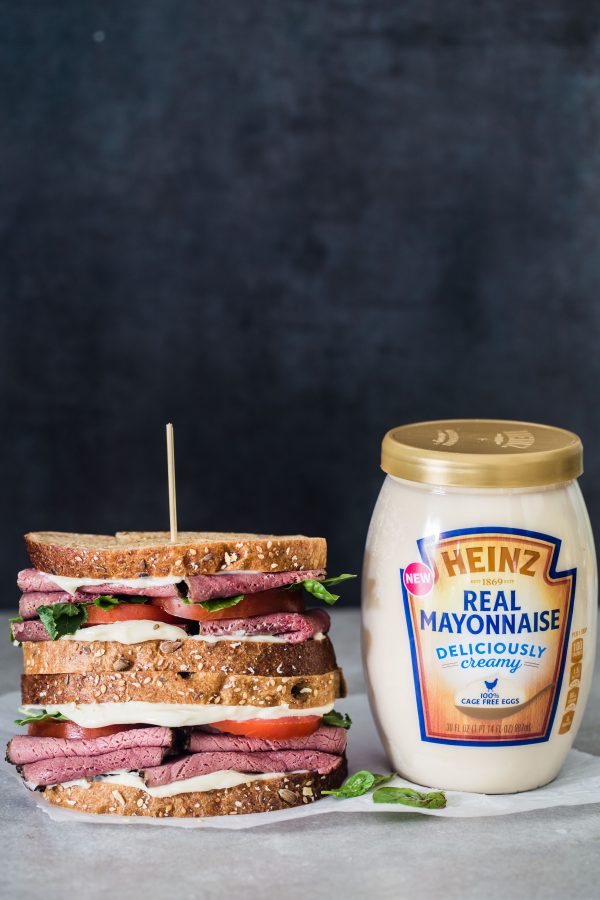 It's been ages since I've made a sandwich as awesome tasting as this one. I used NEW Heinz Mayonnaise which really brought the flavors to life! This past weekend I had the honor and pleasure of attending Vegas Uncork'd with Heinz® which is where I first tried this pastrami watercress tomato sandwich. The event was crazy busy, exciting, exhilarating and a lot of fun. There were dozens of booths where celebrity chefs and amazing restaurants offered their recipe creations to the public. It was truly a fine dining experience.
Vegas Uncork'd was the perfect event to showcase and taste NEW Heinz Mayonnaise. For those that don't know, NEW Heinz Mayonnaise is made with high quality ingredients like 100% cage free eggs, lemon juice and hand-selected vinegars and oil. You can really taste the subtle tanginess that comes from the lemon which is one of my favorite differences. The great taste and deliciously creamy texture make Heinz Mayonnaise the perfect condiment to upgrade any homemade sandwich.
All sandwiches at the Vegas Uncork'd Heinz Deli were custom created for Heinz by chefs from some of the best sandwich shops around the country. Each sandwich was very unique, delicious and tasted out of this world.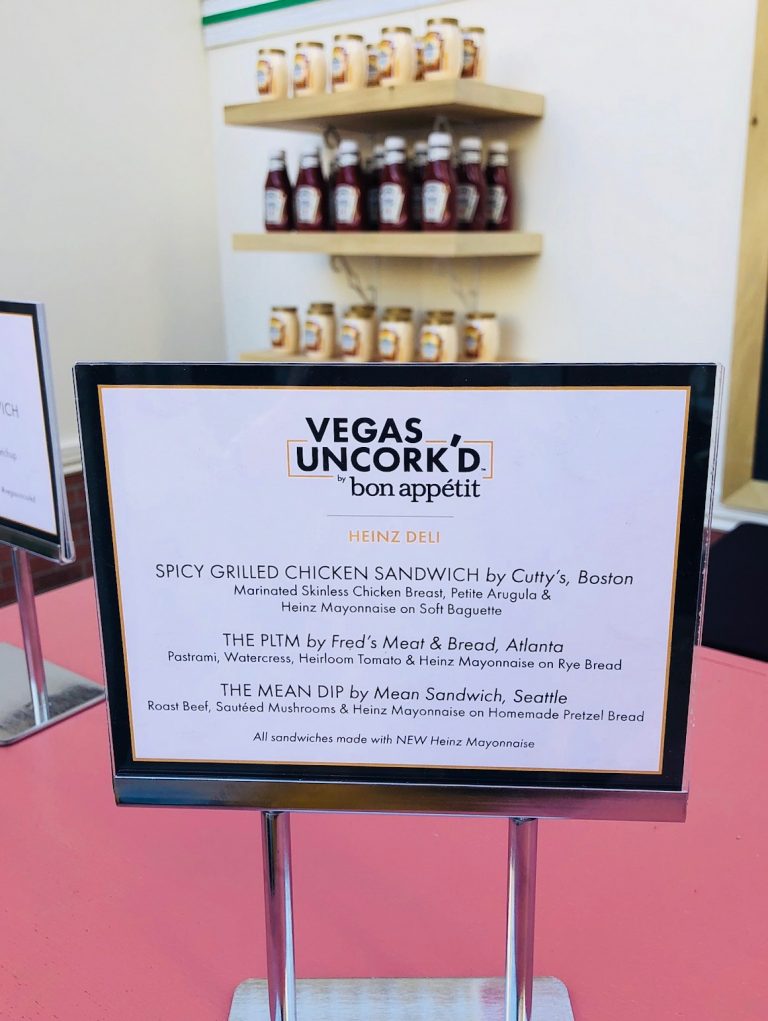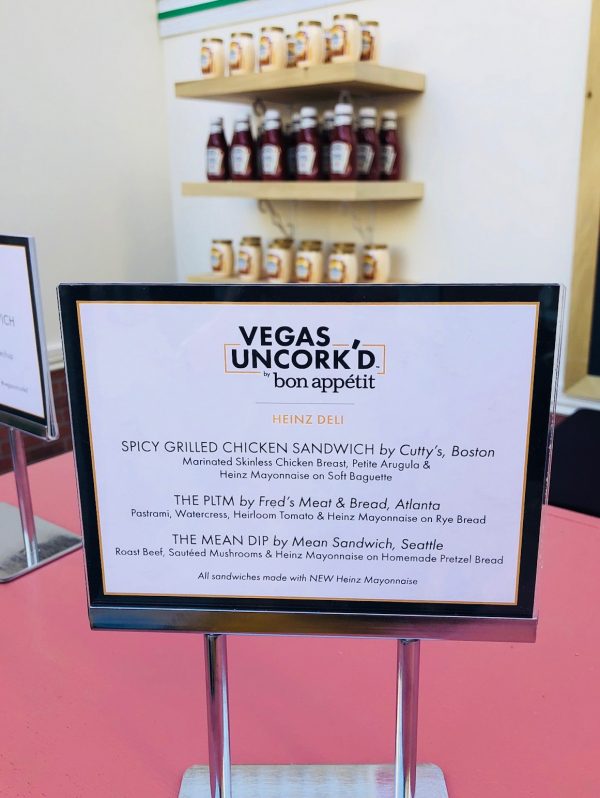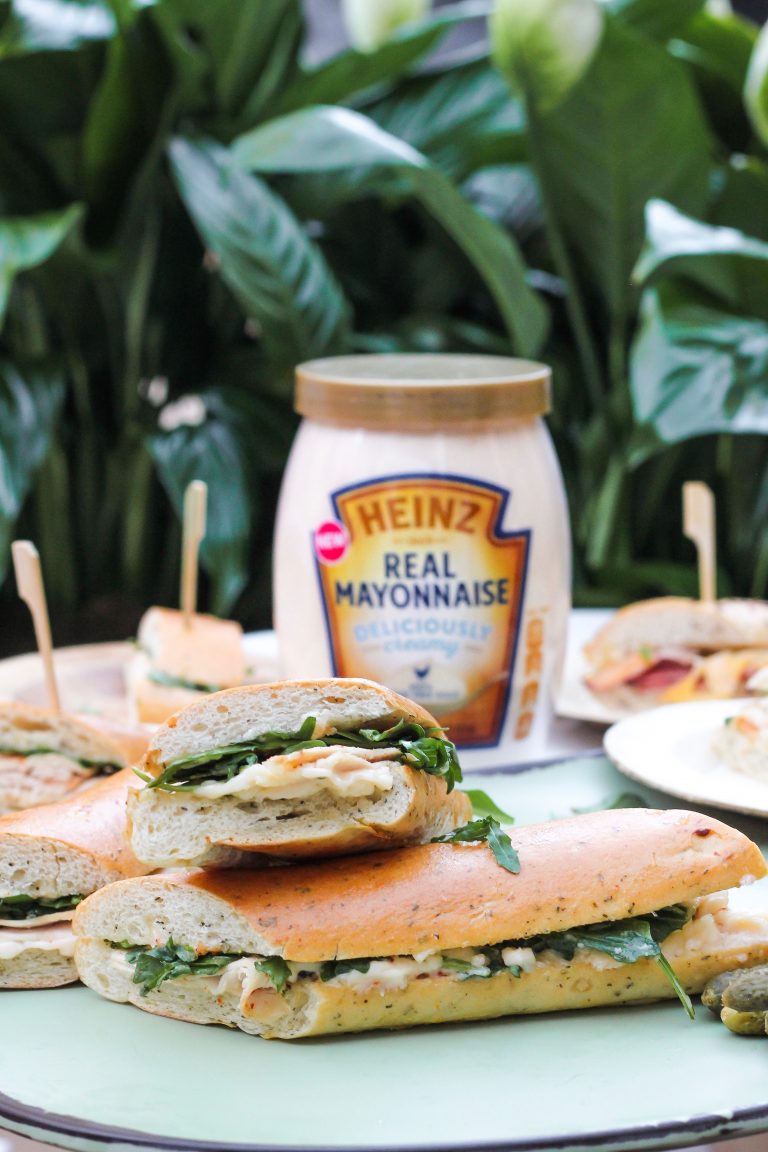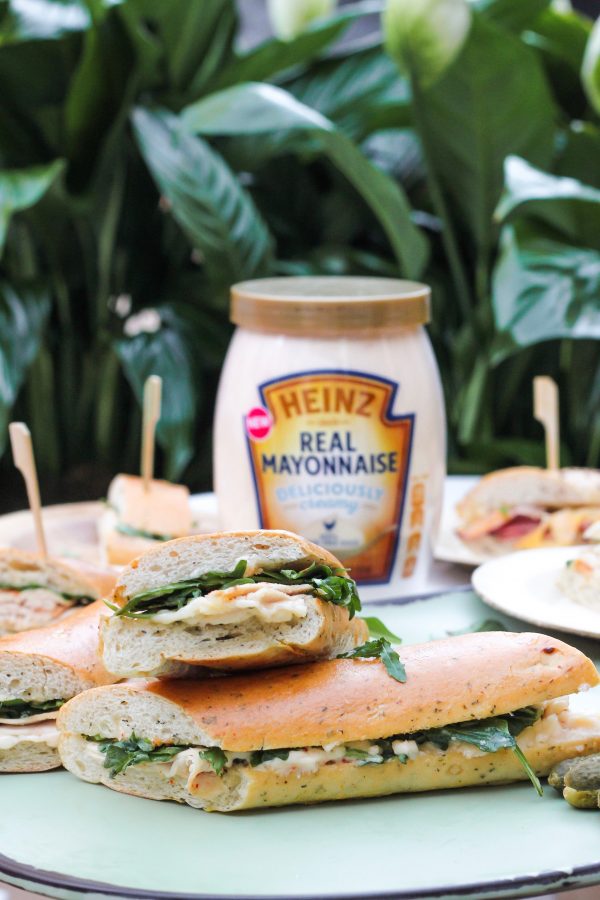 Here is the spicy grilled chicken sandwich by Cutty's in Boston. It was made with marinated skinless chicken breast, petite arugula and Heinz Mayonnaise on soft baguette. It was simple, yet delicious.
I always think using high quality ingredients brings out the best in any recipe.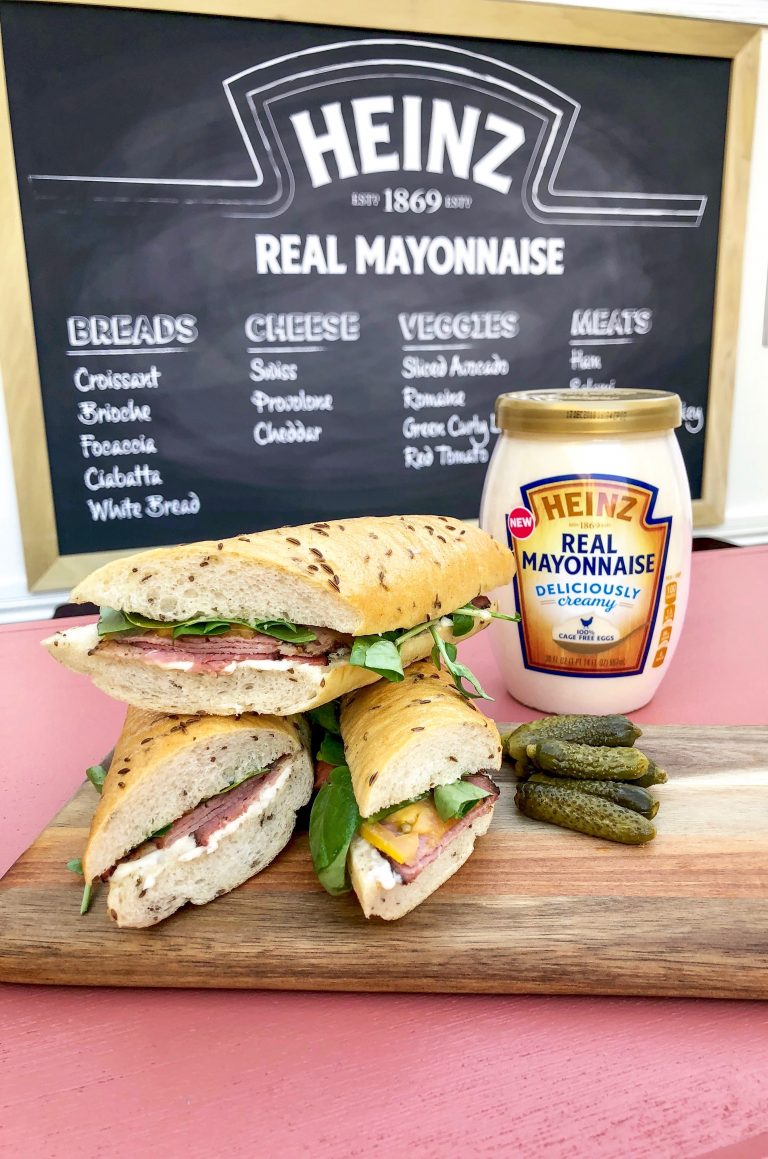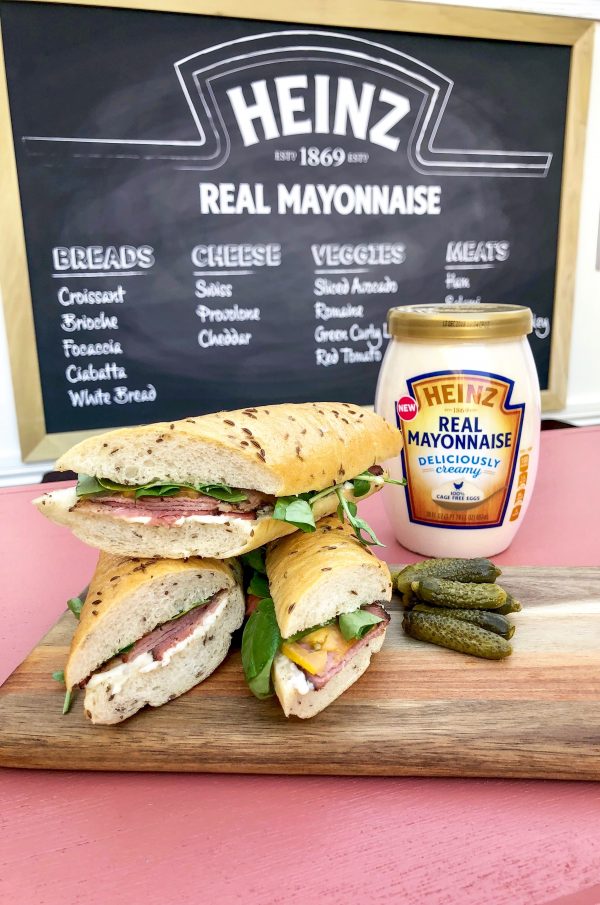 The next one was the PLTM by Fred's Meat & Bread, Atlanta. It was made with pastrami, watercress, heirloom tomato and Heinz Mayonnaise on rye bread.
This was my own favorite. I love pastrami and the mixture with the tomato and mayonnaise I always thought to be a winner. It was juicy, creamy, tasty and very unique.
The Mean Dip by Mean Sandwich, Seattle was made with roast beef, sauteed mushrooms and Heinz Mayonnaise on homemade pretzel bread. I think this was one of the all-time favorites among events goers.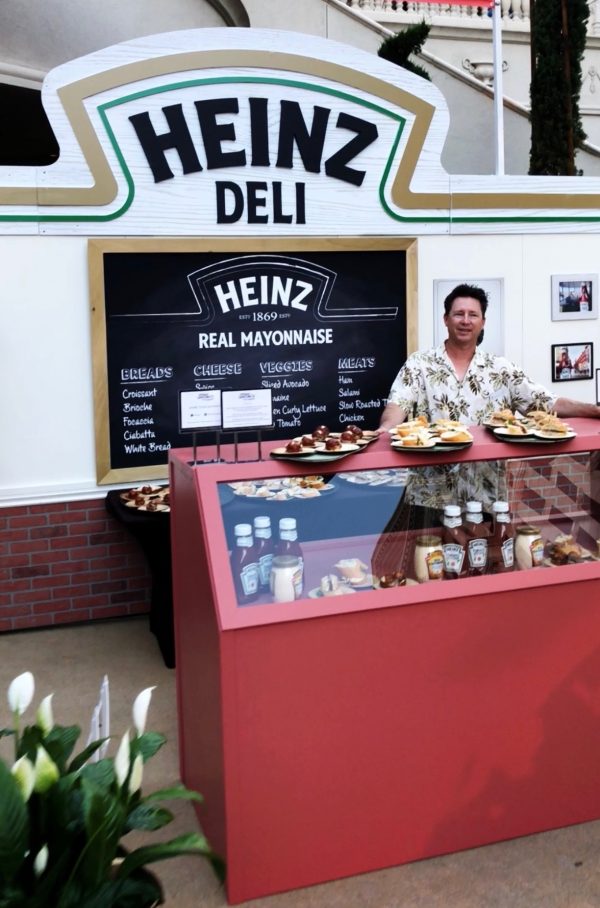 Here you can see a glimpse of the Heinz Deli at Vegas Uncork'd. It was truly and awesome set up and even though you can catch a little site of the sandwiches served at the event. They literally were flying off the shelf. I wonder why…
Out of the sandwiches presented at the Heinz Deli, for me, the pastrami watercress tomato & mayonnaise sandwich was one of my favorites, thus, I decided to recreate this one.
When it came time to get busy in my kitchen I was glad I made a few more sandwiches than needed since everyone in my family came back for seconds. For my pastrami watercress tomato sandwich version I used a different type of bread and tomatoes. The original recipe calls for rye bread and heirloom tomatoes, however, I used a multigrain sliced bread and red tomatoes. The flavors were still consistent with what I remember tasting at Vegas Uncork'd. This is the beauty about recreating recipes, as long as you keep the main ingredients consistent with the original recipe, you will always have a very similar result.
I think in the next few days I will be trying the spicy grilled chicken sandwich and I will also be creating my own sandwich variations with the Heinz Mayonnaise. It is truly a new and improved mayonnaise that my family really enjoyed. If you are looking for a mayonnaise that will bring your sandwiches to the next level you must try NEW Heinz Mayonnaise – you are not going to be disappointed.
Enjoy!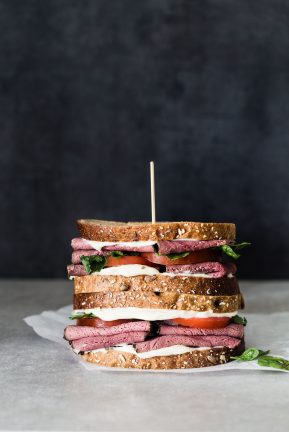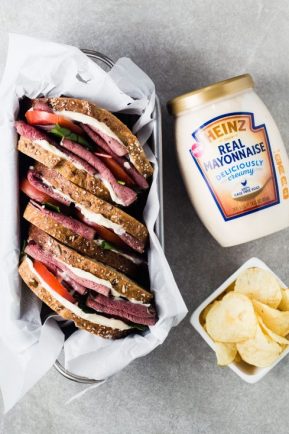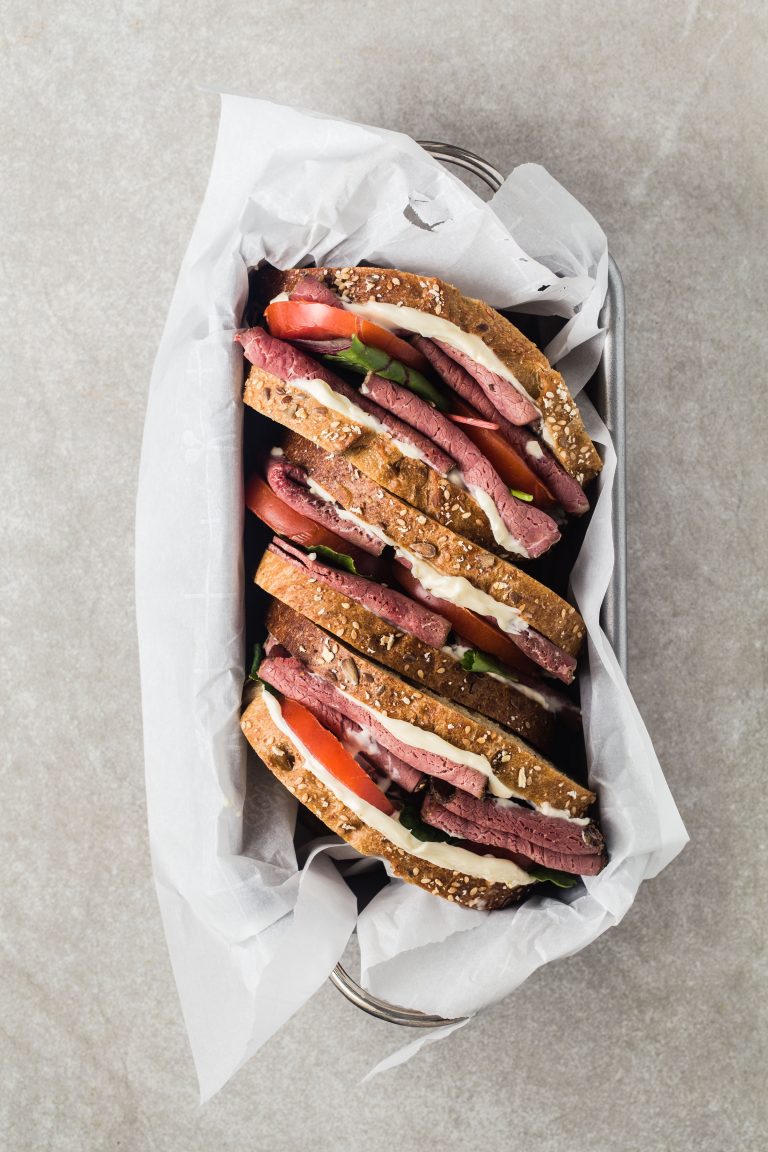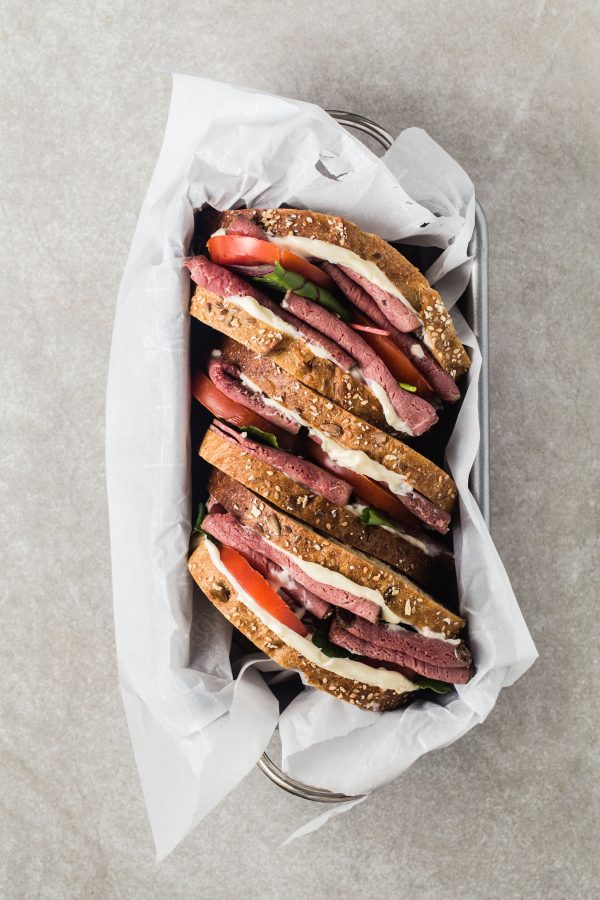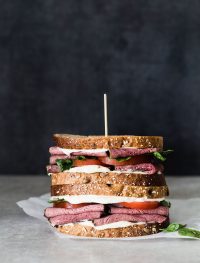 pastrami watercress tomato sandwich
Yield: 4 sandwiches
Total Time: 15 minutes
Ingredients:
6 oz uncured pastrami
Rye bread (or any other bread of choice)
4 heirloom tomatoes, red tomatoes will also work
2 oz fresh watercress, any other greens will also work
8 tbs New Heinz Mayonnaise
Directions:
Regardless on the bread you are using spread one tablespoon of New Heinz Mayonnaise on each slide of bread. (You will need  slices of bread for 4 people)
Top 4 slices of bread with layers of pastrami, tomatoes, and watercress. Place the other piece of bread previously spread with mayonnaise over the pastrami, tomatoes and watercress.
Serve immediately with any sides of your choice.