Pasta Puttanesca
This pasta putanesca is one of my favorite pasta dishes to make in a hurry. So tasty, healthy and easy. Just right up my alley.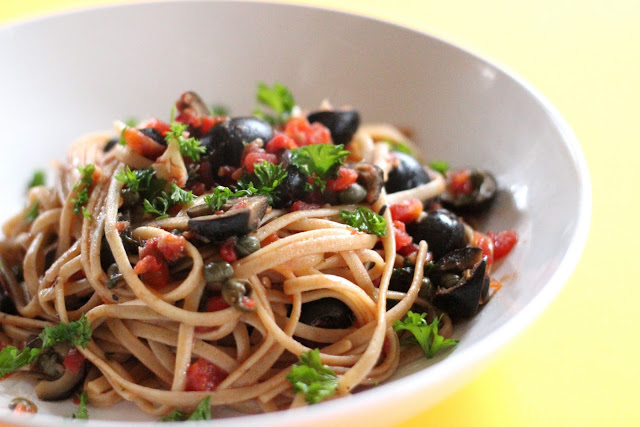 This Pasta Puttanesca is a very popular Italian dish and a very liked one in my household. It is yet another simple, fast and nutritious recipe so I highly suggested. Like I said on some older posts, we do love pasta, we eat it at least two to three times per week, and there is nothing wrong with that.
Like I also said, carbs, complex carbs, should compose 50% of the diet so as long as you are eating this type, rather than simple carbs like candy, cakes, cookies etc you should be fine. Making your own food it also key, and staying away from processed and prepackaged food items it is very important to lead a healthy lifestyle. Exercise should also be part of a healthy lifestyle. What ever type works for you.
Diet don't work, as diets are temporary. A long term change in lifestyle is what will work. I can't stress that enough. If you have any questions let me know.
This Pasta Puttanesca is very simple, flavorful and filling pasta dish!
Enjoy.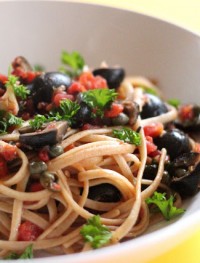 Pasta Puttanesca
Yield: 4 servings
Total Time: 20 minutes max!
Ingredients:
3 tbsp olive oil
4 garlic cloves, chopped
1 lb can diced tomatoes
2 - 3 tablespoons capers
1 cup pitted olives, diced and drained
2 2.5 oz cans anchovies
2 tablespoons fresh parsley
1 lb whole wheat linguine
Directions:
Cook pasta according to package instructions.
While pasta cooks, in a non-stick skillet add the oil, and garlic. Let the garlic cook for about 1 minute or until lightly browned.  Add tomatoes, capers, and olives. Cook over medium to high heat for about 8 minutes.
Add anchovies and half the parsley. Cook for a further 5 minutes. The sauce will thicken. (I normally add 1/2 teaspoon of corn starch, I like my sauce even thicker)
Add cooked pasta and remaining parley and mix through with the sauce. Serve while hot.