Pasta Marinara
Not only this is a simple pasta marinara dish but it is super tasty and nutritious.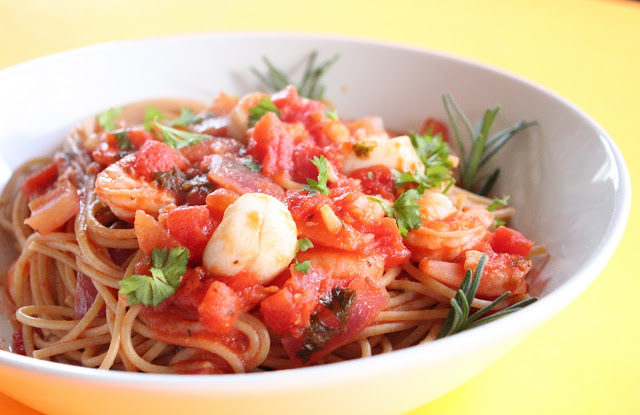 So a few days back I went to get my cooking book signed from Ina Garden AKA Barefoot Contessa. I have been following her for quite some time so I was very excited to meet her.
It all happened in a blink of an eye and to be honest a bit disappointing. Not only you weren't able to take pictures with her, but she wouldn't personalized the book, bummer!
There were a lot of people but even still I think she could have done a little bit better. I waited with my two kids in line, a 9 month and a 4 year old, which by the way they did great, so I expected more. Oh well so much for that. Now I think I will think twice before I go to another book signing :-) A bit disappointed to say the least….
Anyhow, here you have it, yet another pasta dish. This pasta marinara has  tons of seafood, which I love, plus white wine, which I love even better :-) This one again it is a super simple, fast and delicious recipe so if you are in the crunch of trying to get something good for dinner, look no further. You will be satisfied with this one.
Enjoy!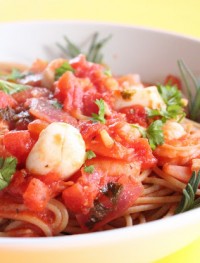 Pasta Marinara
Ingredients:
4 tablespoons olive oil
1 big onion, chopped
1/3 cup white wine
1 lb can diced tomatoes, a big can
5 garlic cloves
1 lb large shrimp
1/2 lb seafood mix, you can use mussels, scallops etc
1 lb whole wheat spaghetti
Fresh rosemary
Fresh parsley
Directions:
Cook pasta according to package instructions.
While the pasta cooks, in a heavy sauce pan over medium to high heat, add the oil to the pan followed by the onions. Cook for 4 minutes. Add the garlic and cook until fragrant. Add the wine and let it reduce. Add the canned tomatoes and fresh spices and cook for a further 10 minutes.
Add the shrimp and seafood mix. Cook for 3 to 5 minutes. Add cooked pasta to the sauce and serve while still warm.