Parsley and garlic chicken cutlets with broccoli
If you are looking for quick dinner idea look no further, this parsley and garlic chicken cutlets with broccoli it is it. Plus it taste delicious!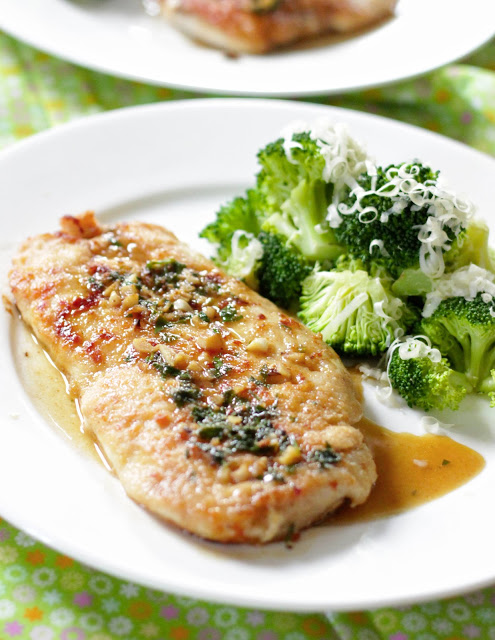 The only thing I can say about this chicken is, WOW.
This is a very popular way Spanish people fix their chicken. It is rather simple and extremely flavorful. Parsley, garlic and white wine are widely used in Spanish cooking. These flavors work really good together, trust me on this!
Lately I find myself making more simple and fast meals. I mean, I actually do in a regular basis, but now that I am most busy than ever, I have to find even quicker and still nutritious meals and this one really fits the bill.
For my version, because I actually was not able to find chicken cutlets, I just bought chicken breast and made the cutlets myself. Just cut the chicken breast length wise and pound them down to make sure they get thin enough to resemble cutlets, and voila there you have them!.
I paired the chicken with fresh broccoli that I microwaved for 7 minutes, and it was just the perfect combination. I add it a little bit of fresh Parmesan over the broccoli and it was sensational. You can also add some rice, quinoa, couscous etc what ever rock your boat :-)
I think the best part of this dish was how tasty and yummy the sauce was. Also how easy and simple it was to put together.
All in all, this is going to be a dish that I am going to keep making over and over again. It was definitely a huge winner at my house.
I hope you get to make it, if you like chicken, your family will love this meal.
Enjoy!!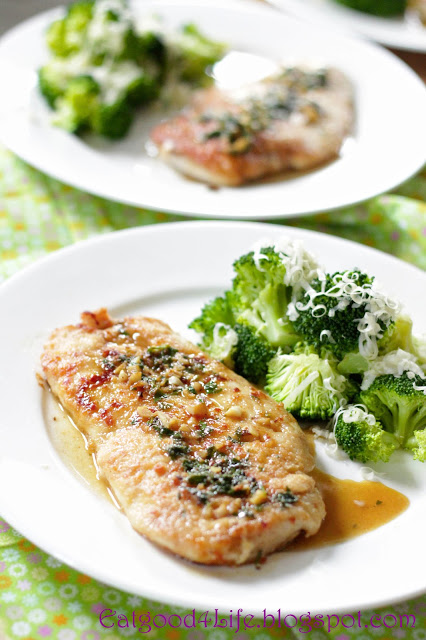 This is super simple, and quick to put together. You can have it with any veggies of your choice. Some quinoa, brown rice, or couscous would be great with it.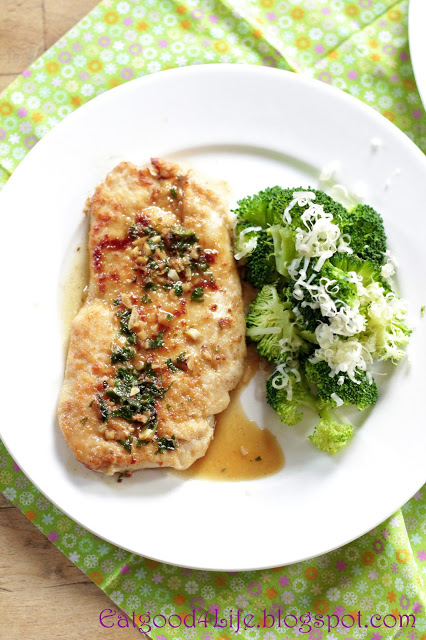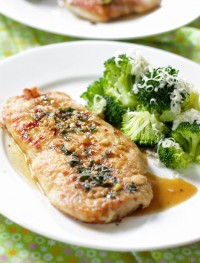 Parsley and garlic chicken cutlets with broccoli
Ingredients:
8-10 organic chicken cutlets
1/3 cup whole wheat pastry flour, skip this step for a gluten free version
3 Tbsp olive oil
3/4 cup dry white wine
2 Tbsp butter, cut into pieces
4 garlic cloves, chopped
4 Tbsp fresh parsley, chopped
1/4 tsp celtic salt
16 oz fresh organic broccoli florets
Directions:
Place flour in a large plate. Coat the chicken with the flour really well.
On a large non-stick skillet, over medium to high heat, heat half of the olive oil. In batches, cook the chicken 3-5 minutes per side.
While chicken is cooking place broccoli in a safe microwave bowl and microwave for 5-7 minutes depending on the power of your microwave. Mine is not too powerful so I microwaved it for 7 minutes.
Once all the chicken is done place it on a plate and set aside. Add the garlic in the skillet and cook for about 30 seconds to 1 minute until fragrant. Add the wine and cook until liquid has reduced by half, about 3 minutes.
Turn heat off and add butter, parley and salt. Pour over cooked chicken and serve with the broccoli.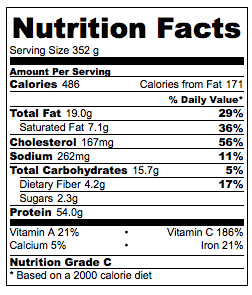 Nutrition facts calculated base on the recipe giving 4 servings. The C rating comes from the alcohol :-(
For a gluten free version, skip the flour step!!