Organic Apple chips
I am in love with these organic Apple chips. Granted you can buy them at the store but these are so easy that I don't mind making them at all, plus they don't have none of the unwanted chemicals these normally have to keep fresh!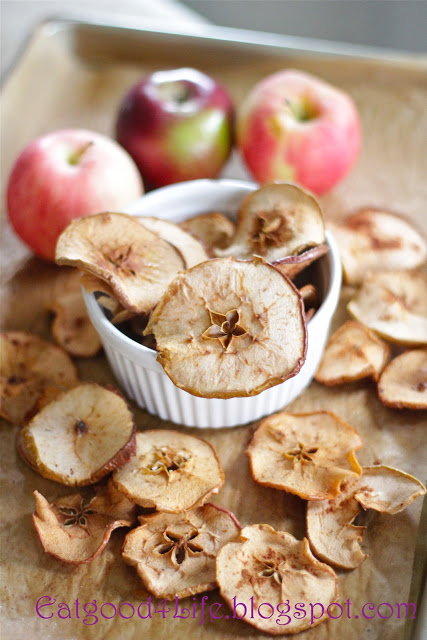 I have been wanting to make these organic apple chips for a long time so after contemplating the recipe for a while I just felt I had to go ahead and try them.
I am so glad I did because I will be making this for time to come. Not only because they were really good but because they were easy, healthy and trying with pears next time is something that I really want to do next.
I was press for time while making these so I kind of skipped the rotating and turning of the pans. They still came out great though so I think you can go ahead and do the same thing I did.
I also did not have a mandoline, just a knife, so my apple slices could have been a bit thicker than normal, even still they turned out as chips and where really good.
I stored my chips on a zip log bag for a day. That is how long they lasted.
I hope you get to try these. They could be a great healthy gift for the coming holidays.
Here is the before and after pictures. You can see that my apple slices aren't that thin since I used a knife instead of a mandolin. Even still they were really good. These are the perfect snack for any one.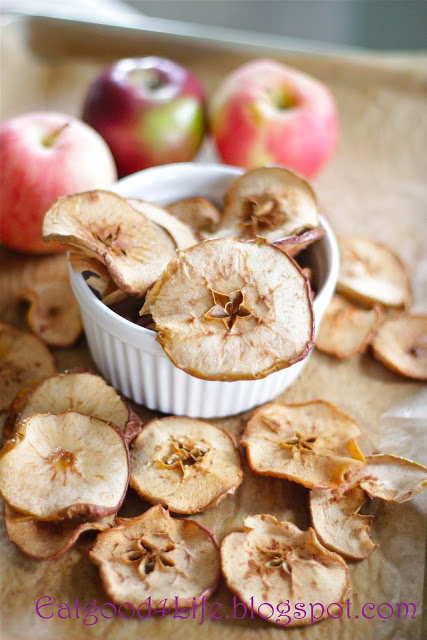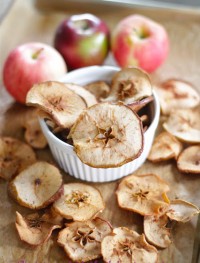 Organic apple chips
Yield: 4 servings
Total Time: 2 hours
Ingredients:
6-7 large organic apples
2 tsp cinnamon
1/4 cup maple syrup, optional
Directions:
Preheat oven to 250F. Line two cookie sheets with unbleached parchment paper and set aside.
Slice apples thinly crosswise, using a sharp knife or a mandoline.
Arrange slices on cookie sheets in one layer. Brush the first side of the apple slices lightly with maple syrup and sprinkle lightly with cinnamon.
Bake for 45 minutes ( bake for one hour if you think your slices are a bit thicker. I did since I didn't have a mandoline), then flip and brush the other side with syrup and sprinkle again with cinnamon.
Bake for another 45 minutes to an hour. Turn the oven off and let them sit in the oven until ready to serve. They will crisp up.
Store in an glass airtight container of zip log bag.
Recipe slightly adapted from texanerin baking