Orange Chicken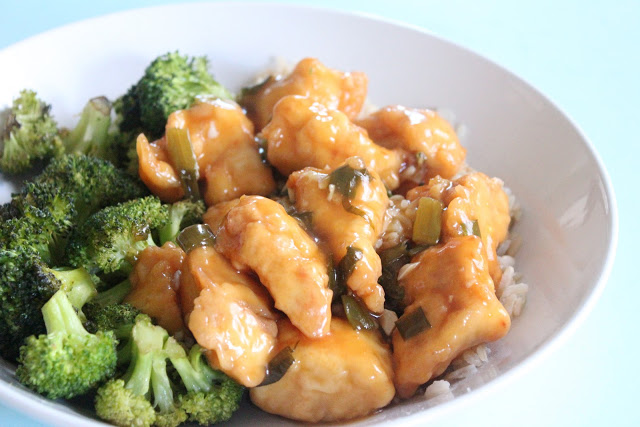 I am not a big poultry or meat eater but once in a while I like to surprise my family with some chicken for dinner, organic though….
Orange chicken is a very popular dish among Asian cuisine and quite frankly I think is genius. Orange and chicken? why not? so I gave it a go and we loved it!
I actually don't like frying anything but once in a while it's OK. To be honest, we probably eat fried food 2 or 3 times a year if that so I figured this recipe would be OK, right? oh well….
Anyhow, I was pleasantly surprised with this recipe. The orange flavor was just unreal, perhaps because of the fact that I also added some orange extract to the egg batter. I really wanted to experience the orange flavor hardcore :-) (….but you don't have to do that)
I think the only bad part of this recipe, like I said before, it is the fact that the chicken is fried. Maybe I will find a way to make it healthier next time. Never the less, I would like to make this recipe again sometime soon because my family enjoyed it a lot.
I served the chicken with brown rice and roasted broccoli, which is also posted in my blog. You can use any other side veggie of your choice though.
Enjoy!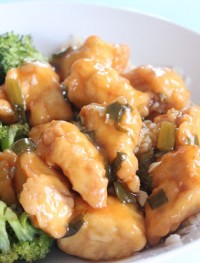 Orange chicken
Ingredients:
2 lbs chicken breast, cut into cubes, I used organic, no antibiotics or hormones thank you
3 eggs whites
1/4 cup whole wheat flour
1/2 cup corn starch
1 teaspoon real orange extract, optional
1 tablespoon ginger, minced
2 cloves garlic, minced
1/4 cup green onions, sliced
1 teaspoon sesame oil
1/4 to 1/3 cup water mixed with 1 tablespoon cornstarch
Salt
Sauce
1/4 cup soy sauce
1/4 cup rice wine vinegar
2 tbsp unrefined sugar
zest of 1 orange
4 tablespoon orange juice
Directions:
Cut the chicken into bite-sized pieces. In a bowl, combine egg, salt, flour and corn starch.
In a heavy saucepan, heat enough olive oil for frying. Dip the chicken on the egg mixture and add it to the oil in batches, cooking each batch for about 8-10 minutes until cooked through. Remove the chicken from the pan with a slotted spoon and allow to drain on a plate lined with paper towels. Set aside until ready to toss in the sauce.
In a separate pan, add the ginger, garlic, green onions, and sesame oil. Stir fry for 3 minutes. Add the sauce ingredients to the pan. Bring everything to a light boil, then add in cornstarch mixed with the water. Heat everything until is starts to thicken up a bit, about 3-4 minutes, then add in the fried chicken pieces. Toss to coat, and cook for another 2 or 3 minutes until the sauce is as thick as you'd like it to be. Serve with rice and/or vegetables.