Orange balsamic chicken
This recipe is sponsored by Florida's Natural. I used their product to make this orange balsamic chicken. The opinions and text are all mine. The end.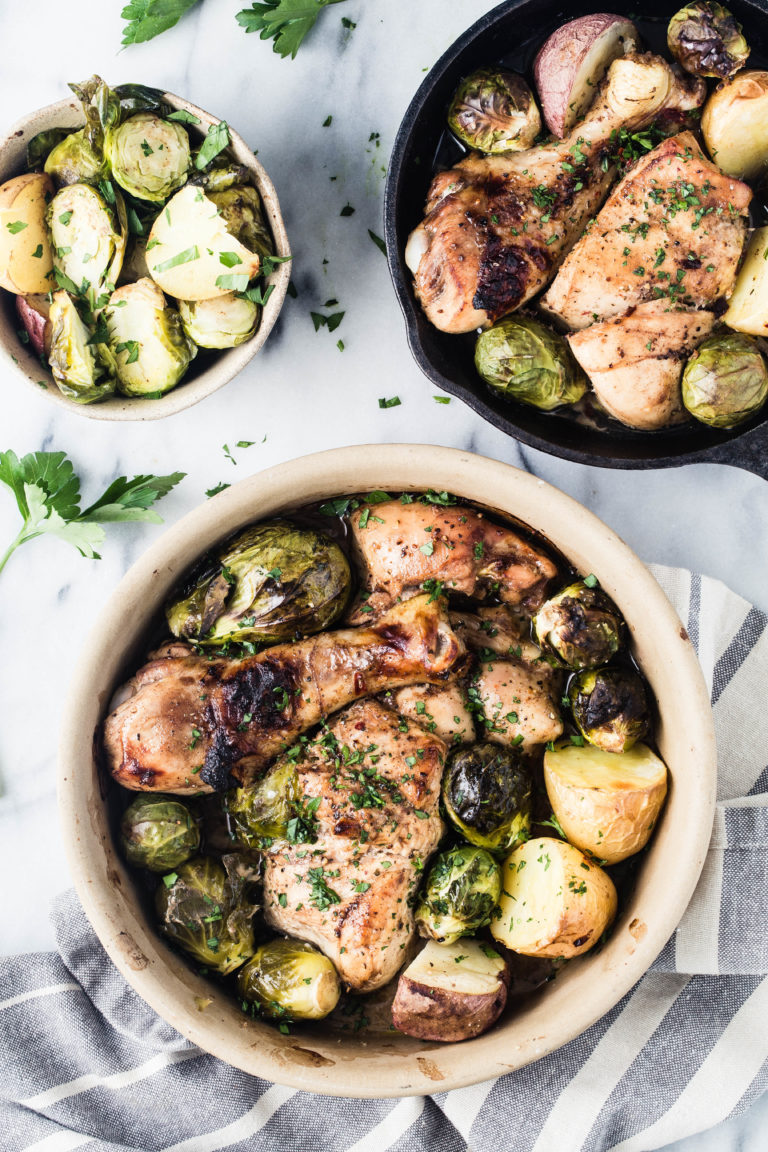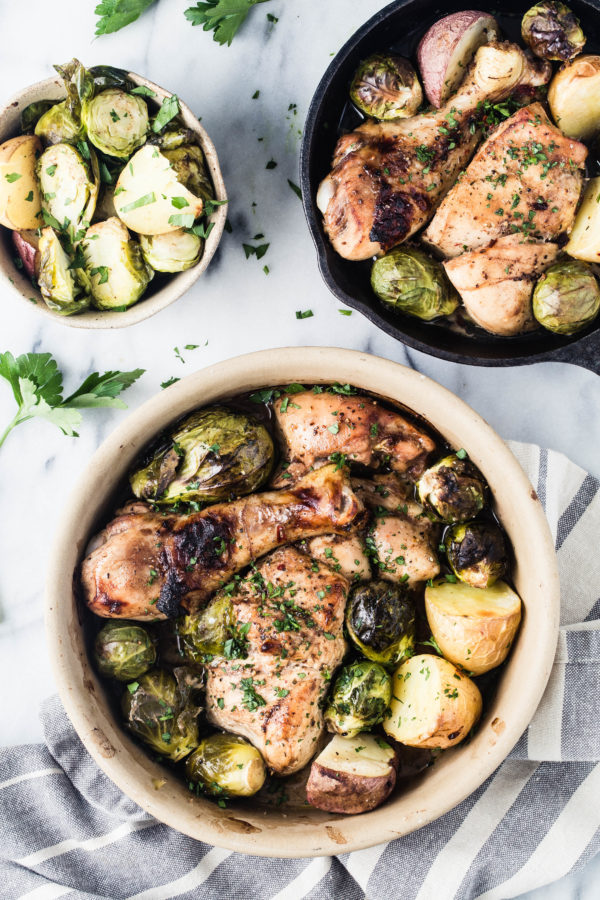 Have you thought about your Thanksgiving recipes yet? This orange balsamic chicken is what I will be serving family and friends for the main dish. If you're hosting guests, it can also be served as a meal ahead of the holiday or after, if you're ready for something other than turkey!  For a protein option, I always use chicken instead of turkey. However, you can still make this recipe with turkey. We just enjoy chicken better!
The acidity of the marinade in this recipe allows the chicken to get tender and juicy, so once baked you will not have dried chicken. The end result is a flavorful, tasty, juicy chicken recipe!
The marinade is key in this recipe. It's a combination of orange juice, balsamic vinegar and spices. The cinnamon and nutmeg bring a subtle flavor that is indicative of the holidays. The perfect flavor combination!
When you use orange juice in this recipe, opt for Florida's Natural® Brand Orange Juice which is made from one simple ingredient — Florida oranges. And only Florida oranges. No water, sugar or preservatives are added.
Florida's Natural orange juice comes from pure Florida oranges. There are no artificial flavors or ingredients.
Florida's Natural doesn't fuss with their growers' oranges — they're simply squeezed, gently pasteurized and poured into cartons that ensure a straight-from-the-grove taste that my family loves.
Serving this orange balsamic chicken can be done with any veggies of your choice. I opted for brussels sprouts, since they are in season, and potatoes, but any baked vegetables will do. Other popular options if you prefer, are green beans and mashed potatoes.
I hope you get to try this orange balsamic chicken recipe. The orange juice and balsamic vinegar mixture together with the spices gives this recipe the perfect flavor combination for the upcoming holidays. It is a very simple, yet delicious recipe that I am sure your friends and family will love.
Enjoy!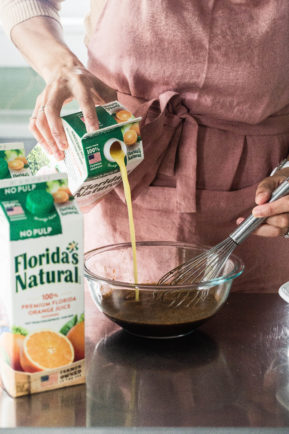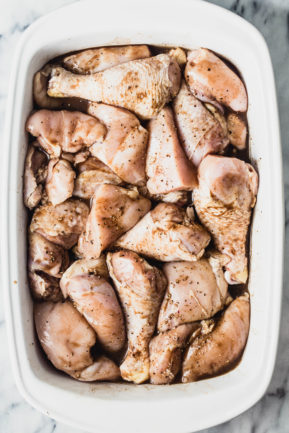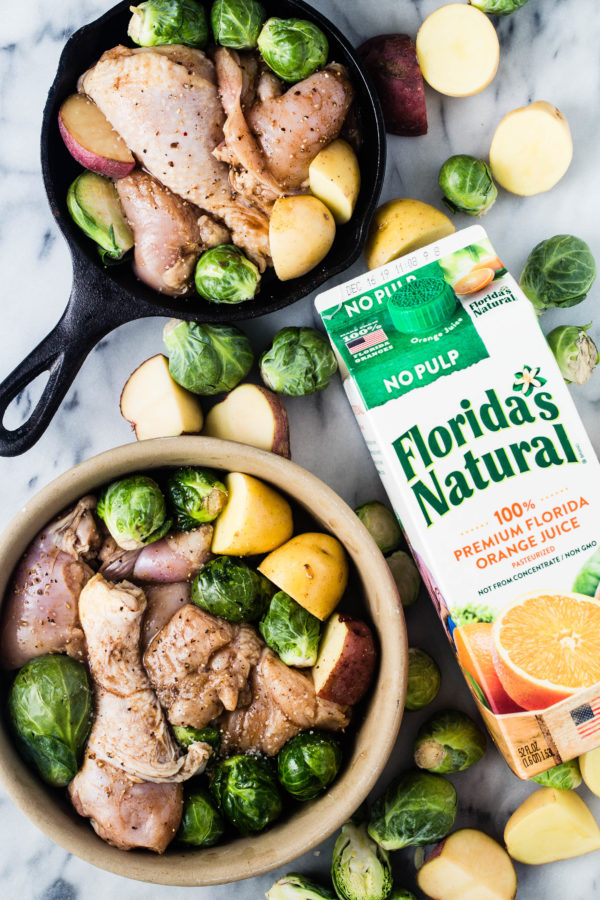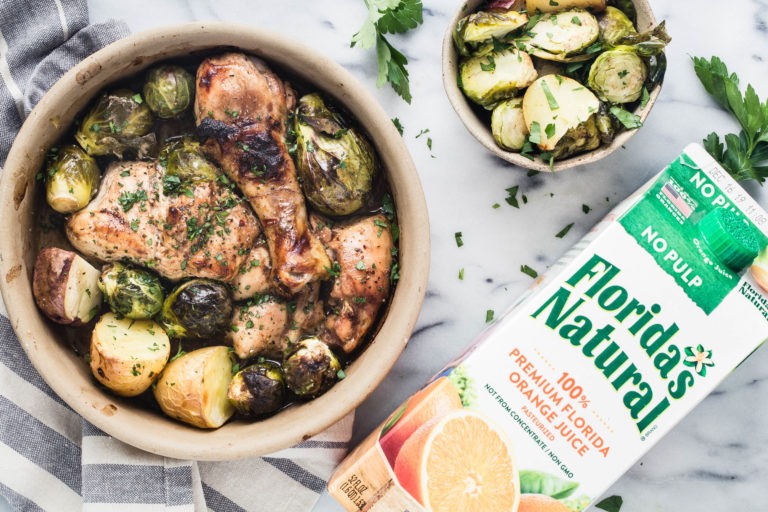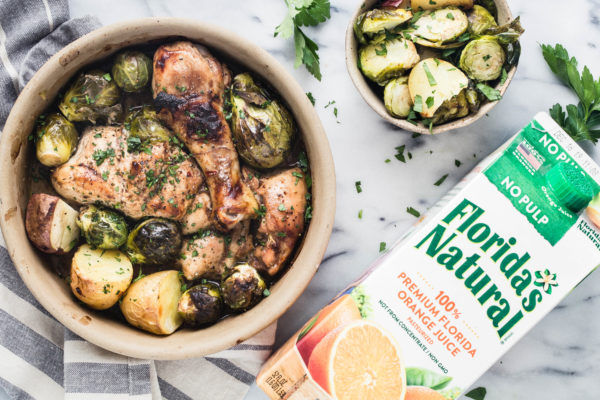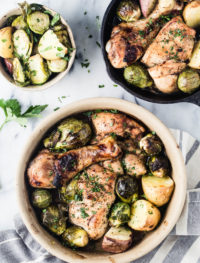 Orange balsamic chicken
Yield: 8 servings
Prep Time: 2-3 hrs
Cook Time: 1 hour
Total Time: 4 hours
Ingredients:
3 lbs. chicken wings and thighs, trimmed of excess fat
1 lb vegetables of choice, quartered
2 tbsp fresh chopped parsley
For the marinade
¼ cup balsamic vinegar
½ tsp Celtic salt
½ tsp black pepper
½ tsp cinnamon
½ tsp nutmeg
Directions:
Place the chicken pieces in a large dish.
Whisk together all of the ingredients in the marinade. Place the chicken in a large dish, pour marinade over the chicken and mix. Place in the refrigerator and let sit for 2-3 hours, tossing every 30 minutes. Save the marinade.
After marinating, place the chicken pieces, skin side up, on a baking dish and arrange vegetables around the chicken. Bake in a pre-heated 375-degree oven for about 50-60 minutes, depending on the size of the chicken pieces. After the first 25 minutes of roasting time, you can begin to brush the chicken with the leftover marinade every 10 minutes or so. I did about three times to keep the chicken moist and flavorful.
After the chicken and vegetables are baked, sprinkle chopped parsley over the top and serve while warm.